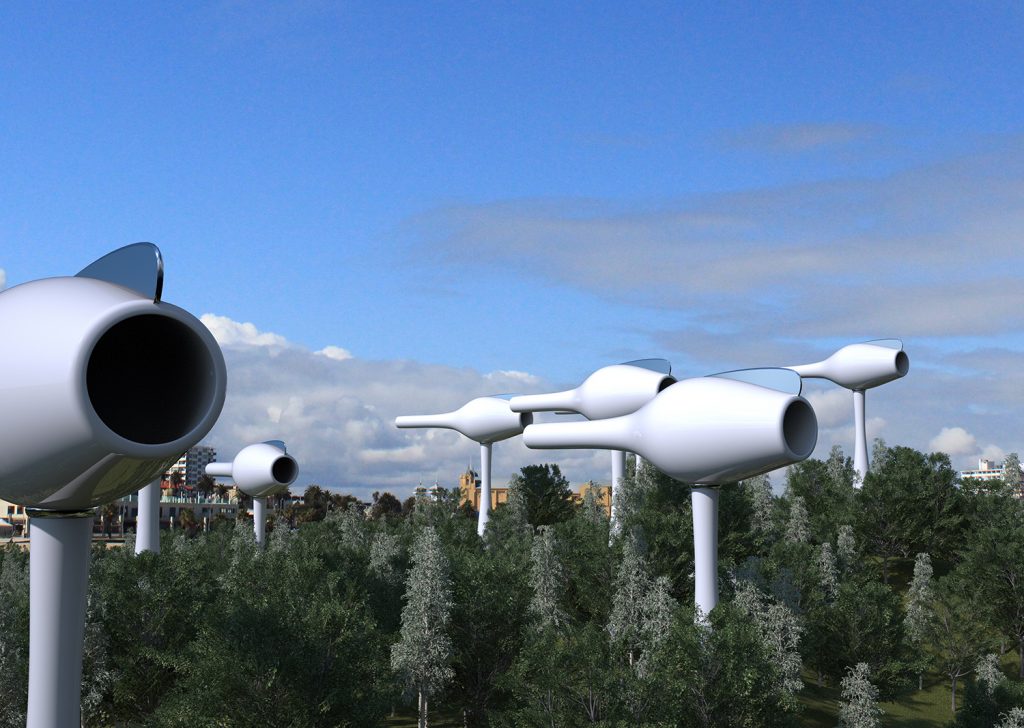 An electrical engineer in Vancouver has designed a new wind energy concept that eliminates many of the problems associated with today's mammoth turbine towers—and it plays music.
Shaped like a hollow champagne bottle, Seaflute uses Direct Wind to Electricity Generator (D-WEG) technology to convert wind energy directly into electricity. No moving parts. Minimal energy loss. The proposal, a submission to the 2018 Land Art Generator design competition for Melbourne, responds to the following question posted by Aziz, Iman, and Puya Khalili — the family team behind Ionics Research + BETTER in Vancouver, Canada:
What if we could break down each level of energy transformation from wind to electricity such that there would be a direct conversion of wind's kinetic energy into electricity?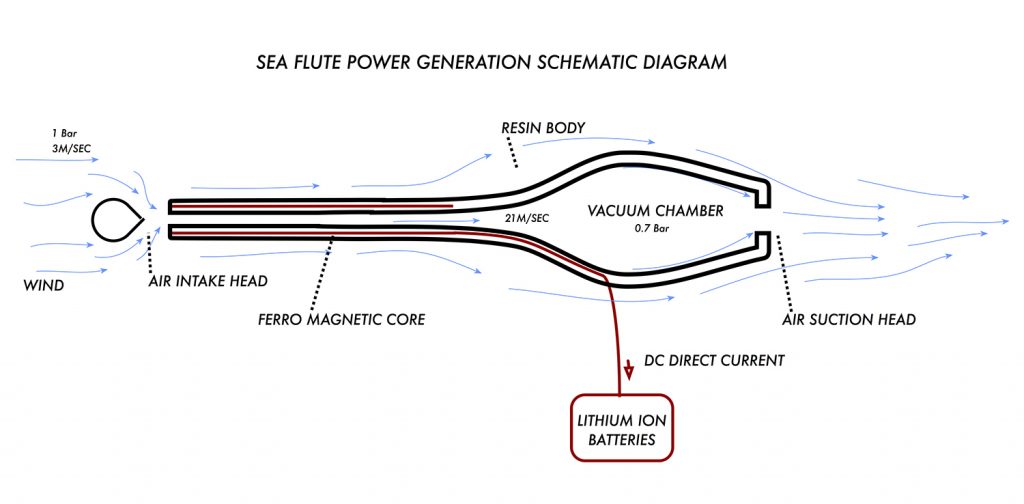 Aziz, the father, says each moving part of a conventional wind turbine — including the propeller, gearbox, and generator — uses up some of the energy it produces. Meanwhile, he notes, that lost energy turns into heat, friction, noise, or wear, making the towers expensive, inefficient, and high maintenance. To improve upon the design, potentially creating a less expensive device that could be wildly efficient at converting energy, Aziz and Puya turned to aerodynamics, electrostatics, and electromagnetics.
Seaflute's shape is integral to its function, according to Aziz. Wind enters the narrow opening of the bottle-shaped module, creating a vacuum at the back that sucks out interior air. More air then rushes in to fill up this space, creating a constant, forceful flow of air from the design's opening to the back, applying the same physics that enables airplane wings to lift off (Bernoulli's Effect).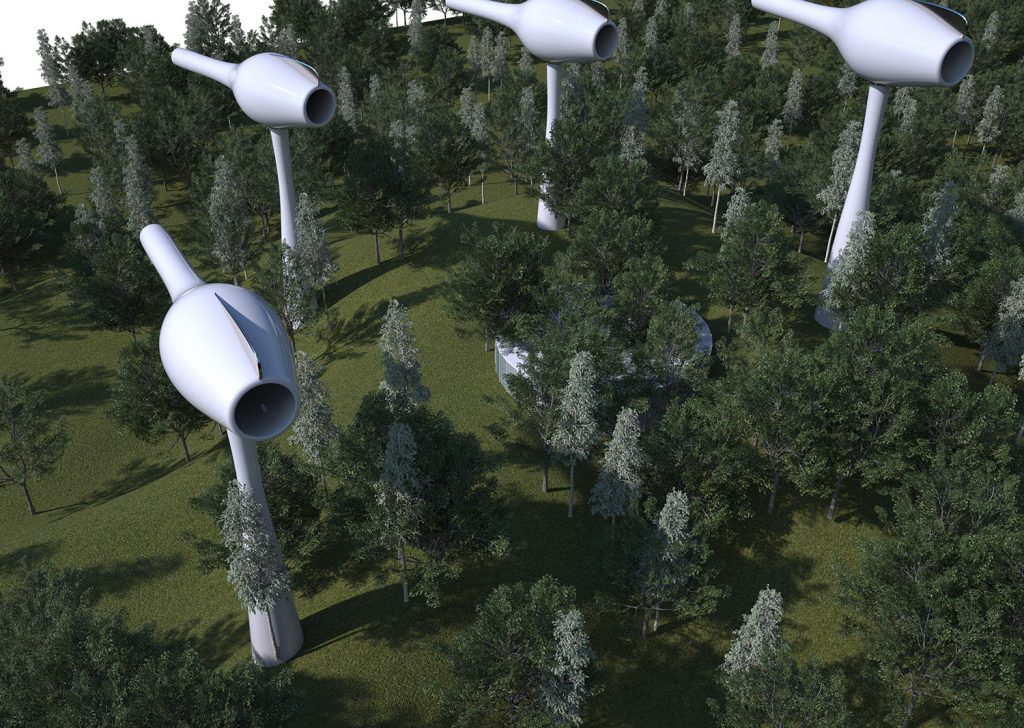 When that air passes through Seaflute's narrow neck, which is equipped with an Electrostatic Ion Generator, it creates a long stream of charged electrons, or an electron cloud. This charged cloud then encounters the module's Ferromagnetic core, which uses induction to generate an ongoing electrical current. The current is then captured, regulated, and sent directly as a DC current to lithium batteries. By converting ions into electricity, the design mitigates the need for moving parts and attendant energy losses, producing zero harmful emissions in the process. Another benefit? It works regardless of prevailing wind speeds.
Iman, the communicator in the family, says their design takes a minimalist, Taoist approach to energy harvesting and production.
"It's like the sail of a boat. You harness what is already happening. You don't try to force it."
Puya adds that they are part of a growing movement questioning some of the fundamental principles underlying how we manage natural resources today, shifting away from large scale mechanical systems to atoms and molecules. "If we are to make any substantial changes to what is happening to the planet today, we really need to examine things at a molecular level."
He compares his father's design approach to that of Elon Musk's. In the same way that the Tesla founder used existing cell phone battery technology to design electric cars, he says Aziz has rearranged existing technologies to harvest energy from the wind.
"We're going to need more energy," he says. "We're going to need more water and air. So we need to look at the problem from a different perspective."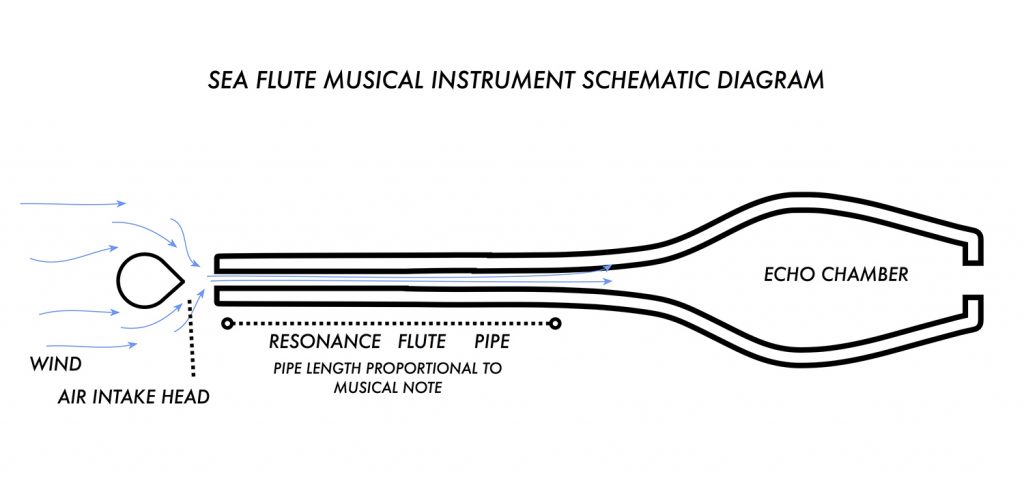 You know what else we're going to need? More art that mobilizes the masses. And Seaflute's got that covered too.
Aziz studied the pan flute, a popular folk instrument that consists of multiple pipes of gradually increasing length and sometimes width to forge sound, to add a musical component to his design. Each Seaflute has been customized in length to create a specific note. Together, the 14 generators represent two octaves of the music scale. And they are programmable.
Designed for St Kilda Triangle in the City of Port Phillip, the site of this year's design competition, the flutes can be controlled via a centralized computer that opens and closes the air columns inside each module to play melodies matching musical notations fed to it. Not only do the flutes have the potential to power up to 120 Australian homes each year, but they completely redefine our perception of energy production.
As the Khalilis note in their artistic narrative:
The idea of an immense power plant perched on a hillside or by a lake, releasing clouds of smoke and a river of polluted water simply becomes invalid and unnecessary, when we can have power generators that are not only beautiful sculptures but also instruments of awe and education for our society.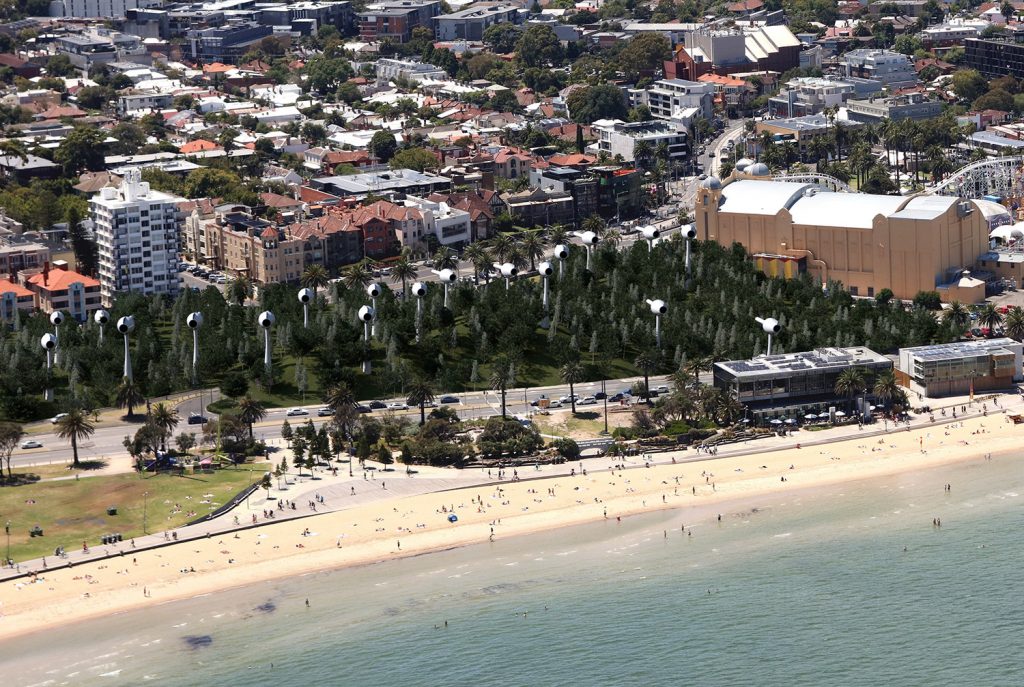 This is not the first time that Aziz and his sons have participated in a LAGI design competition. Their design for Santa Monica, The Pipe, is designed to use solar power and electromagnetic desalination to produce 10,000 MWh, and 4.5 billion liters of drinking water each year.
"That design," say LAGI co-founders Elizabeth Monoian and Robert Ferry, "has captured the world's imagination with its beautiful form and its potential to be a game-changer for areas of water scarcity."
"Meanwhile, the team has done it again with Seaflute—a renewable energy device that is like nothing we have seen before. Ionics Research has deconstructed the idea of wind energy harvesting and engineered out the inefficiencies. The result is both playful and practical. We love Land Art Generator sound artworks, and we can imagine the potential for future citizens to compose for and perform directly with the energy landscapes that power our world."
Tafline Laylin is a freelance communicator and journalist who strives for global environmental and social justice. Her work has appeared in The Guardian, The Atlantic, OZY.com, and a variety of other international publications.