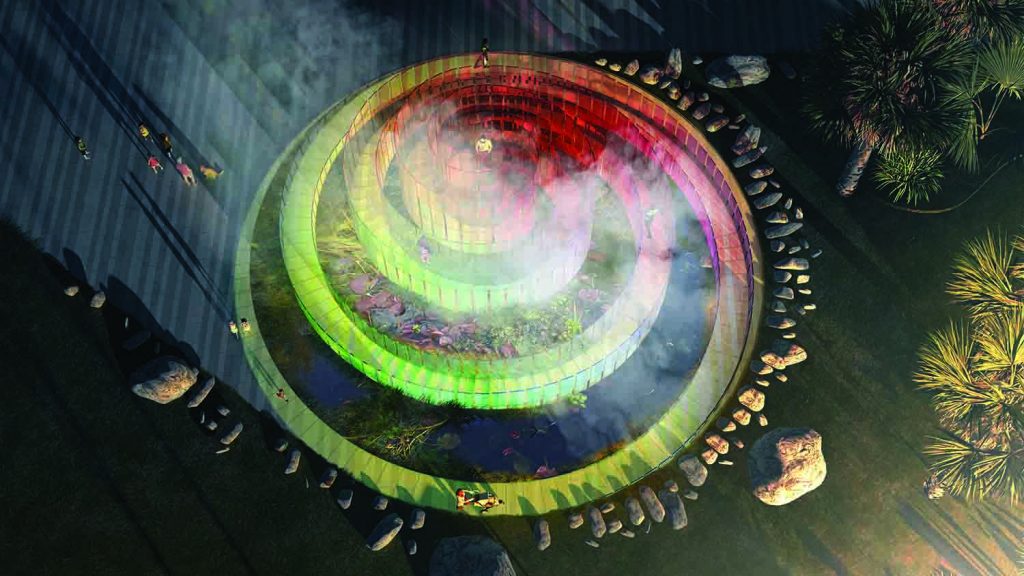 Former college mates Arthur Stefenbergs and Lucian Racovitan designed a water-harvesting sculpture comprised of two spiral staircases that is made entirely out of energy-generating solar glass.
Inspired by an indigenous mythological figure that brought fulfillment and physical power to anyone who visited waterholes during rainbow sightings, this submission to the 2018 Land Art Generator design competition for Melbourne, The Rainbow Serpent, also converts human energy into electricity for St Kilda Triangle.
The Rainbow Serpent recharges the minds and bodies of visitors to St Kilda Triangle while also generating clean energy for the city. The artwork teaches visitors about the importance of harnessing their mental energy through an invitation for low-paced physical exercise. In return, the design transforms their physical activity into electricity.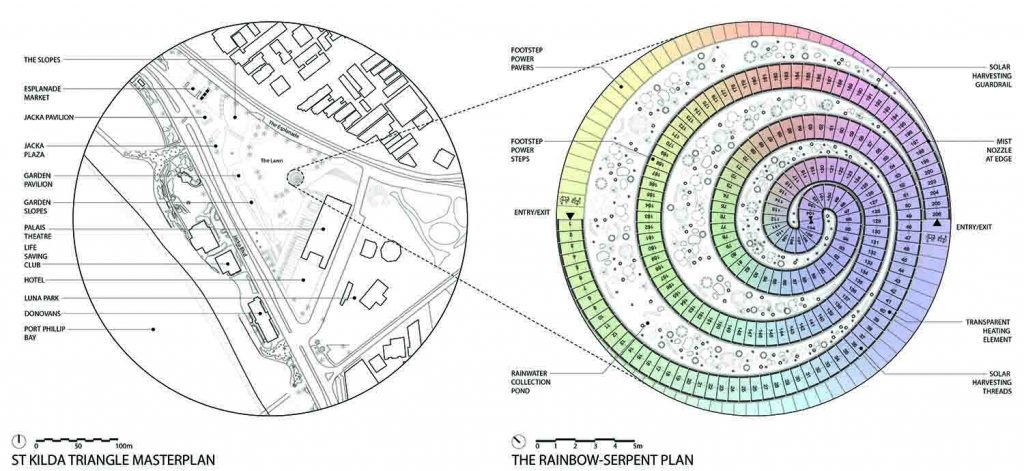 Arthur contacted Lucian about entering LAGI 2018, despite being separated by distance and time. Former students from Cork School of Architecture in Ireland, Lucian is working for Bjarke Ingels Group in Copenhagen, while Arthur is in Sydney, working for COX Architecture.
Lucian brought on a friend to help, Arthur did the same, and together the four of them sought to elevate the discussion around our post-carbon future with a design that would recharge anyone who visits. In creating and harnessing community, Stefenbergs, Racovitan, Keith McGeough, and Ovidiu Munteanu also bridge the distance between an ancient story passed on across generations and some of the most cutting-edge advances in renewable energies.
"The entire staircase—including the handrails, treads, risers, and columns—is constructed of a new kind of transparent solar module, a luminescent solar concentrator, according to the team's design brief. "The energy harvesting glass technology allows the visible spectrum of light to pass through almost undisrupted. Invisible rays such as ultraviolet and near-infrared light are channeled to the edges where they are converted into electricity with perimeter photovoltaic cells."
And it's designed to be used. The more the community engages with Rainbow Serpent, the more energy it produces — playing into Australians' obsession with staying fit, according to Arthur. Dancing, running, and jumping are not only welcome, but encouraged. And while they're enjoying themselves, people also learn about how clean energy can be produced safely, and happily, even in a dense urban setting.

"What's great about LAGI," Arthur continues, "is that it educates people and gets people to be creative."
Like me, you might wonder whether the glass sculpture is sufficiently resilient to accommodate enough people bopping up and down to convert human kinetic energy into electricity for the City of Port Phillip. But Arthur assures me the materials they envision for their design are already being used in certain infrastructure, including bus stops, and that it would be perfectly safe.
For a demonstration of structural energy-generating glass (less pretty than the rainbow serpent designed for St Kilda), take a look at the Canary Wharf bus stop in London. It converts enough solar energy, according to Curbed, to power a home. The double spiral artwork, between the solar and human energy it produces, could power around 18 Australian homes. But there's more to the artwork than just generating clean energy.
At the ground level in the center of the spiraling artwork, rainwater collects in a small pond that provides habitat for plants and fish local to Port Phillip Bay. Some of the harvested water is filtered for use in a misting system to cool off visitors who navigating its 200 steps in summer. On cooler days, coils embedded in the glass, similar to the heating elements that keep car windshields clear in inclement weather, use some of the power the piece generates to provide warmth. By providing a microclimate, the team hopes to facilitate year-round use.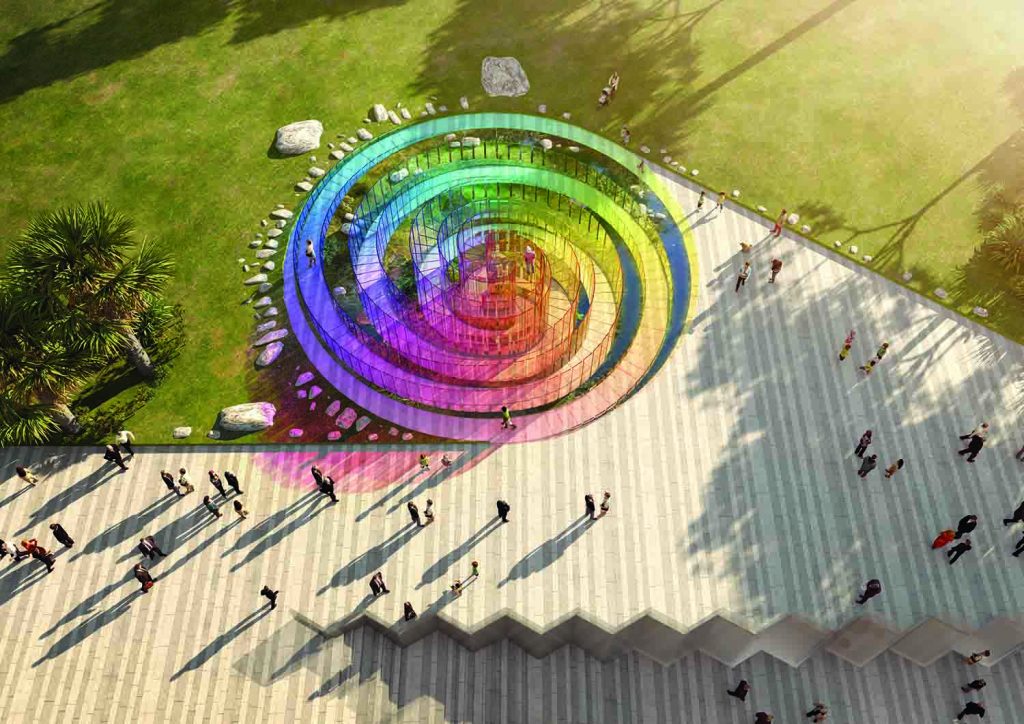 LAGI co-founders Elizabeth Monoian and Robert Ferry are particularly moved by the Rainbow Serpent's playful spirit.
"One of the many wonderful qualities of Luminescent Solar Concentrators is that they can be colorful. The Rainbow Serpent team has taken advantage of that to make a place of wonder for St Kilda. We love the way that the artwork is so engaging to visitors, who will want to spend the entire day interacting — and making energy together — with this beautiful piece."
Tafline Laylin is a freelance communicator and journalist who strives for global environmental and social justice. Her work has appeared in The Guardian, The Atlantic, OZY.com, and a variety of other international publications.