During our time in Denmark last autumn we came across the fantastic company Innogie, whose objective is the aesthetic integration of renewable energy systems into buildings.

The vision for the Innogie solar roofing concept is to construct a highly integrated, aesthetically attractive, adequate and cost efficient roofing solution providing both sufficient heat and electricity for a household on an annual basis, while surpassing current solutions considering price, performance and installation simplicity.
We think that the simplicity and elegance of the Innogie system could have interesting applications in renewable energy sculptures too!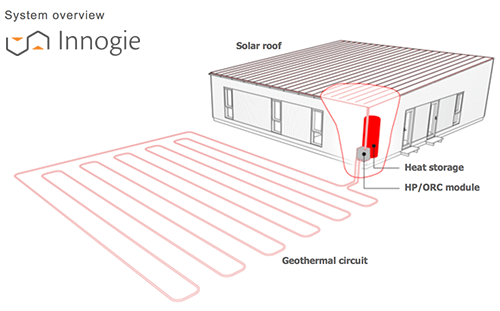 From their website:
The cost efficient Innogie system covers the annual need of heat and electricity without impacting negatively on the aesthetics of the house.

The system's main component consists of a roofing solution also functioning as a large thermal solar absorber. By using the whole rooftop as absorber large amounts of heat is generated throughout the year. Firstly this heat is used to cover the annual heating needs of the house and secondly the large amount of surplus heat generated during the summer is utilized to generate electricity in a so-called HP/ORC module. The same module can be used during winter as an efficient heat pump which simplifies the complexity of the total system radically compared to competitive products.