Wind Harp: Wind Energy as Music
Submission to the 2014 Land Art Generator Initiative Copenhagen design competition
Artist Team: Brian Chi Fung Lee, Ken Ka Chun Lee, Terry Chun Yin Chan
Artist Location: Copenhagen, Denmark
Energy Technologies: aeroelastic flutter (Windbelt{TM})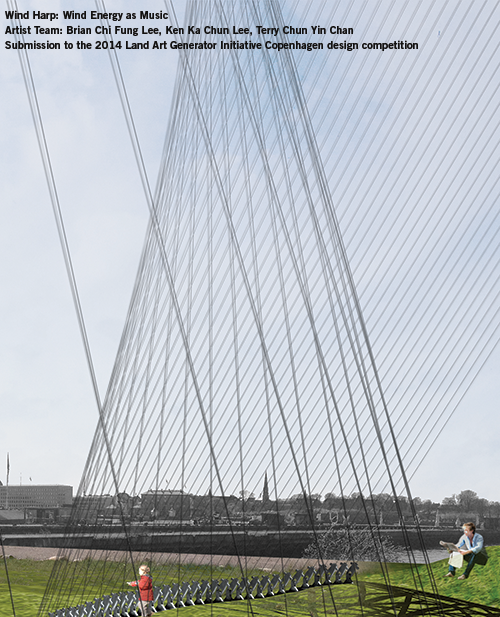 Wind Harp situates itself as a monument on a portion of the design site in order to stimulate events while allowing the rest of the site to populate with natural growth. By intervening at the far end of the harbor side, the generator collaborates with the surrounding buildings to form a frame, enclosing the void between as the center of activity.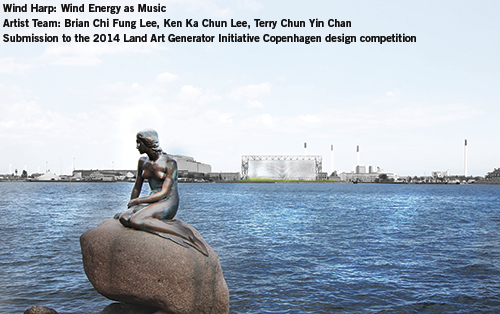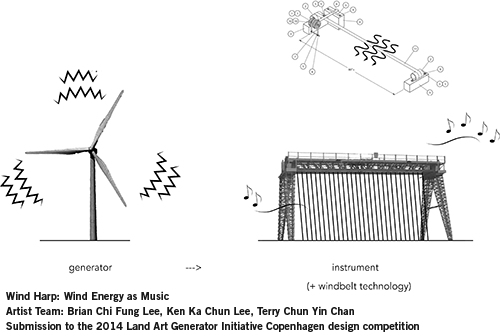 A stationary crane structure of 30 meters by 100 meters is erected at the proposed area near the coastline, next to the water taxi station. The structure, a minimal frame of lightweight steel, is a reference to the gantry cranes that once operated in the B&W shipyard in the former life of the site.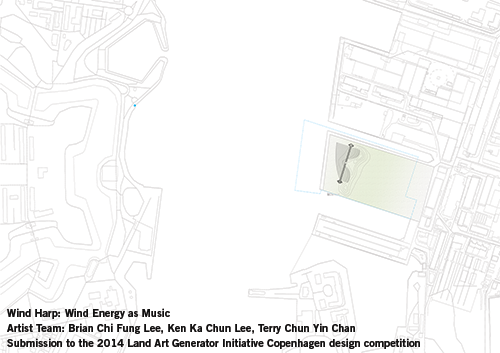 On both sides of this crane, a total of 224 "wind strings" are attached to the structure at one end and to the ground at the other. As these "strings" are placed in tension, they generate both electricity and sound through oscillation by wind or by direct human interaction. The subsequent energy is then harvested by small devices attached to the opposite ends of the string. The turbine noises typically associated with conventional wind turbines are transformed into music.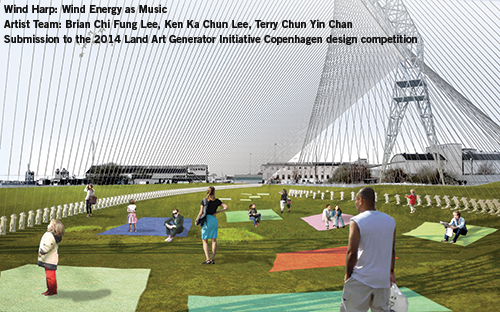 The strings are spaced out at 80-centimeter intervals, allowing people to walk through and between this instrument. The two sets of strings also create a metaphoric tent that welcomes people to dwell inside, either by enjoying the symphony of sounds generated by wind passing through, or to play the instrument directly with their hands.