Refkløver
Submission to the 2014 Land Art Generator Initiative Copenhagen design competition
Artist Team: Allison Palenske, Christina Gråberg Røsholt, Akshaya Narsimhan, Javier Vidal Aguilera, Zhao Xie, Diandra Saginatari, Yanli Shen
Artist Location: Edinburgh, UK
Energy Technologies: piezoelectric wires, Pavegen™ pavers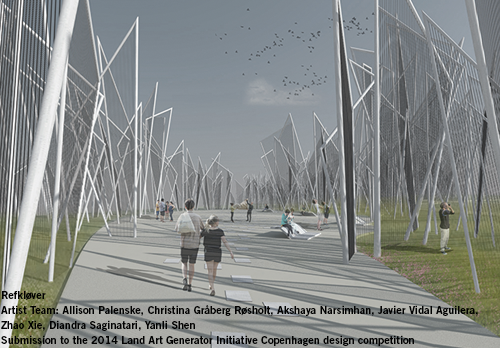 Geometric forms subtly merge with the organic in Refkløver, a contemporary urban adaptation of picturesque meadow drifts that inspires contemplation amidst a new renewable energy power plant for the City of Copenhagen. Hearing the sound of the wind through the grasses and perennials, visitors will feel a part of the energy generation and can participate in it through kinetic interactions.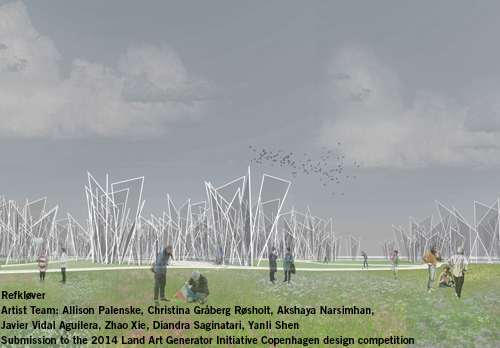 Taken from microscopic studies of the Danish national flower, the rødkløver (red clover, Trifolium pratense), the form of the energy-generating structures mimics the veins found on the leaves and bracts of the plant. These veins act as highways for photosynthetic processes, transporting energy and sugars to the rest of the plant. The design of Refkløver acts in a similar way. Using piezoelectric wires to represent the veins of the plant, wind movement will generate energy through these delicate fibers and will be transported to the city grid.
Each energy-producing module consists of a cluster of four recycled stainless steel structures at various heights, with piezoelectric wires spanning across each surface. These wires transform their own movement, caused by wind currents, into electrical energy. The specific piezoelectric technology used is nanoparticle-coated yarns patented by Perera & Mauretti in 2009. These fibers are embedded within 1-millimeter braided stainless steel threads.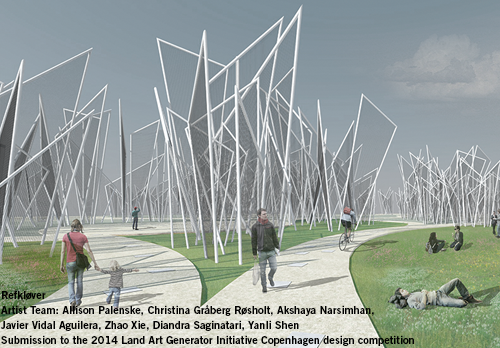 The 300 small clusters, 168 medium clusters, and 260 large clusters of triangles found on the site are oriented primarily to take advantage of the prevailing wind direction and also intermittent variations in wind patterns. Additionally, 1,557 Pavegen™ kinetic flooring tiles are interspersed throughout a paved path and convert the weight of passing visitors into electricity.