Sight
Submission to the 2014 Land Art Generator Initiative Copenhagen design competition
Artist Team: Michal Pajakiewicz, Magdalena Rolka
Artist Location: Moscow, Russia
Energy Technologies: piezoelectric generators, photovoltaic thin-film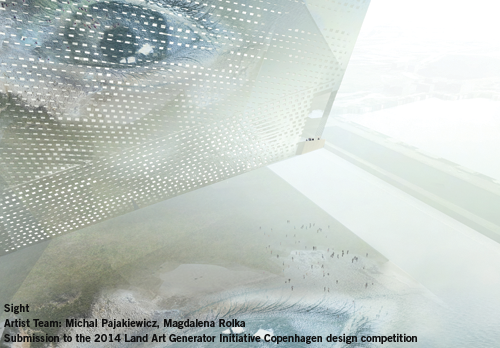 Sight is installed on the front part of the design site, responding to the unique relationship the location has to its industrial past and the Little Mermaid.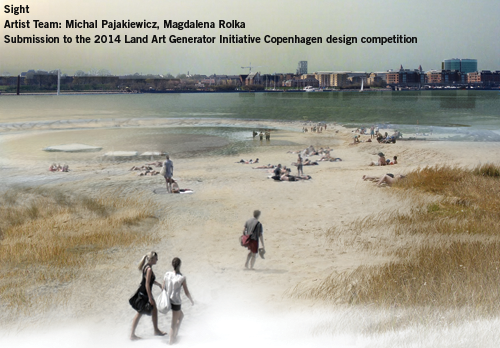 Sight uses the image of the eye as an indicator of the sea level and as a reminder of climate change that will affect us all. The changing environment will affect the visibility of the "eye." As sea levels rise, the eye will gradually be less visible and will eventually disappear under the water. Until this time, the area will be a wetland—a station for birds and other seacoast species. It will serve the citizens and guests of Copenhagen as a place of rest, relaxation, and meditation.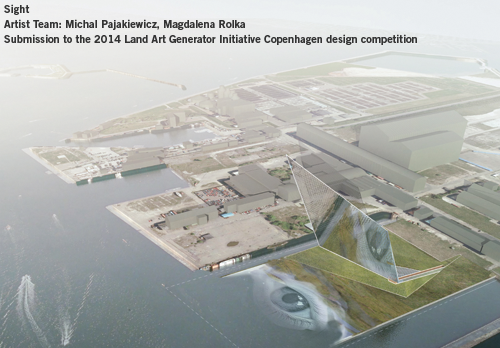 An angled mirror is constructed on a steel frame. The reflective film is perforated in a form of flaps, equipped with piezoelectric modules. This makes the picture sensitive to weather effects and reduces wind impact by harnessing its energy. On the reverse of the plane is a large photovoltaic array.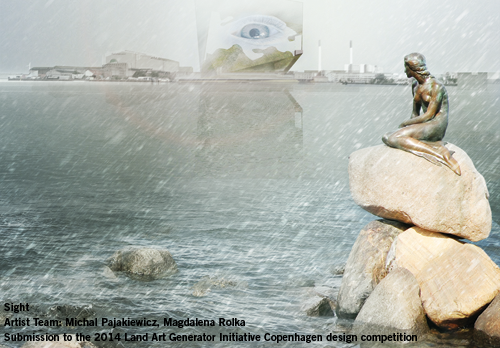 Below the angled structure, an image of a child's eye is constructed pixel-by-pixel with a change of depth from zero to nearly two meters. In the shallow parts, where underwater currents accelerate, the bottom is covered with piezoelectric modules. In deeper parts, the bottom is covered with a local bright stone and local sand. The steep vertical surfaces dividing areas of different depths are reinforced with gabions.