Wind Decoder
Submission to the 2014 Land Art Generator Initiative Copenhagen design competition
Artist Team: António Pliz, Cláudia Branco
Artist Location: Borba, Portugal
Energy Technologies: aeroelastic flutter (Windbelt™)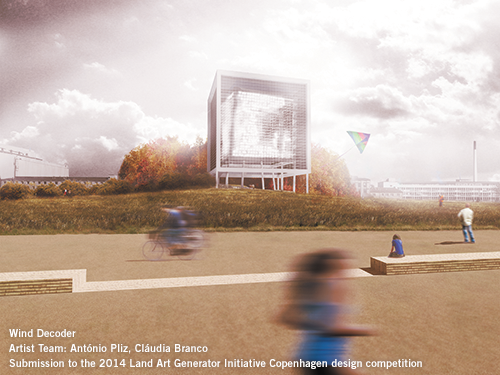 The Wind Decoder is a climate-responsive artistic work that promotes an understanding of climate conditions and the technologies available to harvest their energies. The work is similar to a hypercube comprised of three cubes where the outer cube is 30 meters high, and the two inner cubes are 26 meters and 22 meters high.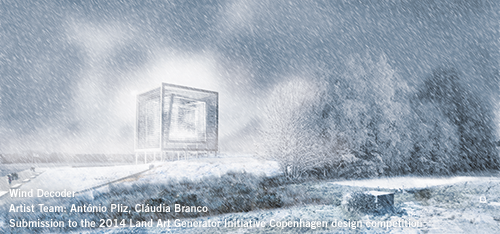 Old constructions found on the site, including steel and a wooden amphitheatre, give dialectic depth to Wind Decoder's materials. These physical links contrast old and new materials, such as wood and aluminum. The orthogonal lines of the former industrial facilities help define the new form, evoking memory and connecting the sculpture to the history of the site.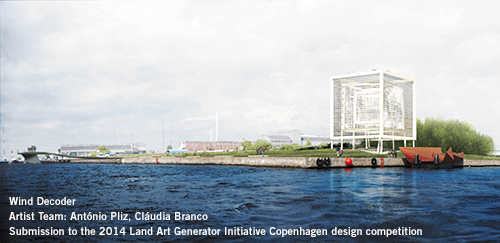 The cubic form is associated with stability and balance—two ambitions for future societies as citizens' environmental consciousness grows. These ambitions are represented by the outer cube. The slightly rotated and twisted inner cubes represent the wind's dynamic force, affecting its stability—an analogy to the imbalances of the past. Lights provide a visual representation of the production of wind energy.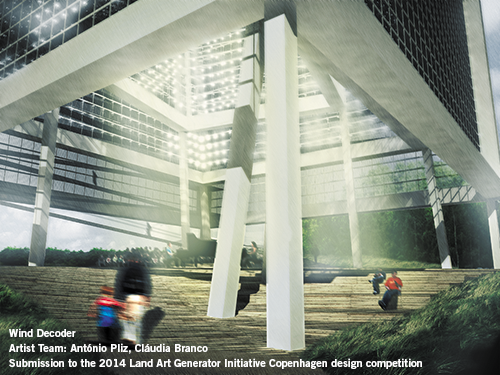 The vertical planes are filled with 8200 Humdinger™ Windcell™ panels of 1.0m x 1.0m x 0.05m. Independent Windbelts™ with LED's will perform the light effect. Despite the main wind streams travelling from west to southwest, the cubic form is designed to react to the movement of the wind from every quadrant.