Driven by the Wind, towards a green horizon
Submission to the 2014 Land Art Generator Initiative Copenhagen design competition
Artist Team: Guido Zeck, Ingrid Ackermans, Peter Twisk
Artist Location: Rotterdam, The Netherlands
Energy Technologies: UGE VisionAIR3™ vertical axis wind turbines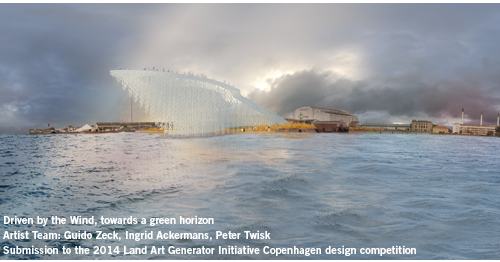 The form of Driven by the Wind is based on the shape of the Sealandia, the first large diesel ship in the world that was built on the site of Burmeister & Wain at Refshaleøen. The design is a reference to the site's history and a symbol of the path to new horizons.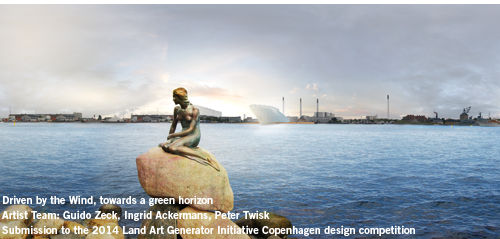 Its composition of vertical axis wind turbines creates a soft moiré pattern that offers a beautiful fairy-tale background for the Little Mermaid. The dense pattern of turbines allows for a greater efficiency of power production as the turbine rotation is augmented by wind vortices created by the adjacent units. The wind-ship "sails" forward to a green horizon and a clean energy future.
An ecological park is incorporated into the design, with a riverbank rich in biodiversity. The rough vegetation and trees provide an attractive public space, and the ecological design contributes to the spatial experience of the area as a whole.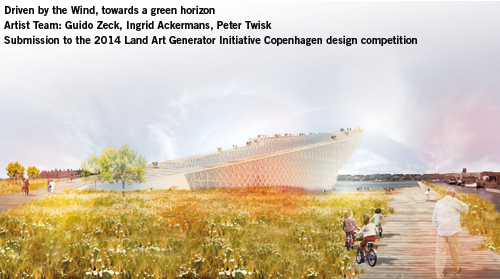 The ship uses a space frame structure, which supports 750 helical Darrieus-type vertical windmills that have their own inherent beauty. A combined staircase and ramp leads visitors to a recycled wood ship platform on the top of the space frame where they can experience unique views over the city from the 32-meter high bow of the ship.