As the world slowly transitions to a post-carbon economy, all manner of clean technologies are being researched and developed. But few renewable energy designs are as exciting as those submitted to Land Art Generator Initiative design competitions.
For the last ten years, artists, architects, designers, and engineers around the world have designed site-specific works of public art that also generate clean energy for Abu Dhabi and Dubai, New York, Copenhagen, Santa Monica, and now Melbourne. Here are seven new designs for the 2018 LAGI design competition that demonstrate just how beautiful solar power can be, with teams incorporating everything from linear Fresnel reflector technology to dye-sensitized solar cells in their dazzling proposals for a new landmark in St Kilda Triangle, a famous leisure site in the City of Port Phillip.
Sun Ray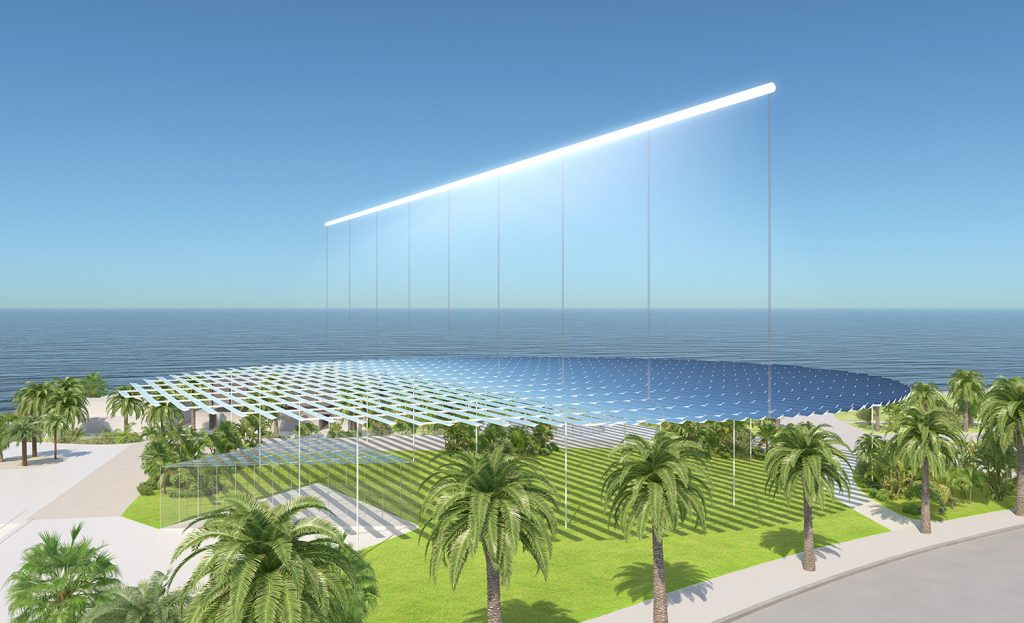 Epitomizing the notion that less is more, Antonio Maccà has incorporated very simple linear Fresnel technology into a sophisticated design that acts like a "specular sun". Measuring 279-feet in diameter, the round solar field of parallel flat mirrors, each with its own single-axis tracking system, beams sun rays onto a linear solar receiver located in a common focal point. Below grade, a power block contains the equipment necessary to convert harvested energy into electricity, which is then fed into the city grid. Capable of producing 1,100 MWh of clean energy annually, enough to power up to 220 Australian homes, this gorgeous work of art also creates a cultural attraction, and a place for reflection, relaxation, learning, and play.
Night & Day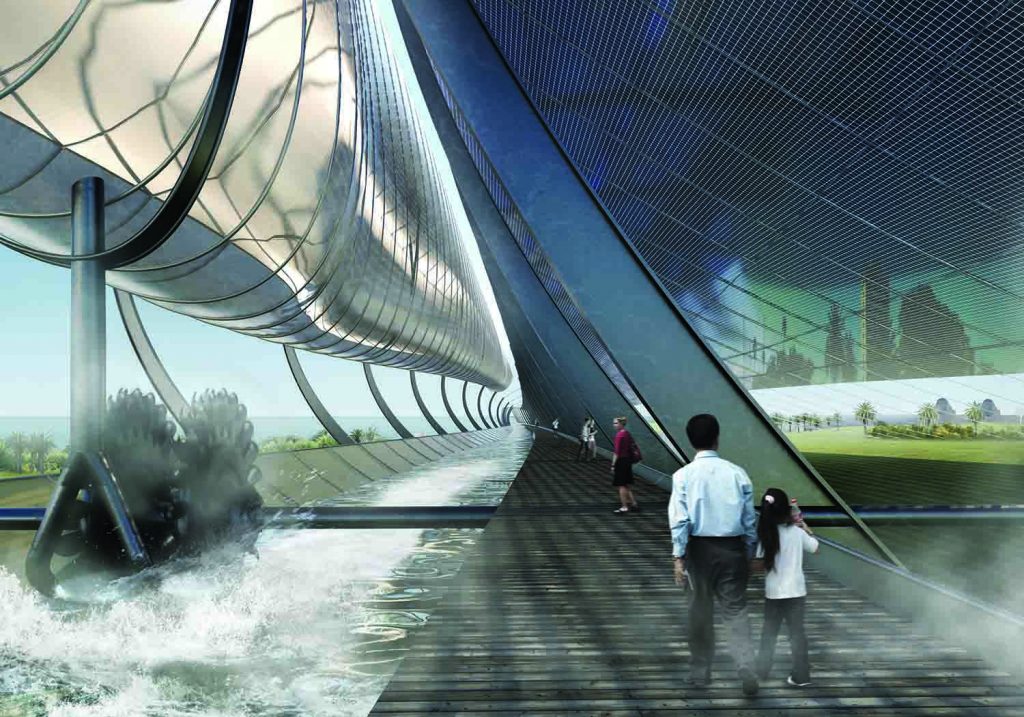 Designed by the renowned Seattle-based architecture firm Olson Kundig, this iconic project combines solar power and a hydro battery to leverage St Kilda's natural energy resources. An inhabitable machine, the Hydro-Solar Generator works night and day, taking the form of a pedestrian bridge that links The Esplanade and waterfront. Suspended above the walkway are a solar sail and water vessel, exhibiting the generator's transformation of sun and water into power. During the day, harvested solar energy is used to pump bay water into the hydro battery storage vessel, high above St Kilda Triangle. As the sun sets, the water is released through a turbine, transforming the kinetic movement of water into electricity. This release becomes a lively community event, expressing the power of the battery's embodied energy.
Head in the Clouds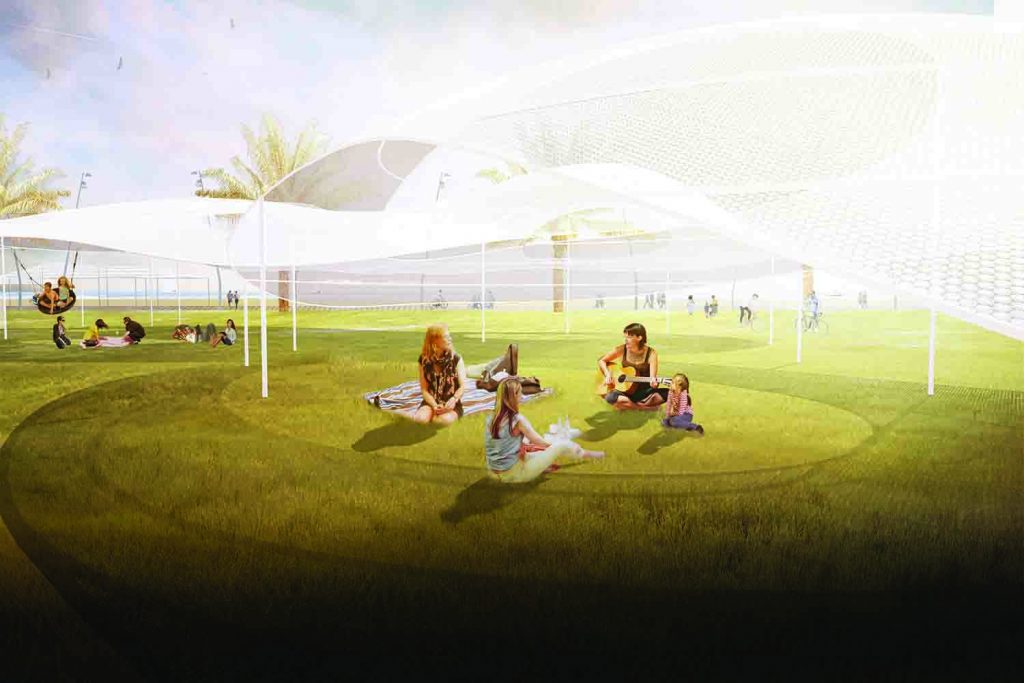 This design comprises a translucent tensile fabric woven with Sphelar® solar cells made with tiny silicon balls that can harvest energy from any direction. Oriented towards the north to collect maximum sunlight, the cloud-like canopy also captures wind energy with aerostatic flutter wind harvesting devices embedded within telescoping columns in the skeletal steel structure. These produce enough energy to operate the cloud fabric's vertical billowing effect, which helps create a dynamic interactive experience for visitors to the site.
Radiance Ribbon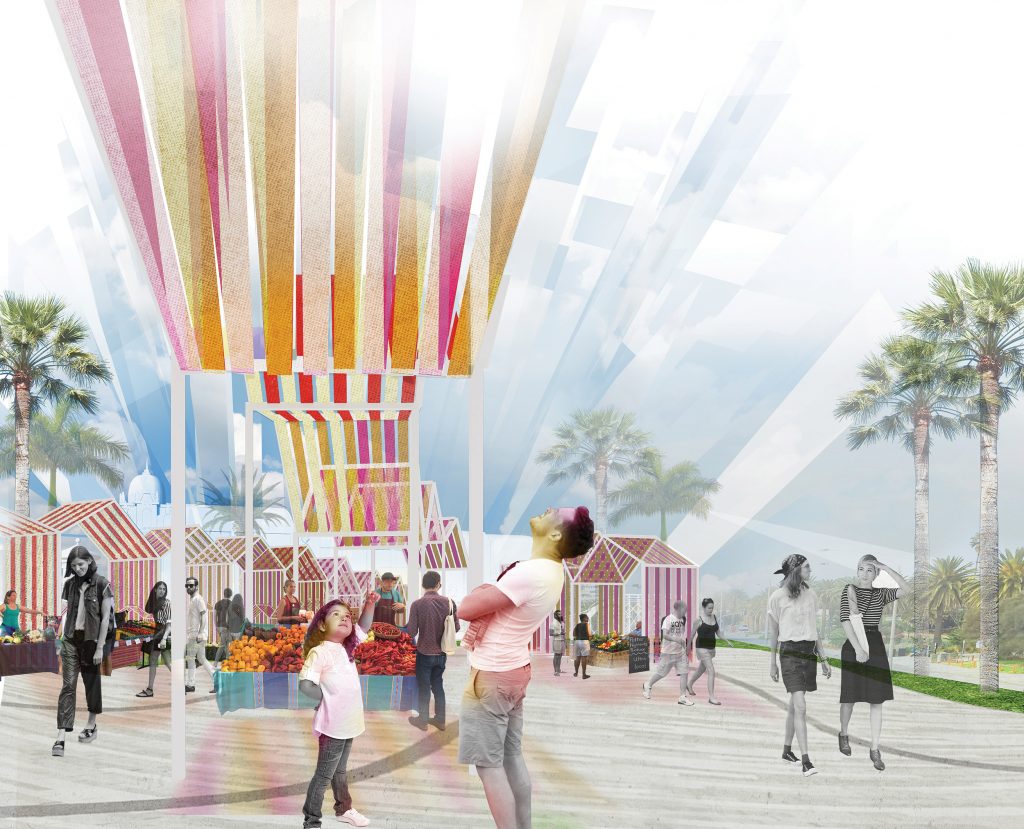 This playful design comprises a colorful canopy that winds from The Esplanade at St Kilda Triangle down to Port Phillip Bay, guiding the way. Sunlight filters through the canopy, scattering multi-colored light across the walkway. Ribbons of colorful dye-sensitized solar cells are attached to the market stall frame, along with an aerostatic flutter device that captures the wind's movement through the canopy. The modular forms allow for phased construction, and the fabric system can be upgraded to use more efficient solar photovoltaic and wind capture systems as they become available.
Sentinel // Marking Energetic Flows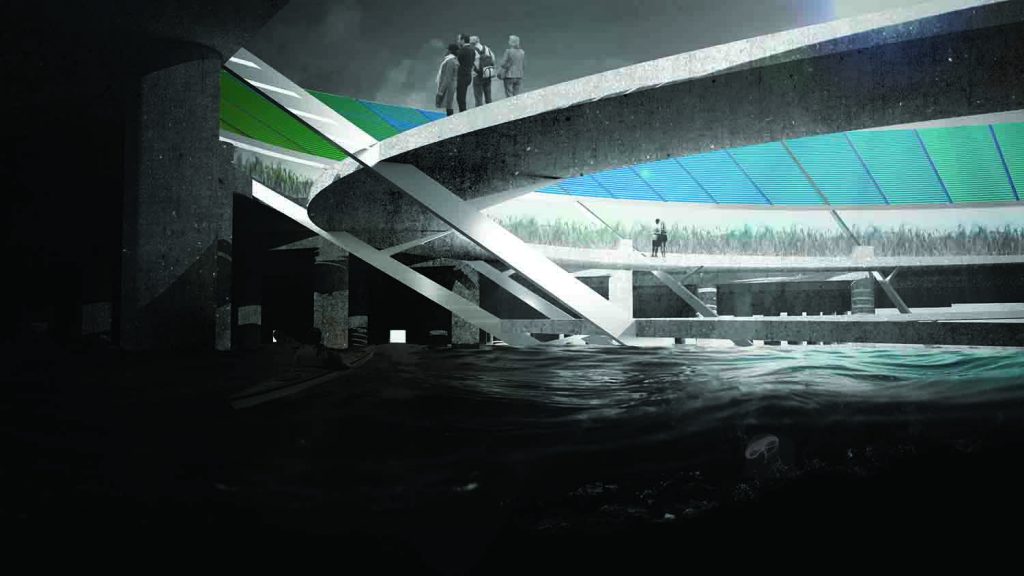 This design, which also incorporates dye-sensitized solar cells, is inspired by the process of entropy, in which disorder and uncertainty in nature tend to increase over time. A crown of semi-transparent solar cells functions as a beacon, creating an angled surface that plots the observer's specific location in relation to the time of day and to the cardinal points. From the Upper Esplanade, the elevated halo frames views to the bay, creating a kaleidoscopic experience of the park area beneath colored glass projections.
Solar Orbs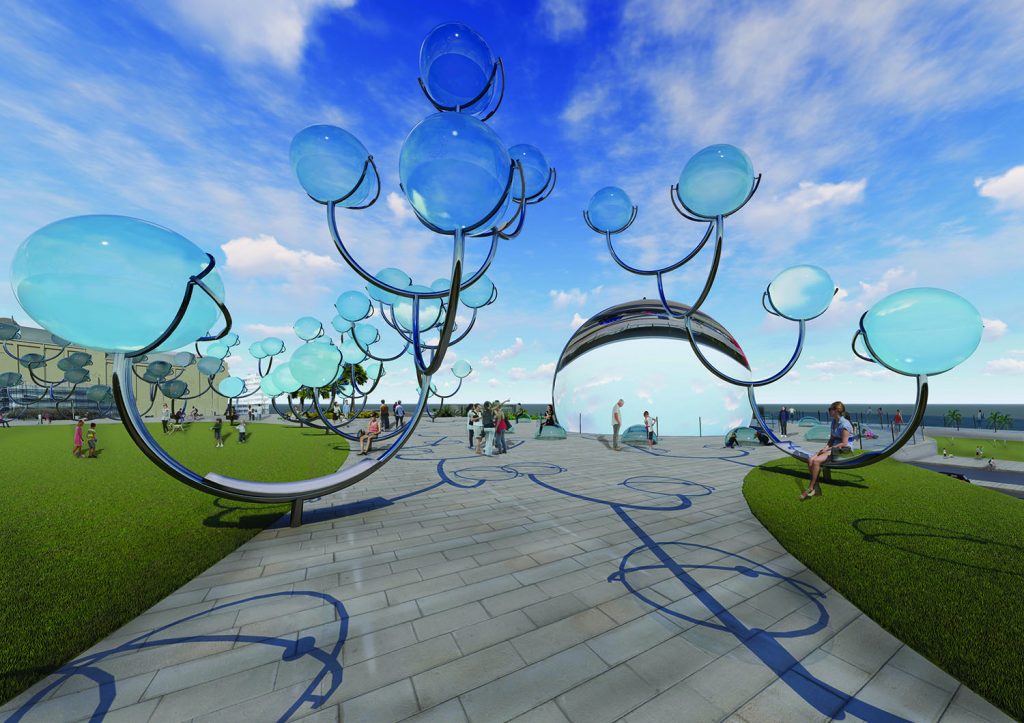 Equipped with dual-axis tracking concentrated photovoltaic thermal (CPV+T) technology, these solar-powered orbs for St Kilda would literally flip visitors' perspective of the land—like looking through a marble or a camera mirror. Each 20 sphere, which concentrates sunlight onto a small surface of solar panels, is made with acrylic, filled with water, and supported by stainless steel structural elements. 14 of them would be 10.65 meters tall and 16 meters in diameter, while the remaining six would be 8.65 meters tall and 1.8 meters in diameter. All of them would come with an 18 inch PV+T panel that could not only generate electricity, but also capture thermal energy. This could either heat buildings or water for the City of Port Phillip. At night, they light up with low energy LEDs, creating a vibrant public display 24 hours a day.
St Kilda Triangle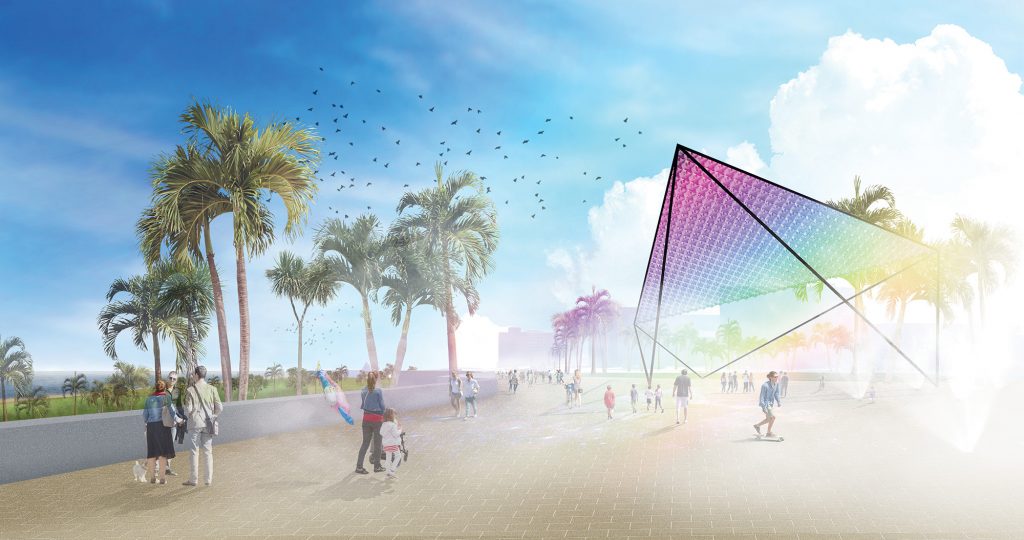 This solar art pavilion brings energy production to the urban environment, enriching the space it inhabits. The structure spans 30 meters along all three sides of the site at St Kilda, providing a large canopy composed of prisms formed from recycled glass. Each prism contains one high-efficiency monocrystalline silicon photovoltaic cell, which shares half of the sunlight for energy production and half for refracted play of colored light beneath the pavilion. Some of the energy absorbed during the day is used to drive mist onto the site and to power lights under the solar panels; visitors are welcome and safe to conduct various leisure activities beneath the iconic structure named after the site for which it was designed.