by Karrah Beck, LAGI 2014 Marketing & Communications Consultant
The airplane industry has been a notorious consumer of energy and a large contributor to atmospheric CO2 emissions. The struggle to make this industry more environmentally sustainable has been a daunting task. But current climate concerns have led to the development of amazing solutions to our energy struggle. New innovations in the field are providing remarkable solutions, courtesy of: Saritsu (Smart Intelligent Aircraft Structures) and Solar Impulse.
Modeled from birds' wings, the wings of Saritsu's plane have a new "skin"—made from a combination of materials consisting of metals and soft silicone or silicone foam, making the overall plane lighter and "consume even less energy" (Braw 2014). Utilization of these lighter wings on a mass scale could lead to a signifigant decrease in atmospheric CO2 output caused by flying. Saritsu in collaboration with Airbus claims if used largely this technology "would cut 42m tonnes from the world's annual aeroplane emissions of 705m tonnes" (qtd. by Braw 2014). Or as an additional alternative, a completely solar powered plane could cut emissions altogether.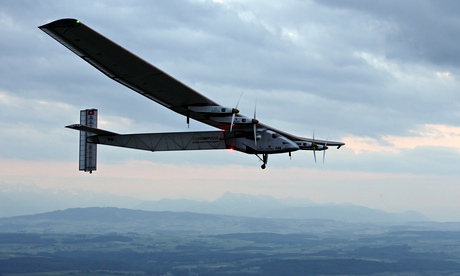 Solar Impulse has created a completely solar powered plane which "has unlimited endurance" and "can fly for weeks and months without stopping to fuel because it collects its energy from the sun" says Solar Impulse's co-founder André Borschberg (qtd. by Braw 2014). The solar energy it collects during the day is enough to power it during dark hours as well. Solar Impulse's planes have already successfully flown for 26 straight hours, and the company plans to fly one of their solar powered planes around the world next year. Though Solar Impulse's planes are only single-seater planes and will not create a significant impact on the aviation market at the present time, completely altering the aviation business is not Solar Impact's goal. Rather the company seeks to create an aviation energy ambassador and example of what future airplane energy can look like.
These new aviation technologies are just the beginning of what we will begin to see in the near future. Climate change has necessitated the need for new innovations in the energy sector, and we will be surely floored by what climate change will inspire us to innovate next.
Reference
Braw, Elisabeth. "Aviation Innovation: Solar Powered Aeroplanes and Silicone Wings." Theguardian.com. Guardian News and Media, 01 July 2014. Web. 17 July 2014.