Tree of Knowledge
Submission to the 2014 Land Art Generator Initiative Copenhagen design competition
Artist Team: Boguslaw Barnas, Rafal Barnas, Omar Gharaibeh, Natalia Jejer
Artist Location: Krakow, Poland
Energy Technologies: piezoelectric toroids, micro wind turbine
"In the center of the hall grew a large tree, with luxuriantly hanging branches. Golden apples large and small hung like oranges among the leaves. This was the Tree of Knowledge."
Hans Christian Andersen
Tree of Knowledge draws on motifs found in the fairy tale "The Garden of Paradise" by Hans Christian Andersen. The electricity-generating sculpture is "The Tree of Knowledge" while "The Four Winds of the World" are the source of renewable energy.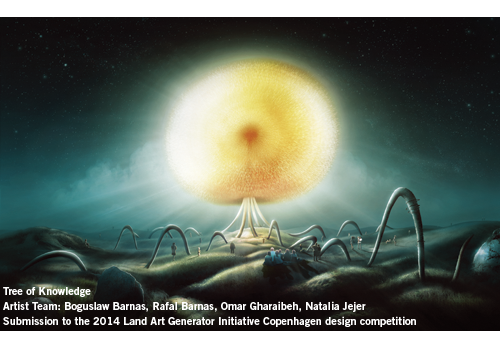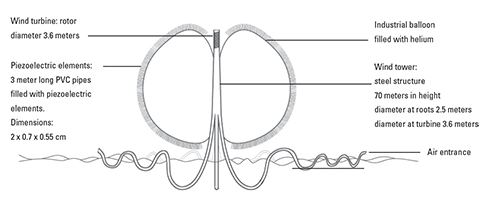 The sculpture's roots wind their way through a wild and mystical landscape evoking an otherworldly image that is in contrast to the industrial surroundings of Refshaleøen. The organic shape of Tree of Knowledge stands out amid the rigid forms of chimneys, turbines, and warehouses. Upon stepping into the garden, the visitor is transported from the urban reality of Copenhagen into a world of fairytales. The tree is a symbol of nature and knowledge, and the aim of this artificial landscape is to promote contemplation on humankind's impact on nature.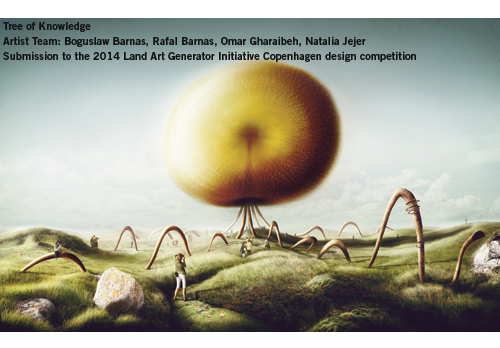 At the top of the tower is a small-scale wind turbine that captures air as it moves through the roots and into the tower by way of the stack effect (warm ground air naturally rises up to mix with the cooler air at the top of the 70-meter tower). Additionally, the steel structure holds two large industrial balloons, the surfaces of which are covered with PVC pipes containing millions of piezoelectric components. The wind and the mechanical stress from the balloon movements will stimulate the piezoelectric elements to produce electricity.