The fifth biennial Land Art Generator Initiative design competition concluded recently with 25 world-changing designs for Melbourne shortlisted by the LAGI 2018 jury.
Hundreds of people from more than 50 countries around the world submitted proposals for large-scale works of public art capable of producing clean energy for St Kilda Triangle in Australia. Sponsored by the State of Victoria as part of Action 13 of the Victoria State Renewable Energy Action Plan, the free competition open to landscape architects, engineers, artists, designers, and other international renewable energy enthusiasts encouraged participants to envision a clean energy landscape for a post-carbon world—a public artwork that will help to power the city and inspire the future.
LAGI 2018 Shortlist Gallery

click the image below to access the shortlist gallery
Slideshow cover image:
ROTOR
Artist Team:
Louis Gadd, Aimee Goodwin, Danny Truong
Energy Technologies:
vertical axis wind turbines
Annual Capacity:
105 MWh
For high resolution images, project narratives, and more information, contact Tafline Laylin at
tafline@landartgenerator.org
.
Elizabeth Monoian and Robert Ferry, co-founders of the Land Art Generator Initiative, say they are overwhelmed by the depth of vision evidenced by LAGI 2018 participants, and delighted that eight out of the 25 shortlisted projects are Australian teams.
We've never had so many local and regional teams dominate the shortlist before. It's a testament to the passion that is held locally for the St Kilda Triangle site and the value placed on design and art in the context of climate solutions for Australia. Wouldn't we all want to live in a city in which the sustainable energy systems that support our lives exist as creative and educational forms in our landscapes and public spaces? The LAGI 2018 shortlist gives us a glimpse into this possible future. Each proposal demonstrates how existing and emergent clean technologies can accelerate an elegant transition to a new circular economy powered by renewables.
This year's entrants were tasked with superimposing an energy and art design onto a masterplan that has been developed since 2010 in concert between the City of Port Phillip Council and a deeply engaged community. For Monoian and Ferry, this is especially exciting since the competition could lead to LAGI 2018 entrants being invited to form part of a larger consultant team moving the City's development forward.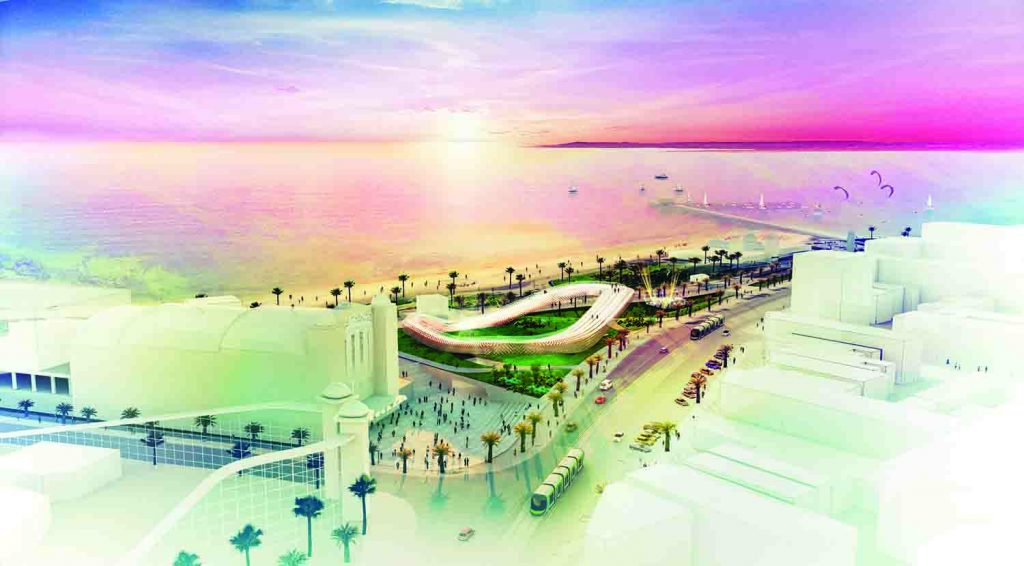 Shortlisted designs include Sun Ray by Antonio Maccà, a "specular sun" that uses linear Fresnel technology that can power 220 homes, and Dreamtime by Kyle Taveira, which comprises 462 swaying piezoelectric poles flying colorful triboelectric ribbons, along with 23 other exceptional proposals (see the gallery for the full list).
Each work of public art is not only designed to produce emissions-free electricity, but also provide a creative educational experience for visitors to the historic bayside destination, in keeping with the City's environmental, social, and cultural goals.
The 20,000 m2 open space on Port Phillip Bay has undergone a series of evolutions since its Traditional Custodians, the Boonwurrung, called the area Euroe Yroke and lived off its plentiful fauna and flora. After European settlement in the early 19th century, the wilderness area gradually grew into a colorful playground for the wealthy.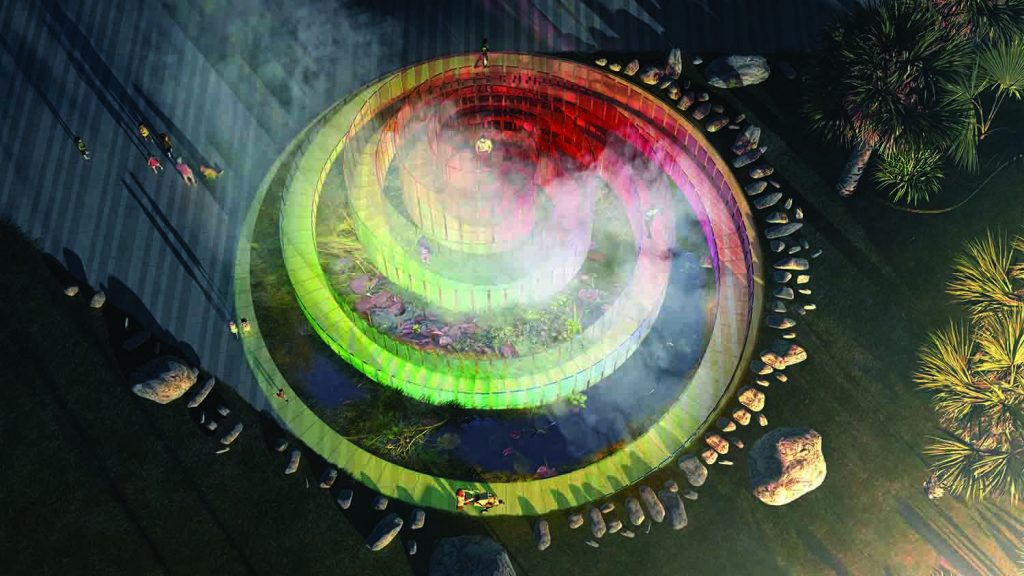 Damian Dewar, Manager of Cultural & Economic Development for the City of Port Phillip and a key partner of this year's design competition, says St Kilda became a destination for rich people who wanted to escape Melbourne. In the 19th century, he says, going to St Kilda was like "going to the sea."
Connected by railway in 1857 to Melbourne's central business district, St Kilda became famous for its Victorian bathing pavilions, sea baths, bowling clubs, and a jetty promenade. Between 1870 and 1890, the population exploded to around 19,000 people, with large stone mansions and palatial hotels replacing former shrubland, lagoons, dunes, and swamps. Today, the City of Port Phillip, with nine distinct neighborhoods including St Kilda, has a population of around 110,000. Its next transition will be to a sustainable city, and the LAGI 2018 proposals help inspire everyone to get there more quickly.
LAGI partners for 2018 also include Carbon Arts, which generates and evaluates creative models for engaging society in imagining and shaping a more sustainable future; Fed Square, a carbon neutral precinct leading environmentally sustainable practices through a number of innovative, long term initiatives; CLIMARTE, which harnesses the arts' creative power to inform, engage, and inspire action on climate change; the Regional Centre for Culture, a year-long celebration of arts, culture, and community focused on a particular geographic region of Victoria; and Hirmer, publisher of Energy Overlays, a collection of essays, fiction, and a deep dive into this year's top designs.
LAGI 2018 is also working with the City of Port Phillip EcoCentre to deliver teacher STEAM training using LAGI materials, and a three-day intensive LAGI Youth Tech Camp where secondary school students will design their own Land Art Generator artworks for the nearby St Kilda Marina.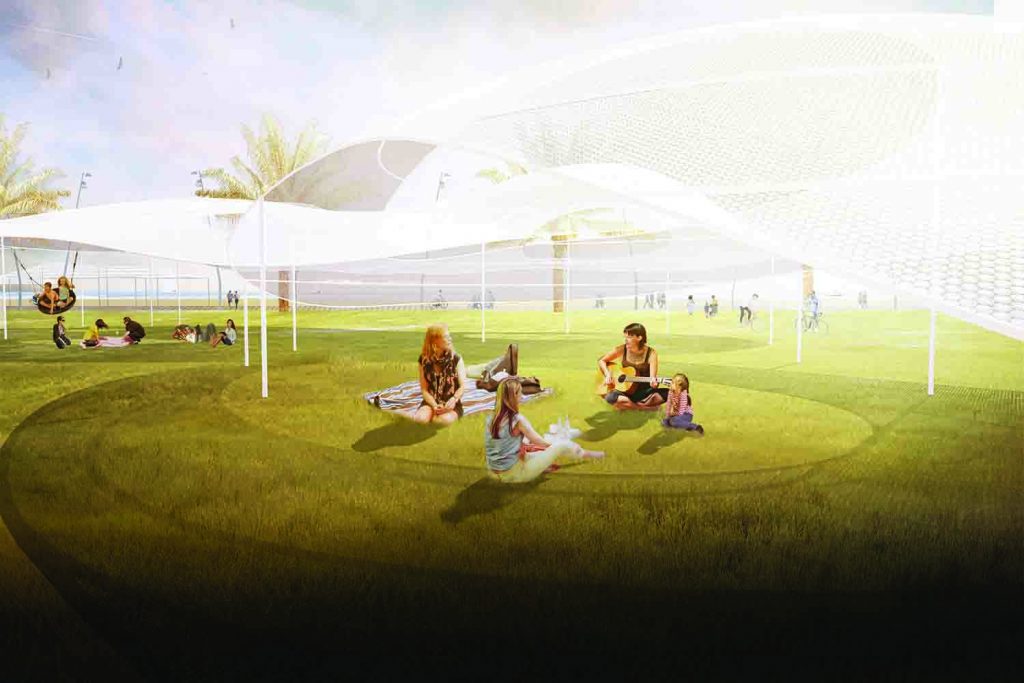 "The submissions for LAGI 2018 have met with our extraordinarily high expectations, says Carbon Arts founder and LAGI 2018 regional director Jodi Newcombe.
Each proposal is a testament to the power of the arts to catalyze the kind of societal paradigm shift that is so necessary to elevate our collective thinking about environmental stewardship. We are excited about presenting these ideas to the public and moving forward together to realize this ambitious vision.
Guy Abrahams, CLIMARTE co-founder, board member, and former CEO, was also a jury member for LAGI 2018. He says it was a challenge to whittle down his preferences, but the designs that made his shortlist were not only creative but also feasible.
"We really need things that will link people between the world we know and the world we know we need," he says. "My hope is that the winning design will display imagination, creativity, and technical know-how, but also is something which, given the appropriate support, could actually be built."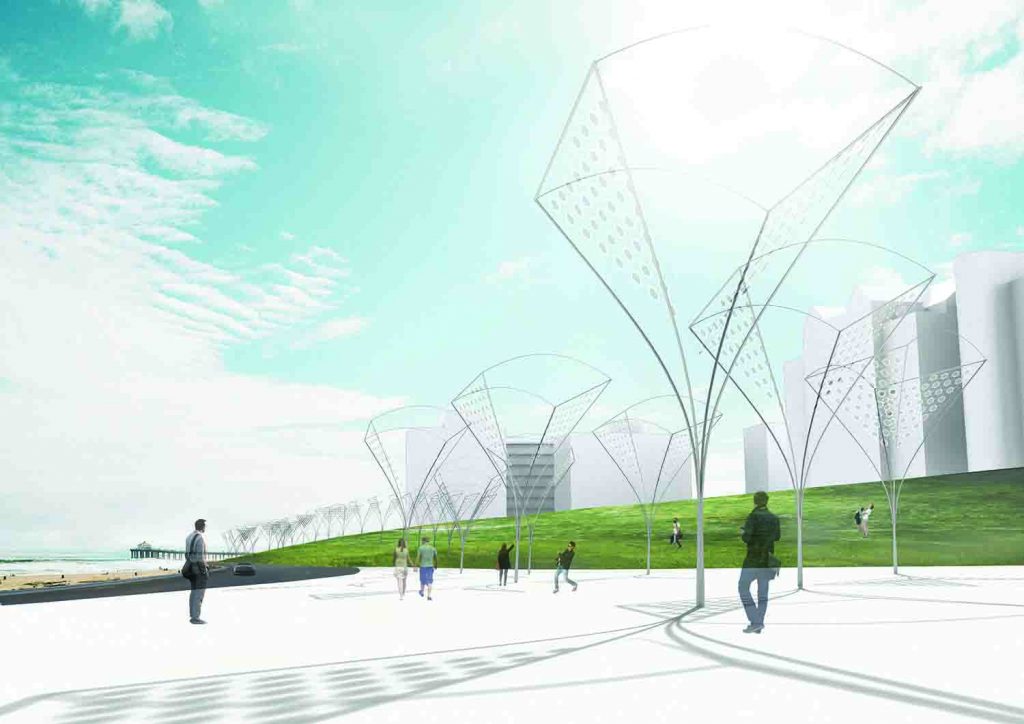 Monoian and Ferry say that LAGI's mission—with respect to public art and renewables—is closely aligned with that of the City of Port Phillip, the City of Melbourne, and the State of Victoria.
Over the past year and a half we've enjoyed experiencing the vibrant arts and culture scene in Victoria and learning about the ambitious decarbonization strategy that the state has developed. These two aspects have really come together beautifully and are reflected in the outcomes of the 2018 Land Art Generator Initiative design competition.
The winning teams will be announced on 11 October at Fed Square in Melbourne.
For more information or for images, please contact Tafline Laylin at tafline@landartgenerator.org