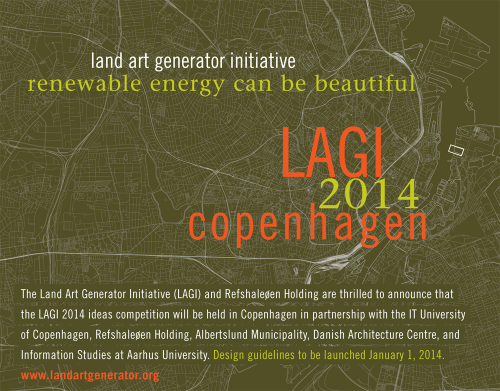 What if our cities were powered by artfully designed clean energy generators? Is there an important role for public art to play in the new smart city?
In a focused effort to provide some interesting answers to these questions, the Land Art Generator Initiative (LAGI) and Refshaleøen Holding are thrilled to announce that the LAGI 2014 ideas competition will be held in Copenhagen in partnership with IT University of Copenhagen, Refshaleøen Holding, Albertslund Municipality, Danish Architecture Centre, The Alexandra Institute, and Information Studies at Aarhus University.
LAGI is especially pleased to be working closely with the Copenhagen based team: Lea Schick (Project Manager), Anne Sophie Witzke (Curator), Trine Plambech (Innovation Specialist), and Ida Egedal Henriksson towards a successful 2014 competition. They all add great depth to the LAGI project and without their dedication LAGI 2014 would not be possible.
LAGI 2014 Design Competition could not come to Copenhagen at a more opportune moment! As the city (the European Green Capital in 2014) moves towards carbon neutral status by 2025 the debate over the aesthetic manifestation and human interaction component of our new energy infrastructure is becoming increasingly important to the planning strategies required to attain zero-carbon sustainability goals.
Martin Lidegaard, Danish Minister of Climate, Energy, and Building states:
Land Art Generator Initiative provides new and exciting proposals for approaching the green transition. We saw in the previous exhibitions in Dubai in 2010 and New York City in 2012, where creative forces of art, architecture, and engineering together brought forth innovative ideas, concepts, and solutions that can produce green energy while being integrated to beautify the local environment.
LAGI 2014 CPH will invite interdisciplinary teams from around the world to submit their ideas for what infrastructure art of sustainable cities looks like. The challenge will be to envision public art that provides renewable energy to the grid, integrates with smart city data monitoring, cleans the air around them, and in other ways provides ecologically symbiotic services to the people of Copenhagen.
The jury will be comprised of civic leaders within the fields of many disciplines, including architecture, urban design, energy industry, art, and ecology.
The site—Refshaleøen—at its height, was a shipyard that employed 8,000 individuals and is poised to be an important area for new development within the city. The rich historical context of the site, and its place in Copenhagen's future will inform the design proposals. And the view to the site from the Langelinie and the cherished statue of the Little Mermaid provides a beautiful canvas on which to create.
The Design Guidelines will be released on January 1, 2014 and the competition will close in May of 2014. The award ceremony and exhibition will be in Copenhagen in the fall of 2014 at the Danish Architecture Centre and on site at Refshaleøen. Various community events will be held Copenhagen in collaboration with project partners.
According to Elizabeth Monoian, co-founder of LAGI:
The interdisciplinary nature of the design challenge has led to proposals that are innovative in their approach to both science and art, and has generated a global community of designers who are focused on addressing these important issues through their work.
LAGI has held two international competitions that have thus far inspired around 400 concepts for new ways of thinking about both public art and renewable energy generation. The first LAGI competition was held in Abu Dhabi and Dubai in 2010 and saw submissions from 40 countries. A partnership with New York City Department of Parks & Recreation in 2012 brought a second and increasingly successful design competition for Freshkills Park (the former Fresh Kills Landfill).
Elizabeth anticipates that:
LAGI 2014 will see many more submissions than previous competitions, as Copenhagen's green initiatives are continuously setting the standard for the world to follow.
Presenting the power plant as public artwork—simultaneously enhancing the community, increasing livability, providing an venue for learning, and stimulating local economic development—is a way to address a variety of issues from the perspective of the ecologically concerned artist and designer. By nature of its functional utility, the work also sets itself into many other overlapping disciplines from architecture and urban design to mechanical engineering and environmental science. This interdisciplinary result has the effect of both enhancing the level of innovation and broadening the audience for the work.
About Refshaleøen
Refshaleøen was constructed and founded as the Burmeister & Wain shipyard in 1872. The former shipyard area comprises 500.000 m2 of landfill grounds and 71.000 m2 of existing building structures from the shipyard era, including the well-known gigantic Section Halls.
Refshaleøen is not yet ready for city development, but is instead flourishing with temporary creative business projects and recreative activities as well as music and cultural events—all pointing toward a vision for the future. The ambition is to use this temporary period intelligently by testing, experimenting, and thereby creating a social and cultural infrastructure that will integrate itself into the future development. The area attracts a lot of exciting projects, i.e. the world's highest climbing facility, Amass Restaurant, Shipyard Gallery, film studios, artist workshops, and much more. Refshaleøen aims at becoming an integral part of the green city and is attracting projects that work creatively towards a sustainable future.
For more information about Reshaleøen, please visit: http://refshaleoen.dk