Almost a ray of sunlight radiating from a gap in the clouds:
A "specular sun" mirroring the Sun, living symbol of the passage of time.
A "Light-house" in the sky, showing the way to the future of energy,
and of human life on our planet.
—Antonio Maccà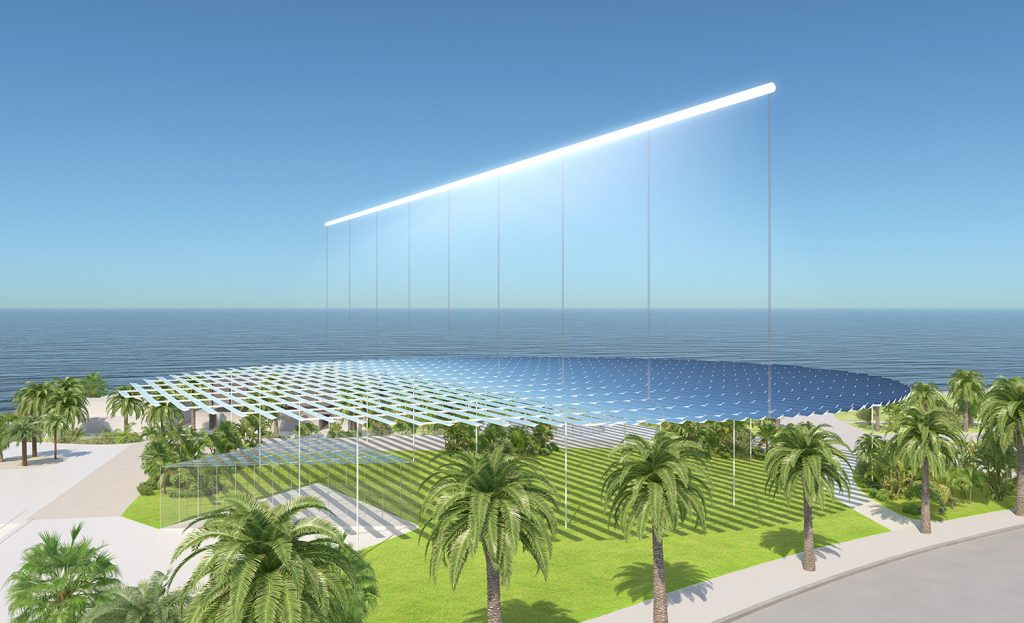 Veteran LAGI participant Antonio Maccà has outdone himself with his latest work of art: a creative reinterpretation of linear Fresnel reflector technology that is capable of producing 1,100 MWh of clean energy annually for the City of Port Phillip in Melbourne, Australia. Maccà, who has entered every LAGI design competition since the first, LAGI 2010 in Abu Dhabi and Dubai, says in his written narrative that "Sun Ray is a new symbol of renewable energy, lighting the way to the State of Victoria's zero-greenhouse gas (GHG) emissions target."
"It is also a cultural attractor for Melbourne, an investigation of light as a physical and symbolic source of illumination for life. It is a place for reflection, relaxation, learning, and play—and it is a linear Fresnel reflector solar power plant that provides heat and electricity for hundreds of homes in St Kilda."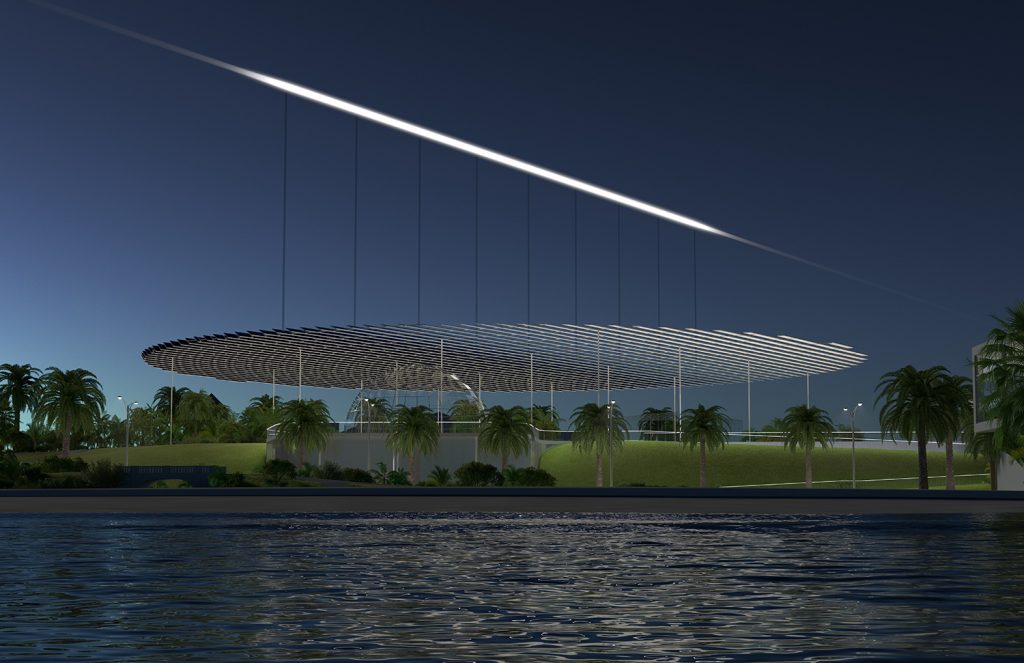 Shortlisted in this year's competition, Sun Ray could provide sufficient energy to power 220 Melbourne homes, while standing as a literal beacon of regenerative art's power to transform whole communities.
Measuring 279-feet in diameter, the "specular sun" consists of a round solar field of parallel flat mirrors, each with its own single-axis tracking system, that beam sun rays onto a linear solar receiver located in a common focal point. Below grade, a power block contains the equipment necessary to convert harvested energy into electricity, which is then fed into the city grid.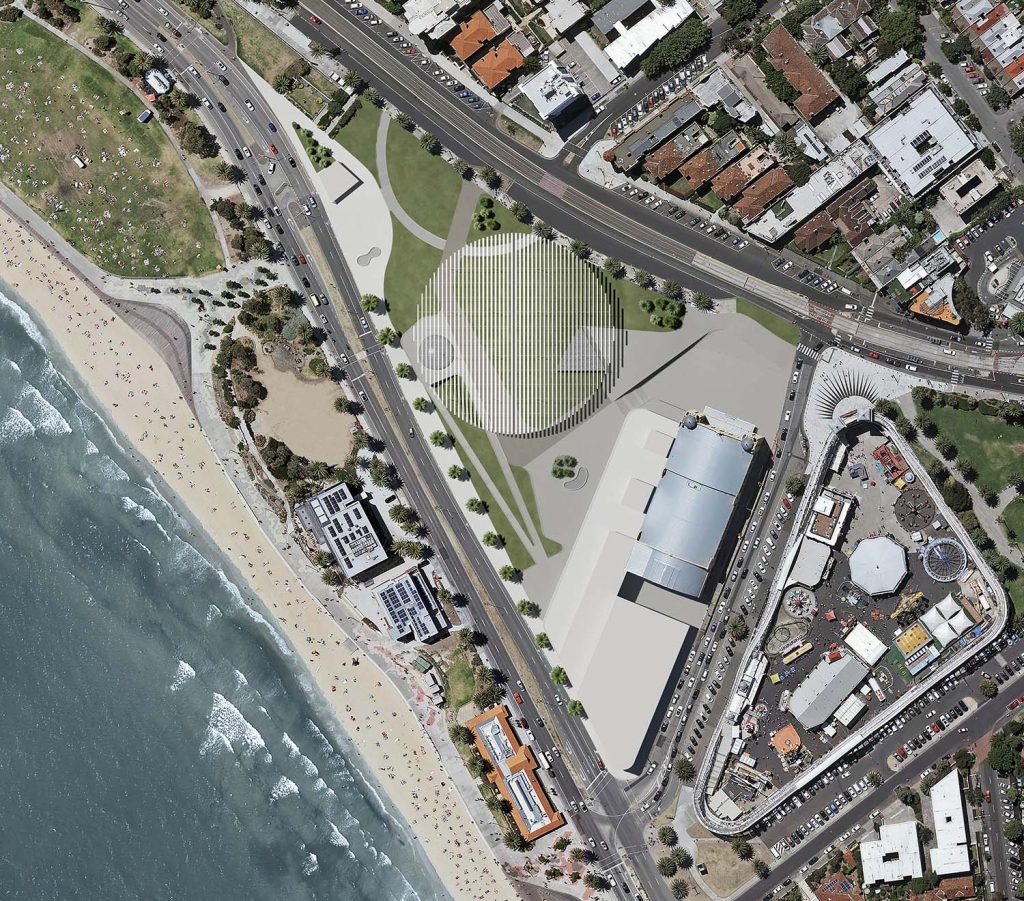 The floating solar canopy's 50 primary mirror lines create a shaded space where visitors are encouraged to rendezvous, unharmed by the overhead power plant, which doubles as a unique site-specific public art installation.
"Changeable light under the canopy creates a constantly mutating space as the mirrors vary their inclination throughout the day," according to the artist's narrative. "Their seductive play of light and shadows creates a welcoming place for walking, playing, performance, screenings, and family picnics."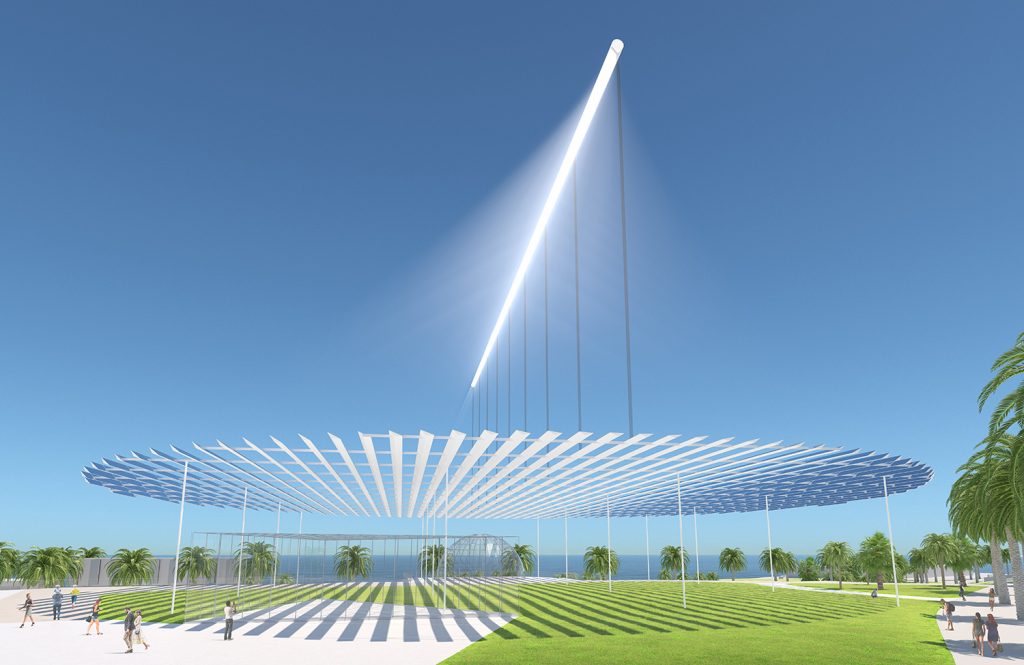 Maccà said it was very important to him to honor the existing Masterplan, which the City of Port Phillip produced in close concert with the local community over a period of several years; in response, he literally created an energy overlay (the competition's theme) that requires limited site disturbance.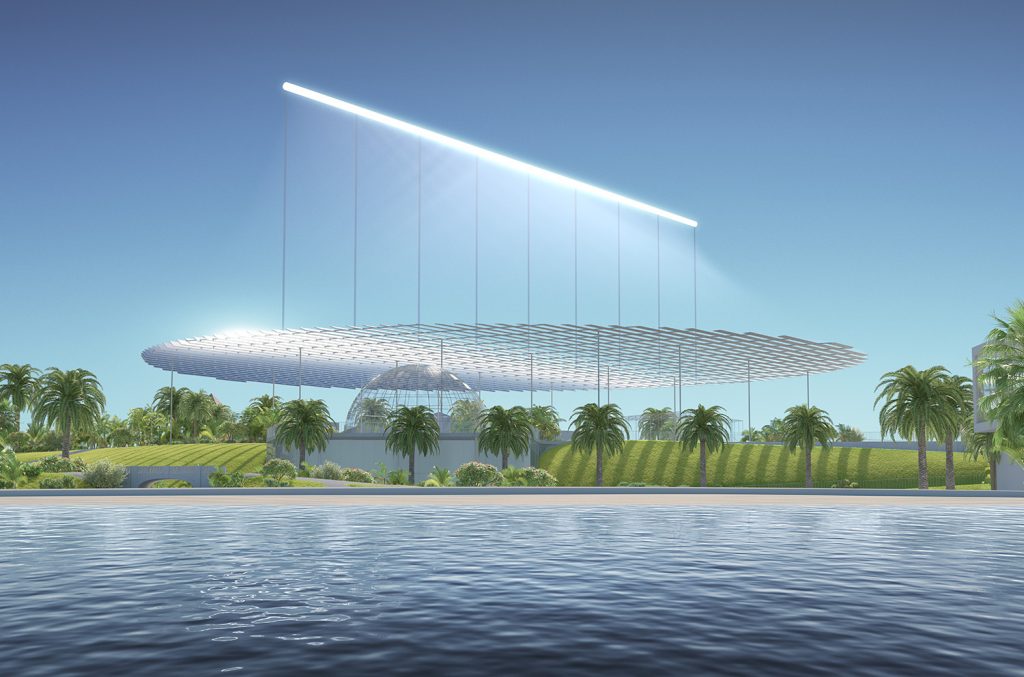 Elevated on thin steel columns, the design has a negligible footprint, yet its visual impact resounds — especially at night when the solar receiver is illuminated, a bright whip of light that "…presents itself to the dark as a new and ideological symbol of the place—pointing to a prosperous and harmonious future."
Pointing to a kind of "love affair" that he has with the linear Fresnel reflector, the artist, engineer, and architect says there are numerous benefits to using this proven clean technology, which was first developed in 1961 by another Italian, Giovanni Francia, at the University of Genoa. These include low operation and maintenance costs, constructive simplicity, an easy assembly process, and a fast return on capital investment.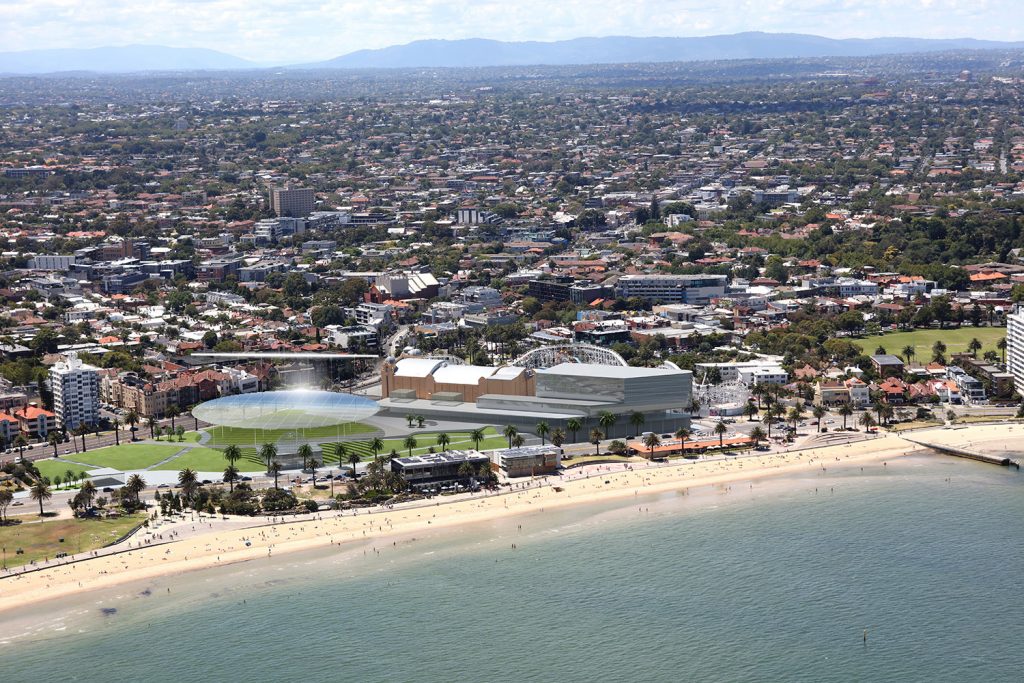 Maccà says his work has grown alongside the competition and renewable energy technologies. Still, even though he has contributed five designs to the growing LAGI portfolio of land art generators, he says each year it becomes more challenging to keep producing powerful designs that push his creative and technical limits.
It's not easy, he says, "To find a new symbolism, a new way to express yourself, a new way to adapt yourself to the site," adding that designing for each new, specific site is critical. And yet each of his projects is boldly unique—starting with the LAGI 2010 Solar (ECO) System comprising a field of solar spheres that represent the relative position of the planets on the day the United Arab Emirates was founded, and in their center an arabesque sphere of golden tinted custom poly-crystalline modules.
According to LAGI co-founders Elizabeth Monoian and Robert Ferry, "Antonio Maccà is an incredible designer who has from the very beginning truly understood the goals of LAGI. Solar (ECO) System has a special place in our hearts as it was the very first design submission to be uploaded to our server about one month before the LAGI 2010 deadline. When it came in it brought tears to our eyes to see his new photovoltaic sun for the city of Abu Dhabi. We are still working to get it constructed and look forward to the day when we can stand with Antonio in front of his first regenerative masterpiece."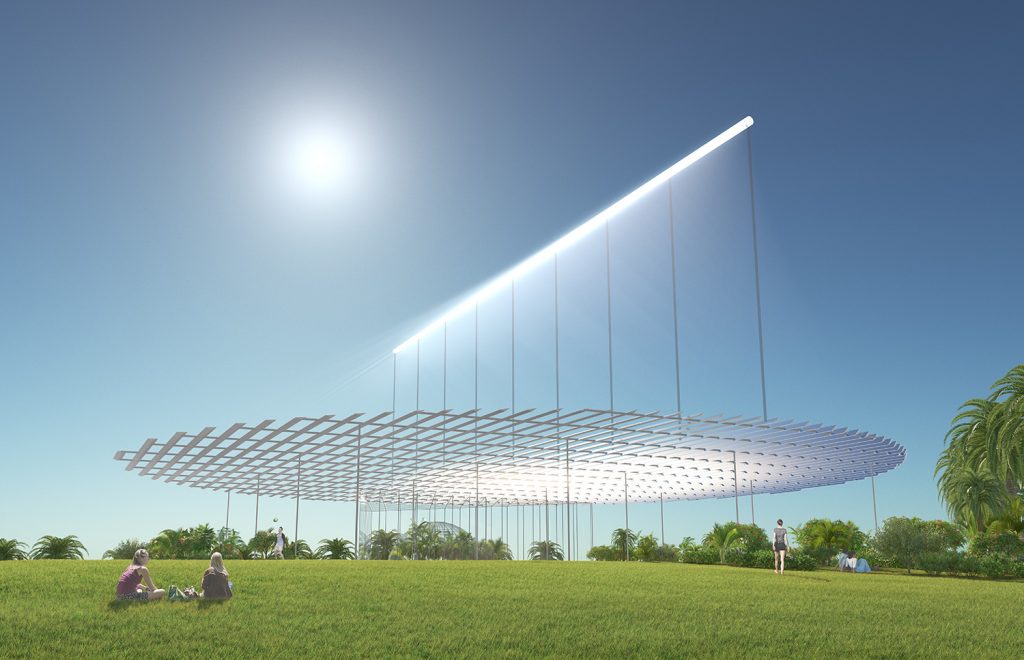 Along with his team partner Flavio Masi, Maccà took third place in LAGI 2014 for Copenhagen with their design called eMotions, which incorporates a smorgasbord of clean energy technologies, namely photovoltaic panels, micro-scale vertical axis wind turbines (VAWT) and horizontal axis wind turbines (HAWT), stacked ceramic multilayer actuators, and piezoelectric wind energy systems, to produce 2,000 MWh per year.
Asked why he is so committed to LAGI, Maccà says the design competition fits his work and way of seeing and thinking, and that more people should integrate art, architecture, and science to address contemporary issues like climate change.
Tafline Laylin is a freelance communicator and journalist who strives for global environmental and social justice. Her work has appeared in The Guardian, The Atlantic, OZY.com, and a variety of other international publications.