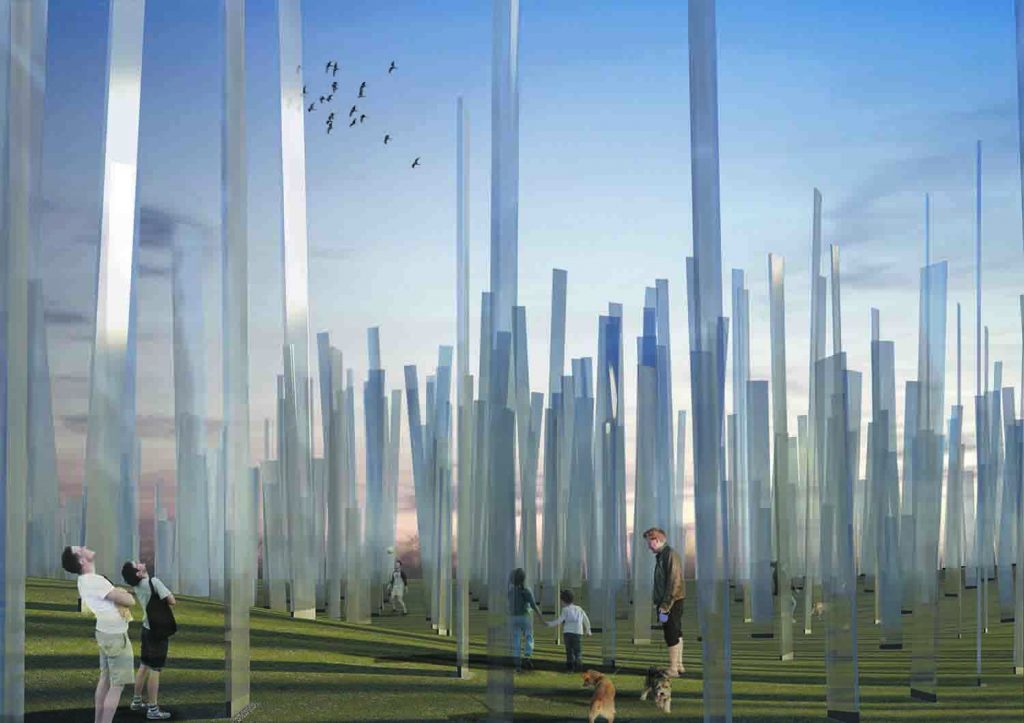 PITCH! is a solar-powered public art design that incorporates cutting-edge technology to deliver clean energy to the City of Port Phillip in Australia.
A finalist in the LAGI 2018 design competition for Melbourne, the installation comprises a series of sculptural glass panes — embedded with solar photovoltaic (PV) cells and a light-deflecting compound — that generate about 100 MWh annually for St Kilda Triangle. Local architecture graduates Bryan Fan and Shelley Xu say they wanted to create a "monumental sculpture" that would not only safeguard sacredly-held vistas between The Esplanade and St Kilda Beach in the City of Port Phillip, but frame them.
Fan and Xu knew early on in their design process that their installation would harness one of Australia's most abundant energy sources: The sun. At the same time, they felt it was important to mitigate the design's overall visual impact by keeping the panes transparent. This is why they turned to an emergent technology from an Australian company operating in the Building Integrated Photovoltaic (BIPV) sector, which integrates solar technology into glass and other building surfaces to produce renewable energy.
ClearVue Technologies has worked closely with Electron Science Research Institute at Edith Cowan University in Perth to develop solar PV cells integrated into an insulated glass unit (IGU), while the lamination interlayer sandwiched by the IGU integrates the company's "patented proprietary nano and micro particles, as well as a spectral selective coating on the rear external surface of the IGU," according to a recent ClearVue press release detailing the latest advancement of a frame-independent IGU they say will help accelerate commercialization.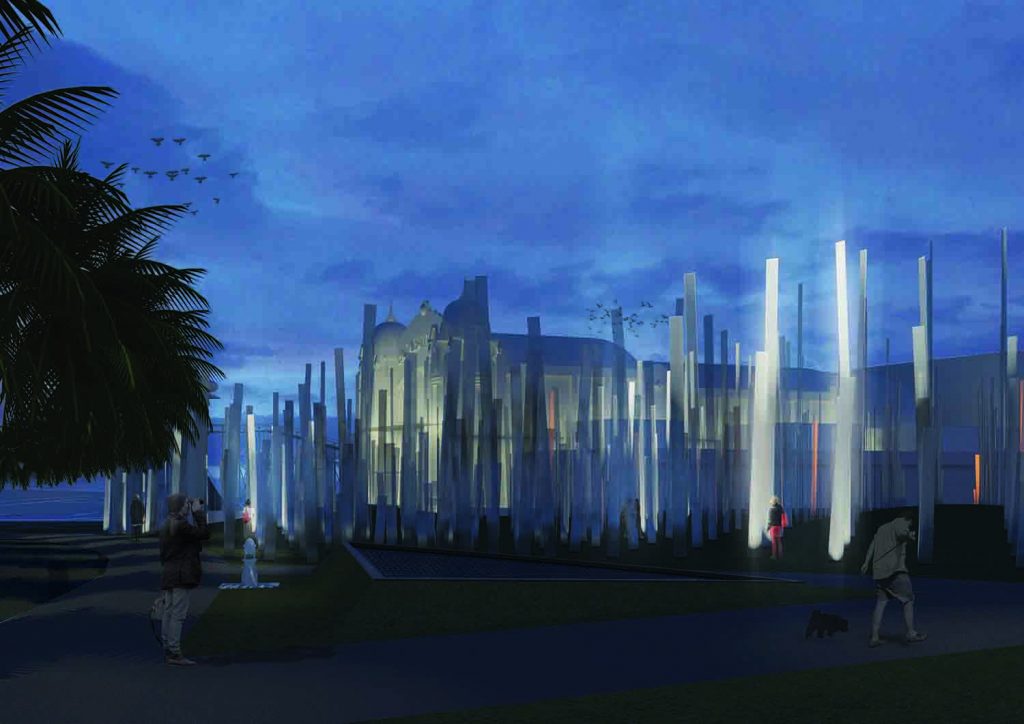 The interlayer particles redirect ultraviolet and infrared components of natural light to the edge of the glass panels, which are lined with traditional PV cells that then convert solar energy into electricity. The panes, which maintain 70% transparency, are arranged at varying heights—a nod to the site's rich jazz heritage.
And at night, say the artists in the submission narrative:
"The piece becomes an interactive light sculpture that illuminates visitors' movement—an improvisational light show of human dance."
Equipped with motion sensors, the glass panels light up when users traverse spaces between the glowing 5×5 meter grid after dark, using solar energy harvested throughout the day to power embedded LEDs. The motion sensors make visitors an essential part of the interactive installation's nighttime impact, thereby deepening the community's connection to the design. Any leftover energy will be fed to the city grid.
At other times, PITCH! can accommodate various community events; including, perhaps, a Sunday farmer's market.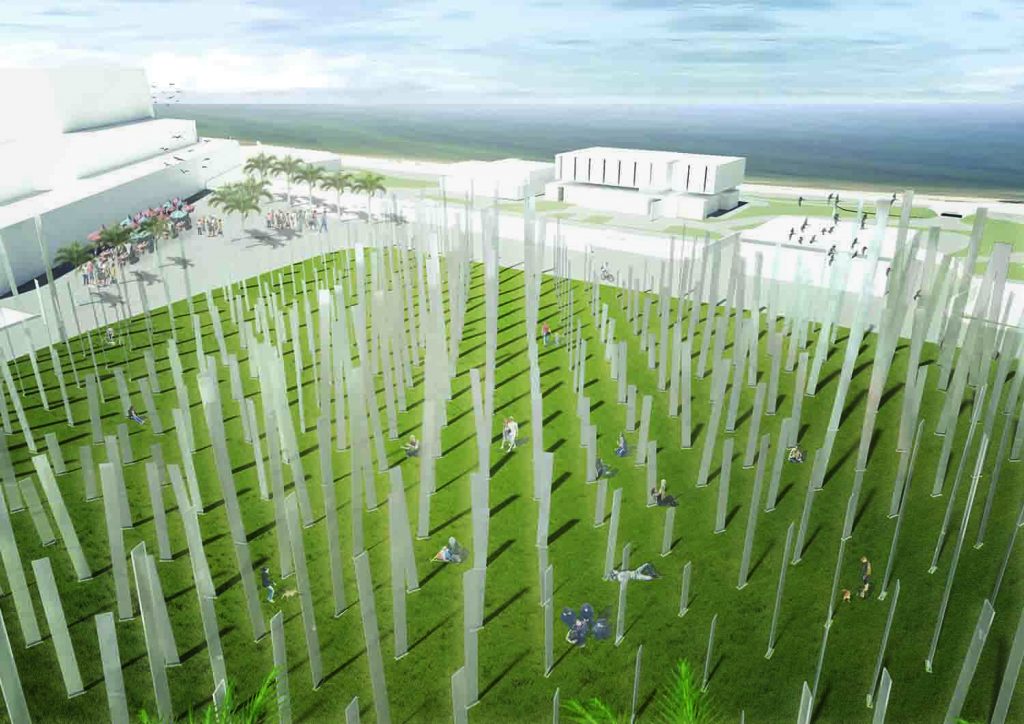 Fan and Xu first became aware of the City of Port Phillip's Masterplanning process for St Kilda Triangle while they were still students at the University of Melbourne. They graduated in 2016 and now both work for the same firm.
"As young architects, we're quite eager to look at opportunities where we can express our design ideas and contribute to the local context," says Fan.
So, when they heard about the 2018 Land Art Generator Initiative competition for Melbourne, they were excited to get involved. Plus, as frequent visitors to St Kilda Triangle, they were well-poised to deliver a proposal that locals can be proud of, and that integrates well with the site's cherished historic identity.
As Damian Dewar, Manager of Cultural & Economic Development for the City of Port Phillip, noted of St Kilda in a previous interview with LAGI:
"It's always kept that recreational sense of itself. I guess because it is on the bay and it's one of very few actual Melbourne suburbs which is on the water."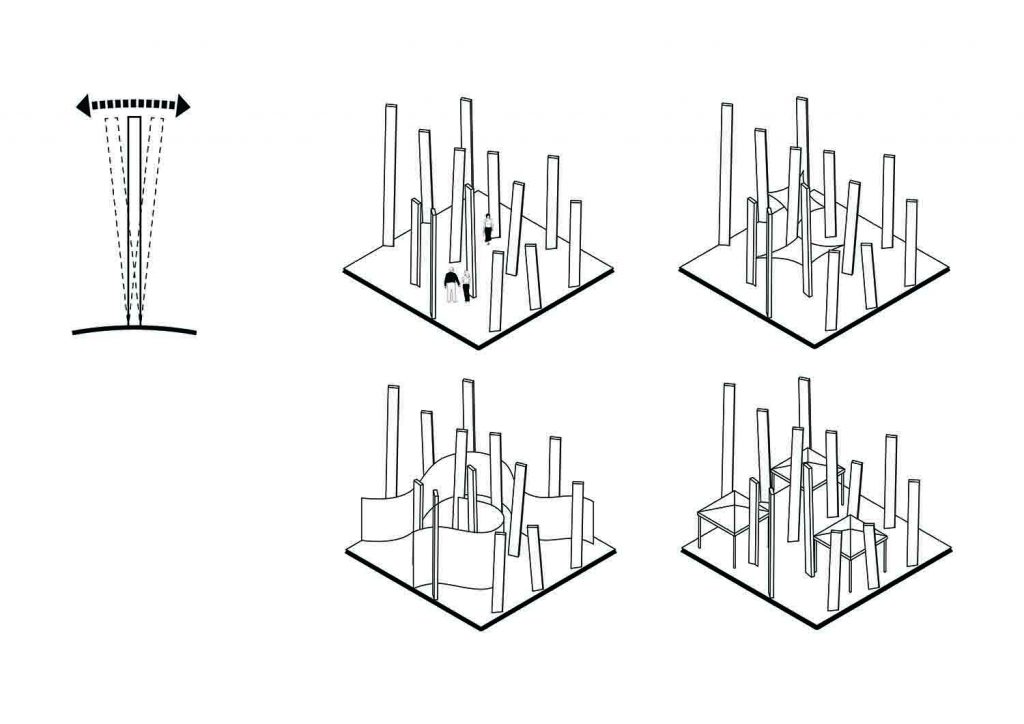 Elizabeth Monoian and Robert Ferry, LAGI co-founders, say they appreciate how Fan and Xu transformed an emergent BIPV technology into a timeless gesture in the landscape—demonstrating the potential synergy between science, technology, culture, and creative-placemaking.
"In Melbourne we love good public art," says Fan. We like green technology as well. So, if there's an initiative that encourages these installations, then I think it's a good thing."
As for Xu, she says her previous experience working at Melbourne's first carbon-neutral building, The Pixel, exposed her a kind of creative thinking that encourages incorporating an experimental spirit into the design.
Experiencing designs that take the future into consideration, she adds, "constantly reminds you of a better future through the built environment."
Tafline Laylin is a freelance communicator and journalist who strives for global environmental and social justice. Her work has appeared in The Guardian, The Atlantic, OZY.com, and a variety of other international publications.