Kyle Taveira has recreated the awe-inspiring experience of watching the Aurora Borealis dance in the night sky.
A Temple University architecture student who has a keen interest in adaptive reuse, 22-year-old Taveira was one of several students in Eric Oskey's class who participated in the LAGI 2018 Melbourne design competition. His submission, Dreamtime, comprises 462 swaying piezoelectric poles flying colorful triboelectric ribbons; together, they are capable of producing 100 MWh of clean energy annually for the City of Port Phillip in Melbourne, Australia.
"I was trying to achieve an experience," he says of his design, "a visual representation of energy in the sky… In my proposal, I purposely was trying to make space…focusing on the experience of a space and not just something to look at."
Even so, Dreamtime is worth looking at. The installation creates a long walkway with colorful ribbons flapping overhead, each stalk around 59-feet-tall, winding through St Kilda Triangle down to Port Phillip Bay. In addition to creating an experience for those present, the installation's visibility from afar adds an exciting new aesthetic to a site that has long enjoyed prominence as a creative and cultural hub.
A ceremonial opening in the field of stalks provides a space for celebration, performance, and the annual Tanderrum—or Welcome to Country—event.
Woven from triboelectric yarn, the ribbon has an insulating outer layer made with recycled plastic. Each string has at its center a silver thread surrounded by materials that generate electricity as oppositely charged materials within the yarn are rubbed together. The ribbon is attached to carbon fiber stalks stacked with piezoelectric disks and placed on a 15-foot equilateral triangular grid system.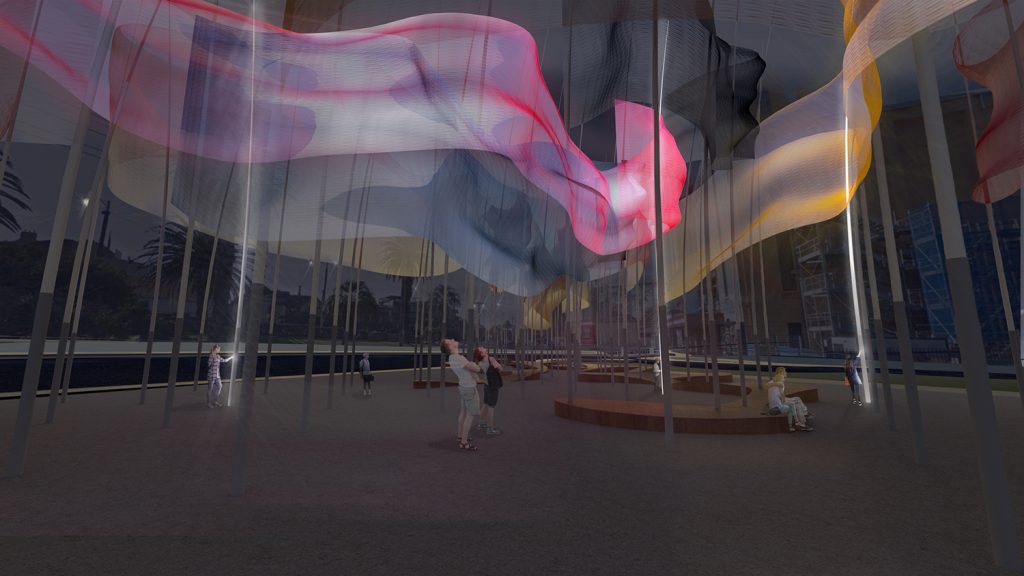 As they sway in the wind, the stalks generate additional electricity from compression while the fabric acts as a sail creating a consistent swaying movement. As energy is produced, it is transmitted through elastic wiring that connects the ribbons to the stalks and to energy storage and transmission equipment below grade.
Speaking of his energy choices, Kyle says his class researched different technologies in preparation for their projects. They also researched the competition site to determine what natural energies are most abundant. Given St Kilda's proximity to the water, Kyle decided to focus on wind — putting a new twist on an energy source that researchers have been aware of for a long time, but which is only now gaining traction.
Zhong Zin Wang from Georgia Tech University is a leading researcher of triboelectricity. His team has developed a number of devices that harness energy from human movements, including everything "from medical sensors driven by heartbeats to mats that generate electricity for lighting, health care and security.
In a Nature article in which he proposes to use floating nets to harness energy from the ocean, Wang writes, "When materials that conduct electricity poorly — paper, glass and plastics — are rubbed together, they create static electrical charges on their surfaces. This 'triboelectricity' can be drawn off using electrodes. Moving two strips of dielectric material (that can hold opposing charges on their surfaces) together or apart causes a pulse of current to flow."
He adds that his research teams has been using this principle since 2011 to create tiny 'triboelectric nanogenerators' that "are as efficient as electromagnetic generators, converting 50% of the mechanical energy from motions into electricity. Piezoelectric methods convert only around 10%."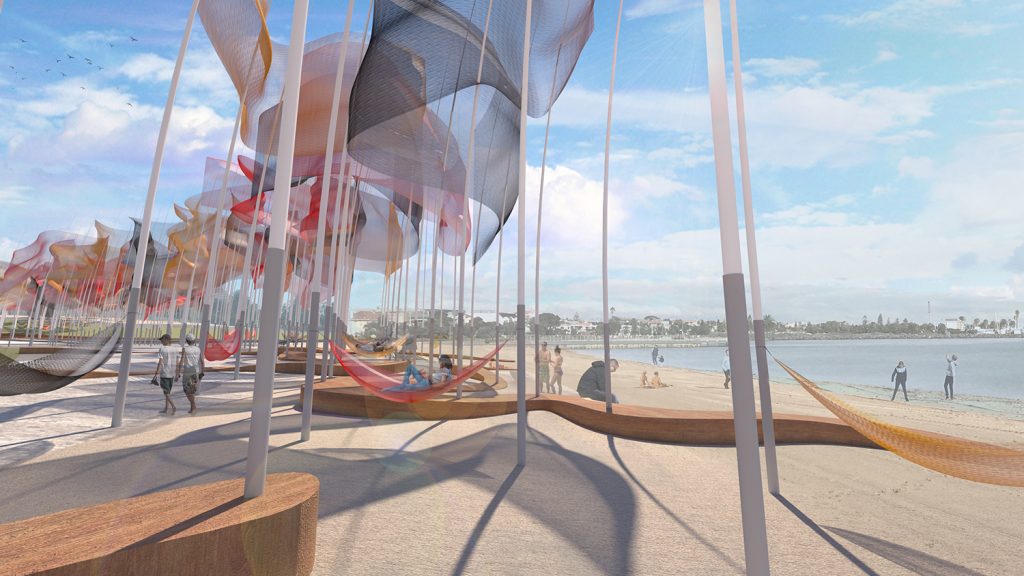 Kyle uses both piezo and triboelectricity for his design, transcending the purely functional to produce a memorable work of art. This is the first time he has designed a public art piece that generates clean energy — with a focus on recreating the sensation and experience of watching the wind wash over flags or water.
"These are beautiful elements and they're natural," he says. "Even if it's manmade like a flag, it still becomes natural just because it's the wind."
At night, his tapered carbon fiber stalks, charged by the wind, illuminate when touched. For users, the interactive light elements provide a transformation from body to spirit—a visual phenomenon that brings about a sensation of serenity, according to the design brief. When many people touch the poles, the site becomes a light show — a communal energy-generating experience that mimics the Aurora Borealis.
Elizabeth Monoian and Robert Ferry, LAGI Founding Directors, said Kyle's first LAGI submission placed fourth out of hundreds of submissions.
While the vast majority of LAGI competition submissions come in from professionals, we are delighted by how many university students participate from countries around the world. We are always thrilled to see the energy and enthusiasm that comes from young designers around incorporating new technologies, such as triboelectricity, into proposals for art in public space. Universities can be a fertile environment for this kind of innovative thinking, especially when design students have access to collaboration with students or professors who are doing research in these fields. With the time that students have to dedicate to their studios, the results tend to be strong contenders during the jury process.
Participating in LAGI "was a step out of the box" for Taveira. "In competitions in general," he says, "it's kind of interesting to be given something that has a competitive edge to it, but actually pushes you further to think faster, more creatively."
And now, Kyle says his vision has changed. For his new studio, he has started incorporating energy-generating elements to his designs.
"Seeing all this and thinking that generating energy can be beautiful; just being sustainable in general and helping the Earth, the world, everyone out there, can be beautiful."
Tafline Laylin is a freelance communicator and journalist who strives for global environmental and social justice. Her work has appeared in The Guardian, The Atlantic, OZY.com, and a variety of other international publications.