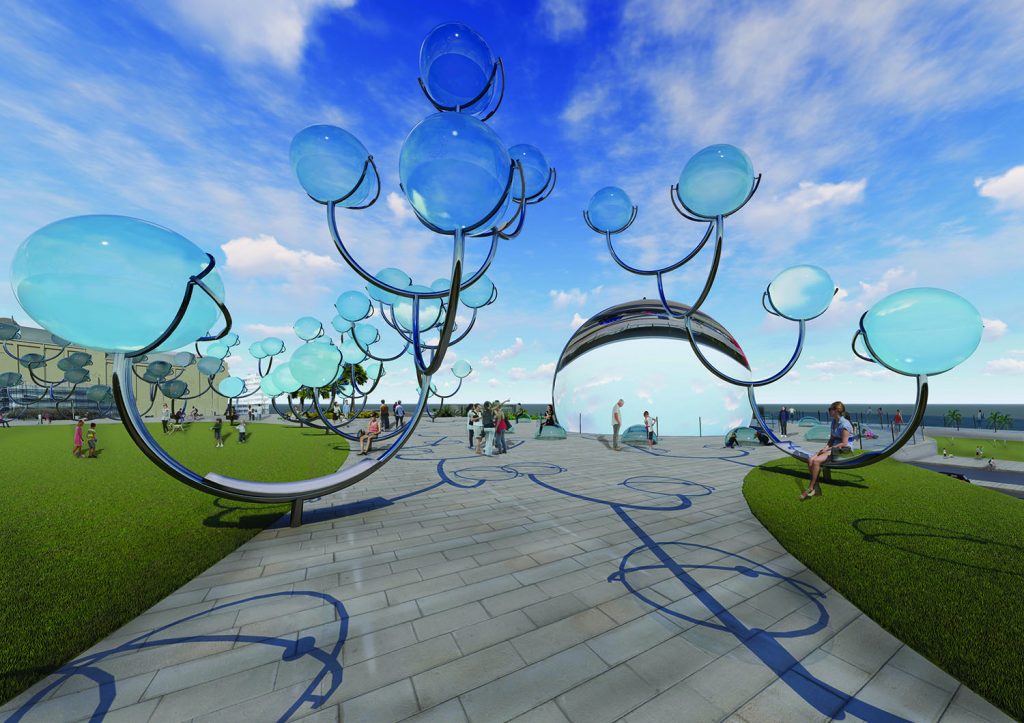 The team behind Solar Orbs sought to turn the world upside down with their submission to the 2018 Land Art Generator design competition for Melbourne—in a good way.
Equipped with dual-axis tracking concentrated photovoltaic thermal (CPV+T) technology, the proposed spheres for St Kilda Triangle in the City of Port Phillip would literally flip visitors' perspective of the land as they look through them. Chad Grevelding, who spoke on behalf of his team from SUNY College of Environmental Science and Forestry, likens it to looking through a marble, or a camera mirror. But they were also concerned to create a sort of mental flip.
"We have seen the world as human dominated for so long that our perception of the relationship between land and sea has become somewhat skewed," they wrote in their artistic narrative. "If we looked at the world upside down for just a second, we would see just how the ubiquitous sky blends together the human world and the natural world, giving man-made forms a natural sense of identity.
Over a period of 15 weeks, Grevelding and his teammates Kaitlin Campbell, Bridget Snover, and Kyle Stillwell played with a variety of different ideas for their LAGI submission. Early on, they found inspiration in two arcs facing each other, a form they say is naturally represented on the site along Port Phillip Bay. Grevelding says they were drawn to the poetic arc of "the sweeping curve of the water's edge, and the tight curve of the cliff's edge" but weren't sure — at first — where to go with it.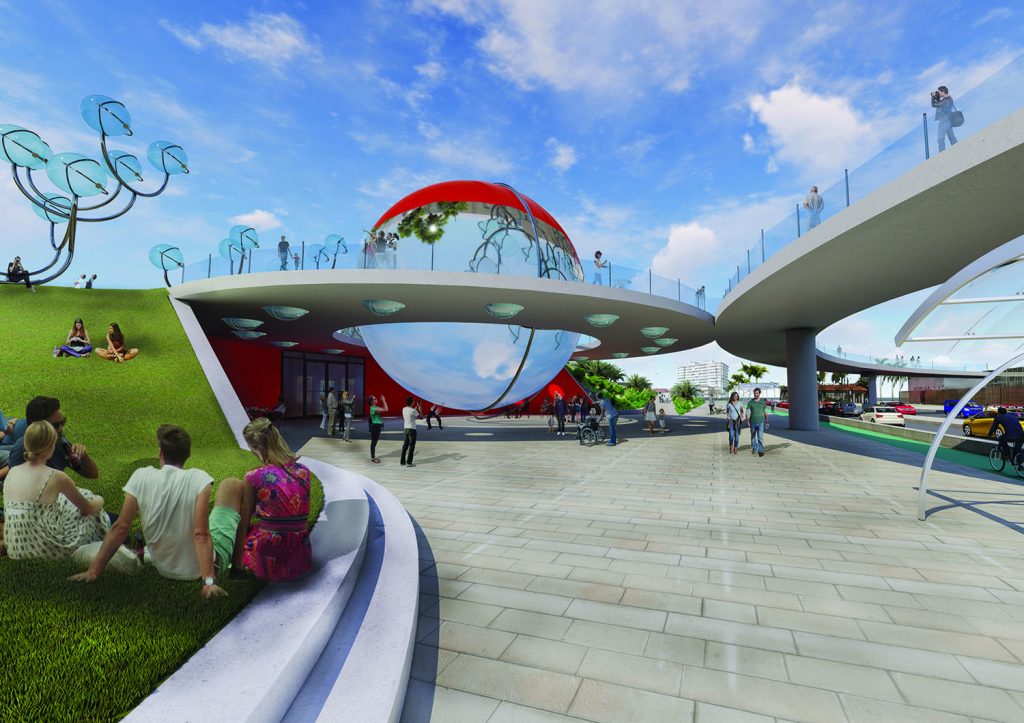 After modeling with clay and scoping out other ideas, eventually the students realized that two arcs could overlap into a circle. This was a kind of aha moment for them that dictated how the rest of the design process would unfold. Stillwell, who worked as an engineer before he moved to study landscape architecture at SUNY, was especially concerned that no matter what, it was important to capture whatever renewable energies they could as efficiently as possible.
That's when they stumbled onto an old crowdfunding campaign for Rawlemon, a company started by German architect and inventor Andre Broessel. His beta.ray is a generator that combines spherical geometry principles with a dual axis sun tracking system to harvest solar energy more efficiently than is possible with conventional solar photovoltaic (PV) panels. Each sphere concentrates sunlight onto a small surface of solar panels — like little kids burning ants with a magnifying glass.
"Solar Orbs enhance efficiency, decrease solar cell surface, absorb diffused sun rays, and contribute to an aesthetic suitable to an urban environment," according to the team. "Plus, unlike conventional solar panels that are fixed in place and only able to harvest energy for part of the day, the orbs can track the sun as it moves across the sky each day."

Albeit inspired by Rawlemon's technology, Grevelding explains his team altered their design to be more creative, settling for a series of 20 spheres made with acrylic, filled with water, and supported by stainless steel structural elements. 14 of them would be 10.65 meters tall and 16 meters in diameter, while the remaining six would be 8.65 meters tall and 1.8 meters in diameter. All of them would come with an 18 inch PV+T panel that could not only generate electricity, but also capture thermal energy. This could either heat buildings or water for the City of Port Phillip. And at night, they light up with low energy LEDs.
They also incorporated into their proposal a bridge that would safely link pedestrians to St Kilda Triangle and attractions such as The Stokehouse, St Kilda Life Saving Center, and Donovans. According to their narrative, the southwest threshold would exist as an elevator, while the northwest side would act as stairs. The elevator allows greater access and safety for handicapped users.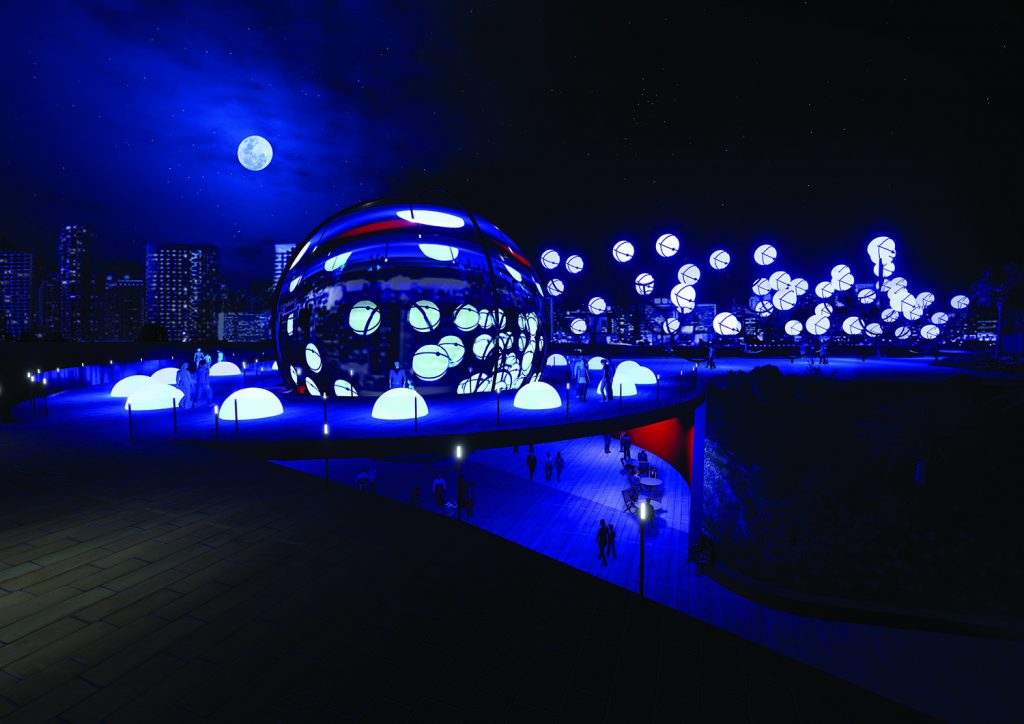 Elizabeth Monoian and Robert Ferry, who co-founded the Land Art Generator Initiative in 2010, applaud the visual impact of this creative design — especially at night, when the orbs illuminate the site.
"The artwork is graceful and otherworldly in its forms. The team has created a magical place capable of powering a neighborhood and the imaginations of the people who will visit. We've been following the invention of this type of dual-axis tracking spherical CSP from Andre Broessel's Rawlemon for years and are delighted that the team from SUNY-ESF has adapted the technology into the media for creative placemaking in the city."
All students of Anne Godfrey, a dedicated LAGI supporter whose charges have been shortlisted several times over the years, the team is among 25 shortlisted for LAGI 2018. Solar Orbs is capable of powering over 100 Australian homes.
Tafline Laylin is a freelance communicator and journalist who strives for global environmental and social justice. Her work has appeared in The Guardian, The Atlantic, OZY.com, and a variety of other international publications.