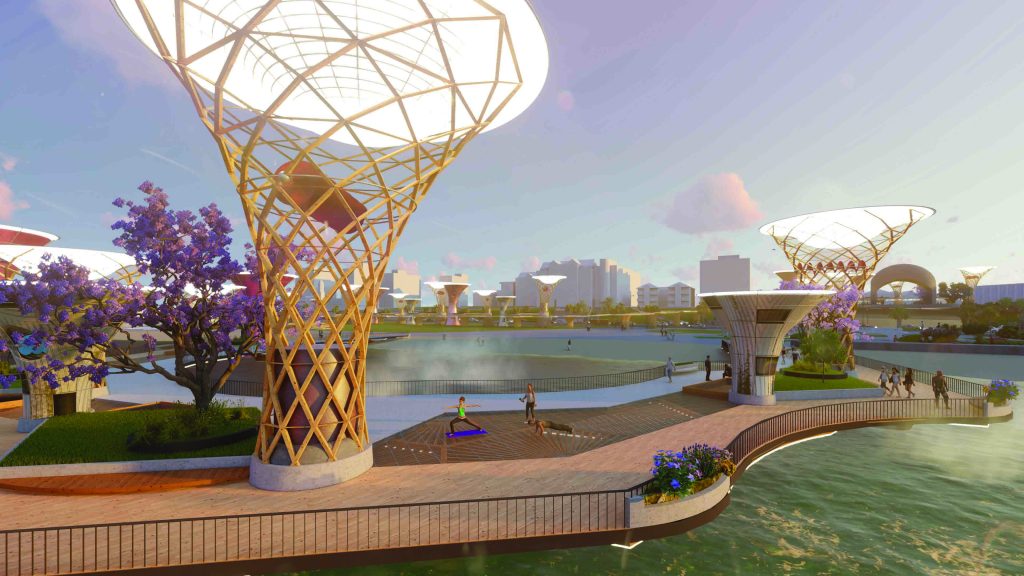 An Australian team has conceived of a large scale work of art designed to capture all potential renewable energies on a site; similar to the way a natural tree canopy would.
Speaking from Sydney, Kieran Kartun explains his team was encouraged by their firm HDR to enter the 2018 Land Art Generator design competition for Melbourne. Working during and sometimes outside of office hours, Kartun, Sonni Jeong, and Matthew Wang were specifically concerned to honor the "overlay" component of the competition, which tasked international architects, artists, engineers and landscape architects to work with an existing Masterplan to create a conceptual work of energy-generating public art for St Kilda in the City of Port Phillip. With The Canopy—which comprises a series of sculptural tree-like structures and a modular hexagonal deck—Kartun says they took a layered approach to capturing energy.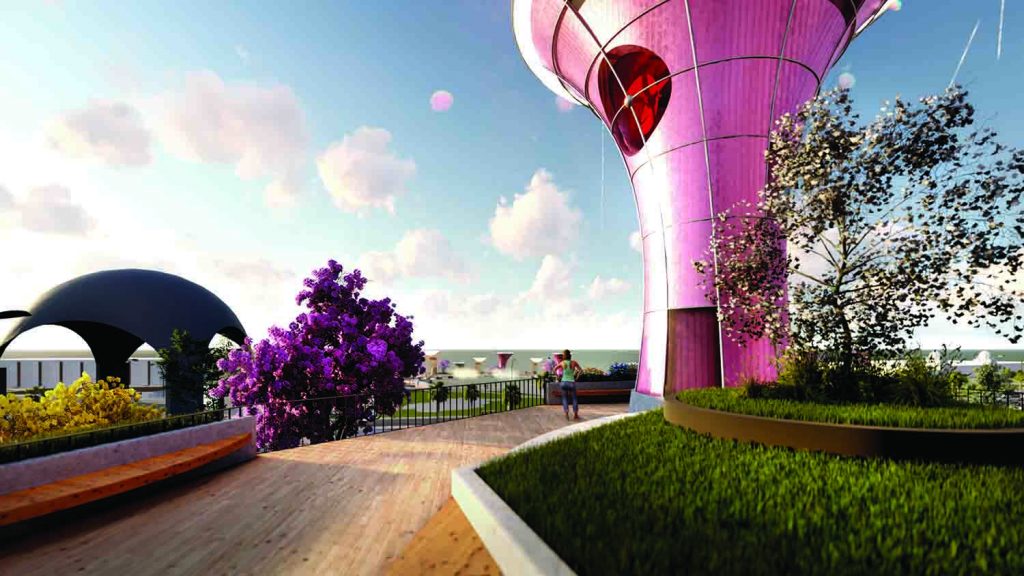 The larger, upper canopies support solar dishes and wind turbines that absorb energies in much the same way a tree's leaves would through photosynthesis and wind resistance, according to the team's artistic narrative. Beautifying existing technologies like the parabolic trough, which concentrates sunlight onto a fixed point, and horizontal axis wind turbines in the "middle canopy", the team transcends the strictly utilitarian for something more interactive and "whimsical".
Further down this built environment, the lower canopy includes a winding hexagonal deck that creates connections through key sections of the site and raised planter beds that help to offset carbon emissions. Kinetic nets amplify the fun factor as visitors interact with them, transforming enough human kinetic energy into electricity to charge small electronics. Finally, the ground plane includes sheltered zones for the community and trunks that hold batteries to store all the power generated above, as well as rainwater harvesting tanks. It also shelters turbines that generate energy from the concentrated solar trough. Upper eaves and overhangs provide shade for guests while also supporting growth in the below planter beds.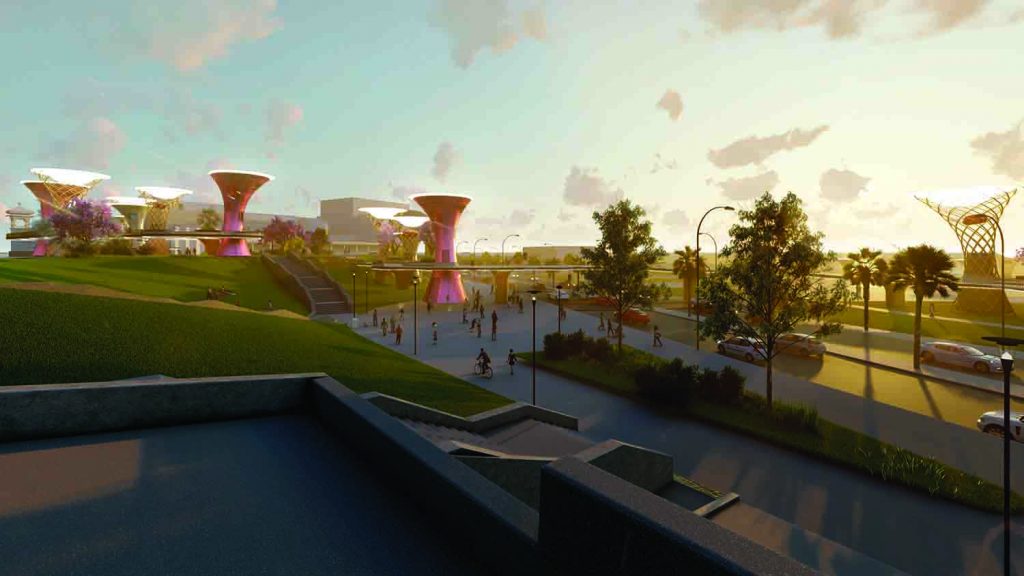 "We wanted a design that considered the site's different renewable energy needs, the overall linking of the site, and then also the community needs," Kieran says of their proposal. In the meantime, they wanted their LAGI design to enhance the urban environment for the community: a place to explore fitness and health, dancing, markets, swimming, and various other activities.
"We wanted a form that was interactive and educational."
Ambitious and multifaceted — albeit guided by senior architects at the firm who would help the graduate designers which of their ideas were good (or otherwise) — The Canopy includes a few more suggestions for St Kilda. Down by the bay, tidal turbines would extract even more energy from the site, really using every opportunity possible, with footings designed to create a habitat for the endangered Port Phillip bay shellfish reefs. Research facilities, like an experimental algae pool, could provide further opportunities for visitors to learn more about biofuel.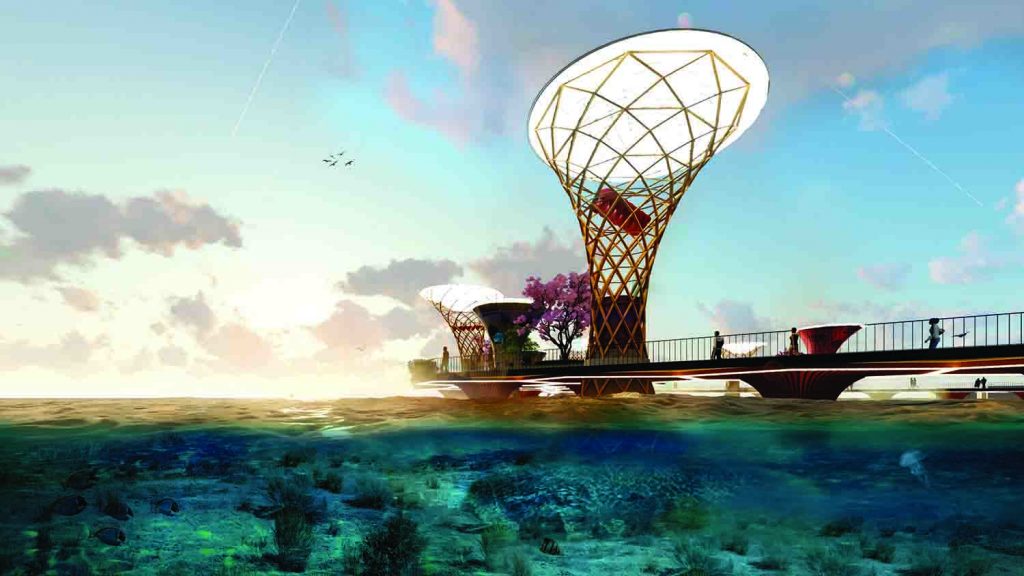 The team left no stone unturned in their efforts to instigate conversation about integrating renewable energy into the urban landscape and capturing the imagination of visitors, encouraging them to contemplate the potential of a post-carbon future in a way that is perhaps more hopeful than a doom and gloom approach to emphasizing the urgency of shifting away from carbon intensive behaviors.
Within the context of rising temperatures that put stress on global ecosystems, LAGI co-founders Elizabeth Monoian and Robert Ferry applaud land art generator designs that also accommodate rainwater harvesting.
The Canopy offers St Kilda a wide variety of energy generation technologies matching the diversity of natural energies that the site has to offer. The multifaceted artwork mimics the way that a mature forest manages its natural resources, adapting through the prevalence of species to the unique micro-climates of its environment.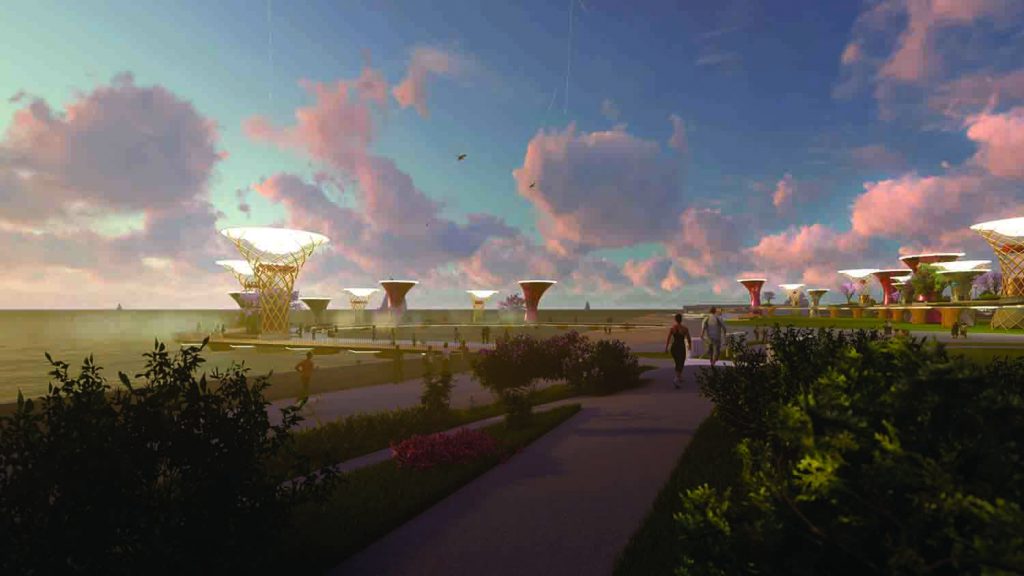 Kartun acknowledges that for many people, especially those who have historically held sway over centralized power production facilities that run on fossil fuels, a shift to renewables can be threatening. That may be a barrier, but he also sees a future in which people can derive energy at the source, locally, as an amazing proposition. A disruptive proposition that will have healthy consequences for the planet and humanity.
Renewables are creating a shift in the status quo that he says needs to happen. "And the sooner the better."
Tafline Laylin is a freelance communicator and journalist who strives for global environmental and social justice. Her work has appeared in The Guardian, The Atlantic, OZY.com, and a variety of other international publications.