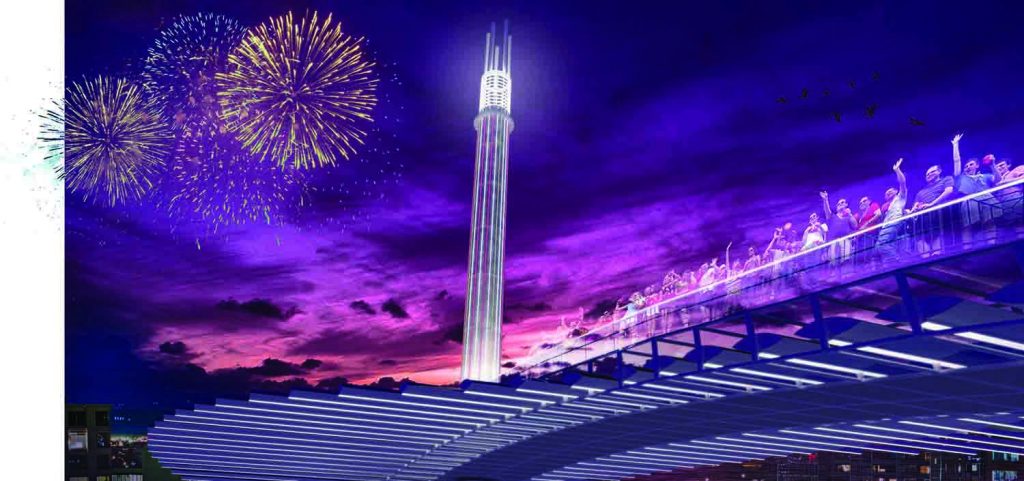 Generating renewable energy just got a lot more fun: international architecture and engineering firm NIKA has designed a wind and solar-powered power plant that doubles as a vertical drop ride.
Shortlisted in this year's Land Art Generator design competition for Melbourne, the Sol Tower concept comprises many parts, all seamlessly integrated in one dazzling package. A glass pedestrian bridge in the City of Port Phillip that not only links attractions along Port Phillip Bay with Palais Theatre and Luna Park, it also doubles as a heat sink that funnels hot air to a 44.5-meter-tall cylindrical updraft tower — to generate clean energy.
Based on technology that has been around for decades but hasn't lifted off because of the land requirements to make a utility scale version competitive with other renewable technologies, the updraft tower uses the convection effect to suck up hot air generated along the curved bridge. (According to the design team, the "hyberbolic cavity" or curved surface enhances air flow — making the updraft tower more efficient.) As the hot air rises to the top of the tower, it passes through a turbine that then converts kinetic energy into electricity. Enough energy, says lead architect Tae Jung, to power a vertical drop ride!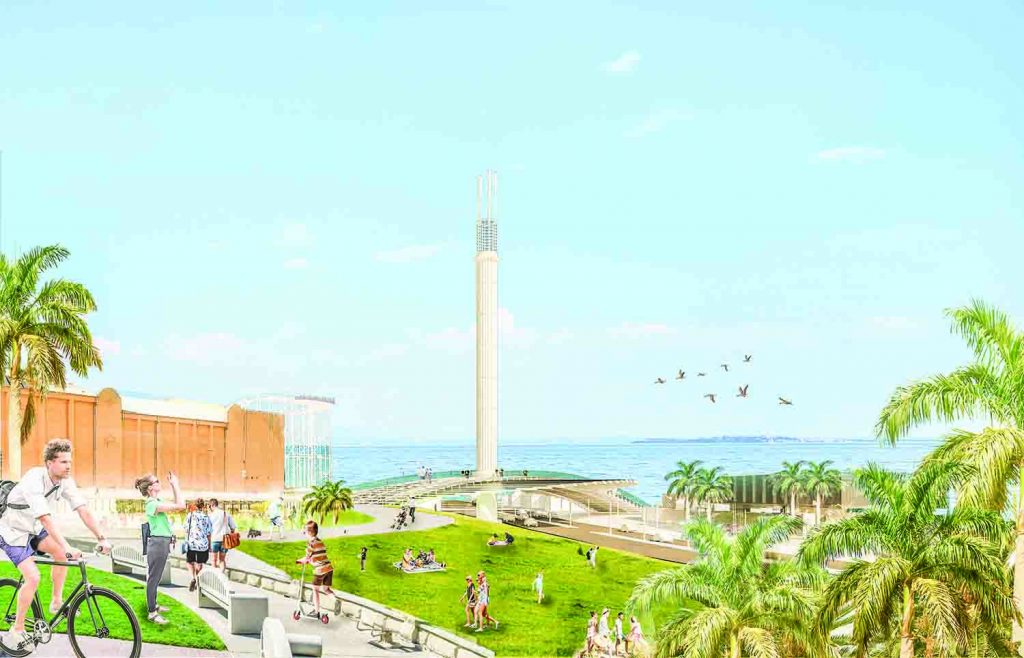 Jung says the engineers on their team made extensive calculations to conceive a solar updraft tower as a ride. The natural climb of the tower necessary for harvesting the updraft energy will host the ride cars, according to the design proposal, which, because of balanced counterweight design, will require minimal energy to operate. In the meantime, according to the team, the ride "will enhance St Kilda Triangle's "fun" image in keeping with the tradition of Luna Park."
And if the sun's not out to heat the glass bridge, or heat collector? Black tubes filled with water and built into the bridge retain heat throughout the day, which it continues to release after sunset. Nor is the updraft tower the design's only source of renewable energy.
NIKA added two additional clean energy sources to maximize their project's productive potential: Bladeless wind oscillators placed at the tip of the tower could harness nominal amounts of energy from vibration, according to Jung, whose team also includes Amit Vajaria, Pauline Sipin, Kevin Cheng, Yong Lee, Glenn Sanford, and Javier Oliu. Together they also propose to add sculptural solar fins perpendicular to the bridge. This energy would be fed directly into the City grid.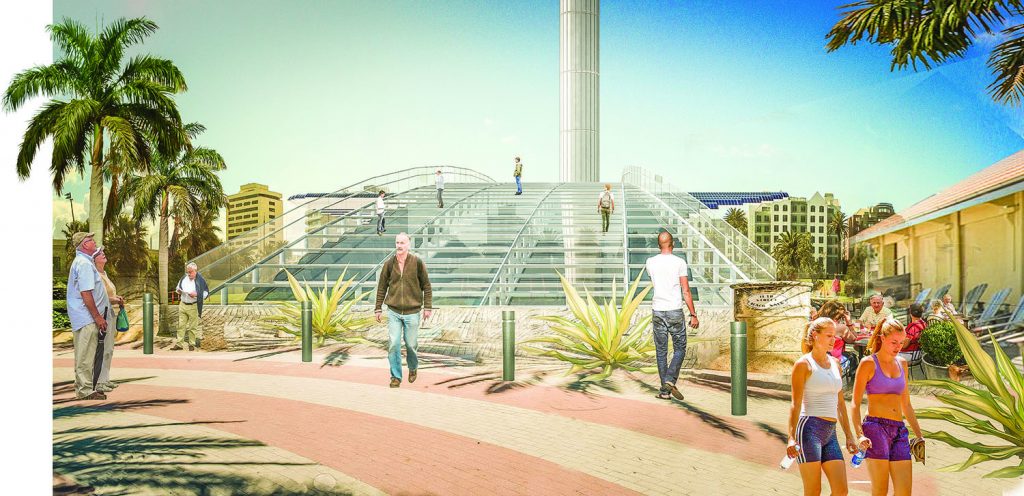 Getting involved with the Land Art Generator Initiative was a strategic move on the part of NIKA's creative lab, says Jung. While the firm traditionally works on hospitals, medical facilities and laboratories (as well as other building typologies), Jung said they were keen to expand their operations — branching out into a new space at the vertex of public art and renewables. Given that they have architects and engineers combined under the same umbrella, they considered LAGI the ideal platform to test their new ideas.
"The first line on white paper is a big challenge," he notes of the design process. Before they could get there, he adds, the electrical and mechanical engineers on the team carefully studied the site and various other materials provided in the LAGI 2018 design brief. At first they considered using conventional technologies, but then turned their attention to technologies with enormous potential that haven't quite made it yet.
"Also, the iconic feature of the tower was very interesting to us," says Jung. "We could make this tower very special and eye-catching." The team felt this would satisfy the Land Art Generator Initiative's goal of creating a kind of showcase for renewables that gets people excited about — and shape — our post-carbon future. "Every single design from this office is about people-centric design."


Elizabeth Monoian and Robert Ferry, the co-directors of the Land Art Generator Initiative, appreciated the depth of thought and planning that went into this design.
"Because of its monolithic verticality in the landscape, solar updraft tower technology has always had a particular fascination for us. We love the idea of leveraging its vertical form to contribute to the cultural tapestry of recreation that is such an integral part of St Kilda's identity. Some design proposals for 100 MW capacity solar updraft towers out in the remote landscape propose structures as tall as a kilometer high. Imagine the drop tower ride experience from that height!"
Jung acknowledges that the concept presents some unknowns. For example, the solar updraft tower could produce more or less energy than their calculations show. But as it currently stands, the design is capable of powering both the ride and nearly 100 Australian homes. As for the importance of incorporating renewables, Jung says we have to reduce our reliance on extraction, adding that true people-centric design considers not only people who are alive today — but posterity too.
Tafline Laylin is a freelance communicator and journalist who strives for global environmental and social justice. Her work has appeared in The Guardian, The Atlantic, OZY.com, and a variety of other international publications.