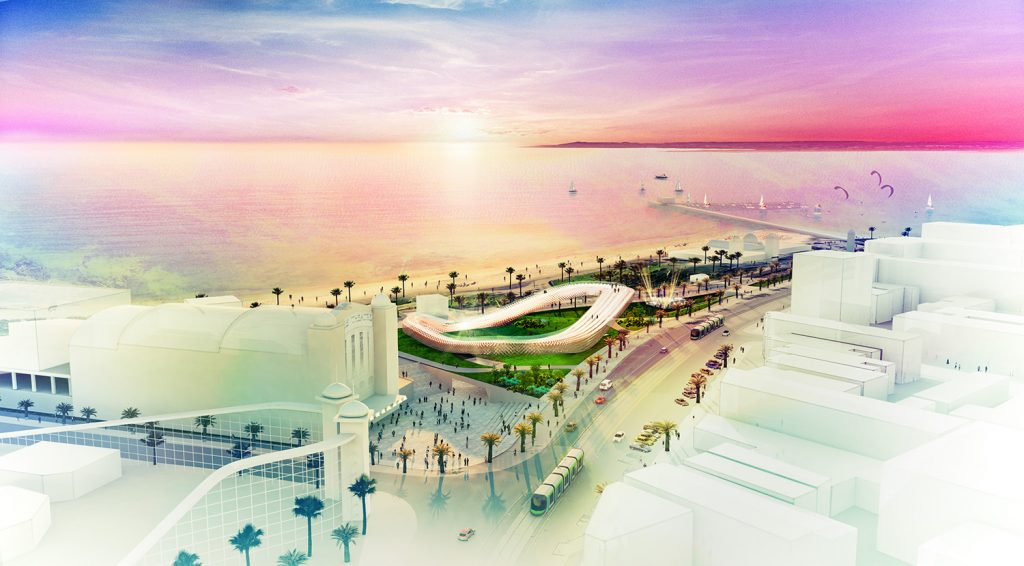 The internationally renowned firm Grimshaw Architects was recently shortlisted in the 2018 Land Art Generator design competition for Melbourne with St Kilda Halo, a shimmering geometric work of art that could produce enough solar energy to power around 400 Australian homes.
The eight team members who worked on the design hoped it would become "a beacon of clean living" and "inspire people to use less and be more in touch with nature."
It was also conceived as a new amenity for St Kilda Triangle in the City of Port Phillip—mirroring the form of nearby Luna Park's Scenic Railway rollercoaster. Taking inspiration from the way a forest captures dappled sunlight through the canopy, the team opted to stack an emergent solar technology from Japan that absorbs sunlight from every angle. As climate change creates growing uncertainty around the world with wildfires, drought, flooding and more, this work of art demonstrates new possibilities for our post-carbon future.
Sphelar, invented and initially developed by Kyosemi, is comprised of tiny spherical balls 1.2 to 1.8 mm in diameter that have electrodes on opposite sides. These tiny silicon balls can be woven into a variety of materials for more efficient energy harvesting than is possible with a flat pane. Sphelar Power, a spinoff from Kyosemi, and supported by the Japanese government's venture capital fund INCJ and Hitachi, has incorporated the technology into dome-shaped lamps, light sticks, and most recently into Radius backpacks designed by Pauline von Dongen.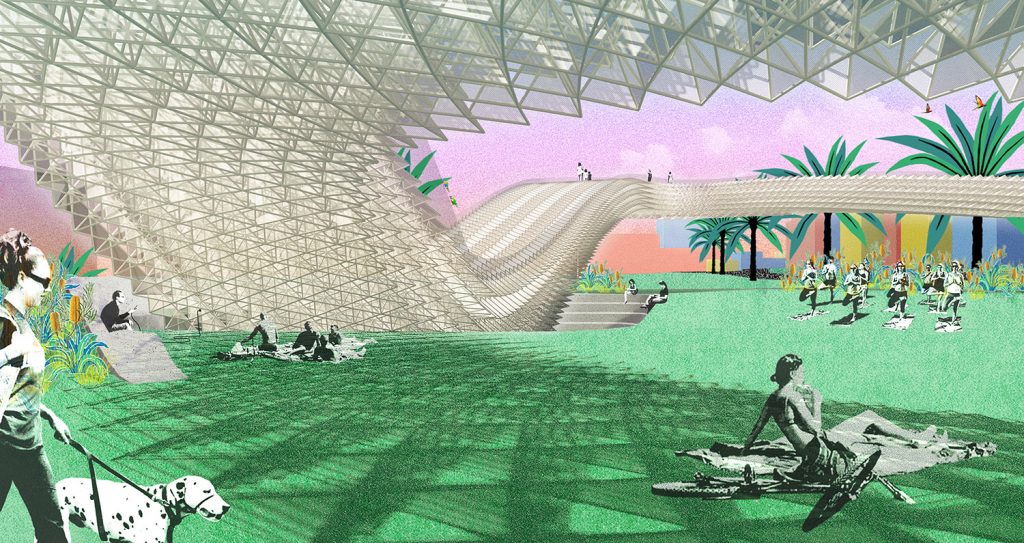 That said, with further development, its unique form and ability to absorb 360-degree sunlight makes it ideal for incorporating into anything from glass curtain walls and skylights to the sunroof of a car. Or a land art generator.
"This typology is really engrained with what we do at Grimshaw," says architect Pete Spence, spokesperson for the Grimshaw team. "We have a long history of working with energy generation and we saw this project as an opportunity to have a bit of fun around the design."
Spence describes how they initially held a long studio session to brainstorm ideas. While that session brought forth some wild concepts, the group ultimately wanted to honor the Council's masterplanning process for St Kilda with a design that would complement the community's own vision for the site. So they pared back their thinking to create an undulating steel frame with recycled polycarbonate panels covered in triangular Sphelar modules.
Like a forest, St Kilda Halo consists of several layers—some of which will receive more or less light than others. Sphelar allows the design to capture energy from any direction, plus it's transparent. A serious power plant that can produce 2,000 MWh of energy annually, it is nonetheless designed to be perfectly safe for the community. Measuring 97m x 72m x 90m, with the highest element standing roughly 10 meters above the lawn, the project creates space for various recreational activities, like a picnic or outdoor yoga, and leads to an underground cultural facility.

The design is also modular, which would allow it to act as a living laboratory that can incorporate new technologies as they evolve.
Elizabeth Monoian and Robert Ferry, co-founders of the Land Art Generator Initiative, are thrilled to have high profile companies like Grimshaw Architects join the roster of LAGI participants developing a new inventory of beautiful energy-generating infrastructure.
We love the way that the team approached the potential energy cycle on the site through the study of mature forests with their layers of solar-powered infrastructure from small leaves at the top canopy in direct light to the broad leaf ferns on the forest floor that can soak in dappled and reflected light. We are also glad to see Grimshaw incorporating Sphelar as the technology this year. It's an incredible energy design innovation that LAGI participants have had their eyes on since the very first competition in 2010.
Finally, because maintaining the view sheds was so integral to the brief and to the community of St Kilda, according to Spence, the team did extensive testing to ensure their design would be an asset, rather than a detriment, with parts acting as a platform that looks out to Port Phillip Bay. For Spence, the Land Art Generator Initiative design competition could aid in shifting the perception of people who are concerned about the aesthetics of clean technologies.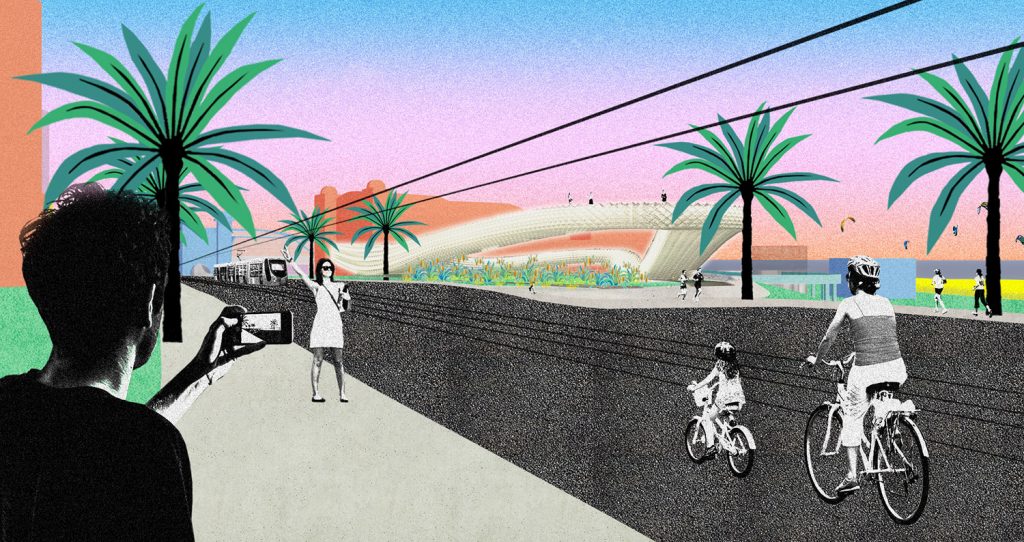 "Generally the public doesn't have a great view of the appearance of some of these vital technologies, says Spence, so this creates an opportunity to showcase renewable energy in a beautiful way."
The entire team includes: Pete Spence, Hiroe Fujimoto, Sacha Hickinbotham, Michael Richards, Alison Potter, Jason Embley, Michael Zito, and Robert Butler.
Tafline Laylin is a freelance communicator and journalist who strives for global environmental and social justice. Her work has appeared in The Guardian, The Atlantic, OZY.com, and a variety of other international publications.