Futai Hiroyuki, Asai Hiroki, Murakami Chikako, Ookawa Syotarou, Sawada Kazuhiro, Fujimaki Naoki, Horie Syota, Mori Ryohei, Nakajima Yuji, Nogawa Taishi, Komatsu Kazuki, and Miyamoto Kazuyuki
Designed for Site #2 in Abu Dhabi, between Saadiyat Island and Yas Island.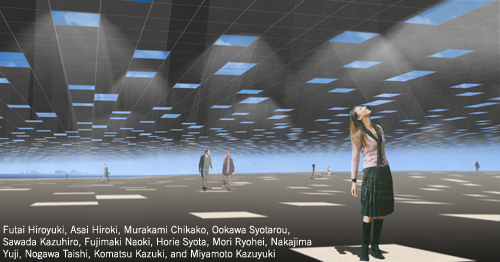 Design Submission for the 2010 Land Art Generator Initiative Design Competition
Artist's descriptive text:
Drivers on the highway encounter a long skyline of the installation. One third of the total is deformed slightly and covered with a mist. The skyline evokes the image of a floating carpet.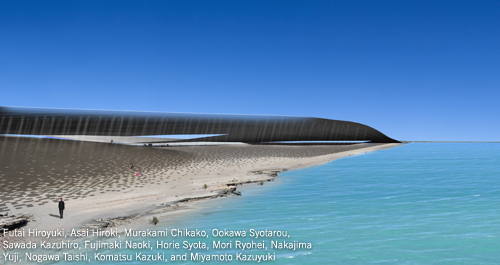 The space under the carpet serves as a comfortable shade. The rays of the sun come from the random openings of the carpet, and variedly project on the white sandy soil. The horizontal pattern of openings is gradated from inside toward outside, which creates a smooth boundary between the installation and surroundings. With sensitivity to the environment and local ecosystems, 400,000 solar panels are placed over the land.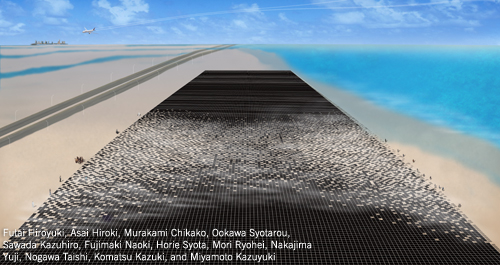 The public is restricted to the specific area with safety to view it. Under the carpet of that area, a viewing platform is formed on the hill by making maximum use of the existed geographical characteristics. At the top of the platform visitors have a view of the extensive solar carpet from above, on which a sea of mist clouds is wafting and wind power generators are rotating. The clouds of mist serve to cool down the hot solar panels. The wind power generators show reflections from their mirror surface and absorb sunlight energy on their phosphorescent surface.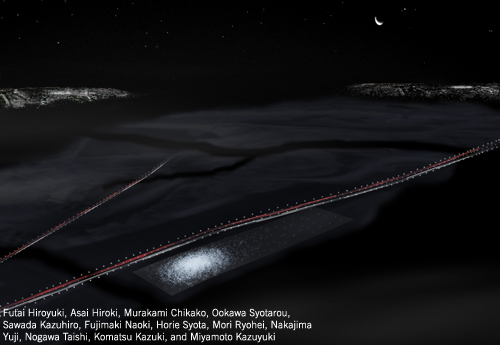 During night, the luminous LED particles on the solar carpet welcome the tourists in cabin just before arriving at the Abu Dhabi International Airport. The twinkle led lights synchronize with wind velocities and visualize the real-time environmental shift. The wind power generators supply electricity to the LED lights. In addition, the phosphorescent surfaces of the generators emit blurred luminosity according to the amount of energy absorbed during the daytime.