JIINYI HWANG, and HIDEYUKI KISHIMOTO
Designed for Site #1 in Dubai, near Ras al Khor Wildlife Sanctuary.


Design Submission for the 2010 Land Art Generator Initiative Design Competition
Artist's descriptive text:
Mirage – visual connection to the city
Strong sun heats at the ground changing the density of air which brings a displaced image of distant objects.
In addition to generating solar energy and providing shaded pavilions, Solar Clouds create mirage by curvature glass façades through day and night.

During the day, the reflection of undulated ground and paths mimics visions of street which are changing according to the sun angles. At night, embedded LED lights illuminate frontal Solar Clouds façades. In distance, lights array imaginatively like upside down skyscrapers lightings.
The visual coherence enhances the unique sense of location and bring potentials of night activities. Solar Clouds extended existence of the sun to the night with a new type of mirage.

Urban strategically the large site offers an opportunity for developing a connection to the city. Besides, the location of site has distinguished views toward city skylines and surrounding nature.
Solar Clouds proposed an urban infrastructure which integrated with visions, solar technology, information technology, landscape geometry, irrigation and drainage system. Solar Clouds acts as media to restructure the urban fabric connecting the city and suburb sceneries.
In response to topography, Solar Clouds correspond and amplify geological formation. Two high positions in the site are set as view points. Suggested paths work as visual channels accentuating viewing towards the city.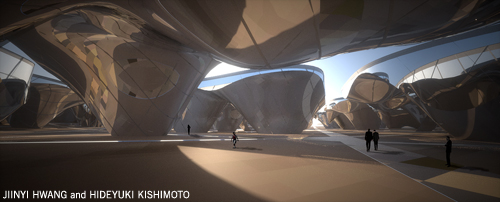 In addition to tourist information, eco-cultural and eco-recreational programs are proposed as seeds to activate the awareness of environment. Programs consist of eco-information center, environmental arts, eco-recreation facilities. Diversity of Solar Clouds prototypes are counterpoints of various activities.