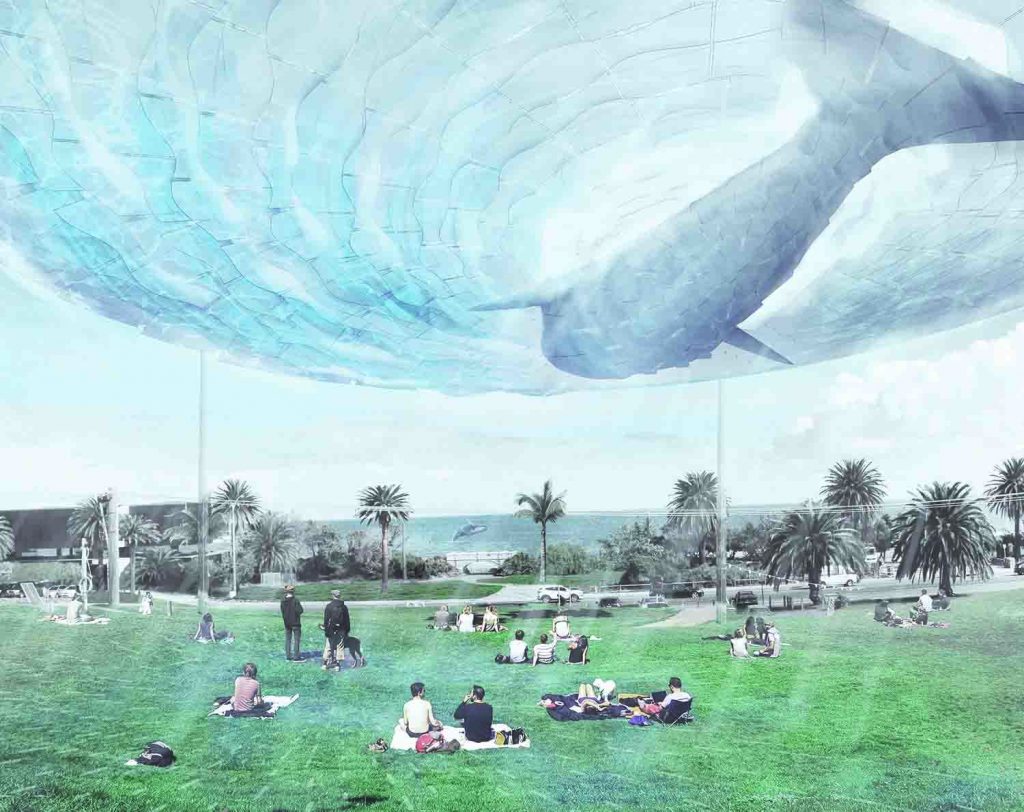 An architecture team from China has designed a wind and solar power plant as a public artwork from which a whale emerges each time a certain amount of energy is generated.
When Shanghai-based Zhang Hao and his team worked on their proposal for the 2018 Land Art Generator design competition for Melbourne, they set their imagination free. Hao says it was such a refreshing change from his normal work to create what they hoped would be a new landmark for St Kilda Triangle in the City of Port Phillip — a work of public art that also generates clean energy.
And yet, unlike some of the teams who have dug up obscure and unusual renewable energy sources for their designs, Hao and company relied on deceptively simple technologies such as thin-film photovoltaic and vertical axis wind turbines to create what is by far one of the most extraordinary designs in LAGI history: A New Citizen of Melbourne Who Lives at a Piece of Sea in the Sky.
The new citizen referred to in the design's name is a virtual whale that feeds on sunlight and wind, an idea inspired by actual whales — Orcas, Humpback, Southern Right Whales — that are occasional visitors to Port Phillip Bay.
"Although inspiring, past LAGI submissions were mostly infrastructural," says Hao over Skype. "We wanted to create something more than infrastructure. We wanted to make a creature."
Elevated on poles, the circular structure is comprised of three different layers. The first consists of a tension mesh covered with solar cells. As long as the sun shines, these cells constantly absorb energy that is then transmitted via wires and stored in batteries held in the second layer, the structural frame. The third layer consists of laminated blades that wave in the wind, generating more energy that is also stored in the battery.
Together, the three layers look like a pool of water with ripples that vary to the degree that the wind blows, making manifest for visitors to the site the relationship between wind direction and velocity and the artwork's function. This is further exemplified when the whale appears.
This happens when there's enough energy to send electricity to the city grid. En route, the electrical current activates an electromagnet that slowly relocates the blades to create the form of a whale. The artists call this 20-minute process "feeding the whale." Once the energy transmission is complete, after roughly an hour, a spring rope releases the blades, which then return to their original position.
More sunlight and more wind means more visits from the virtual whale, which the team envisions having its own identity and passport. She'll have a name and even a voice, increasing opportunities for the local community and visitors to engage with the city's newest citizen.
"Visitors will re-discover the sea breeze and sunshine," according to the team, "recognizing their own positive energy at the same time."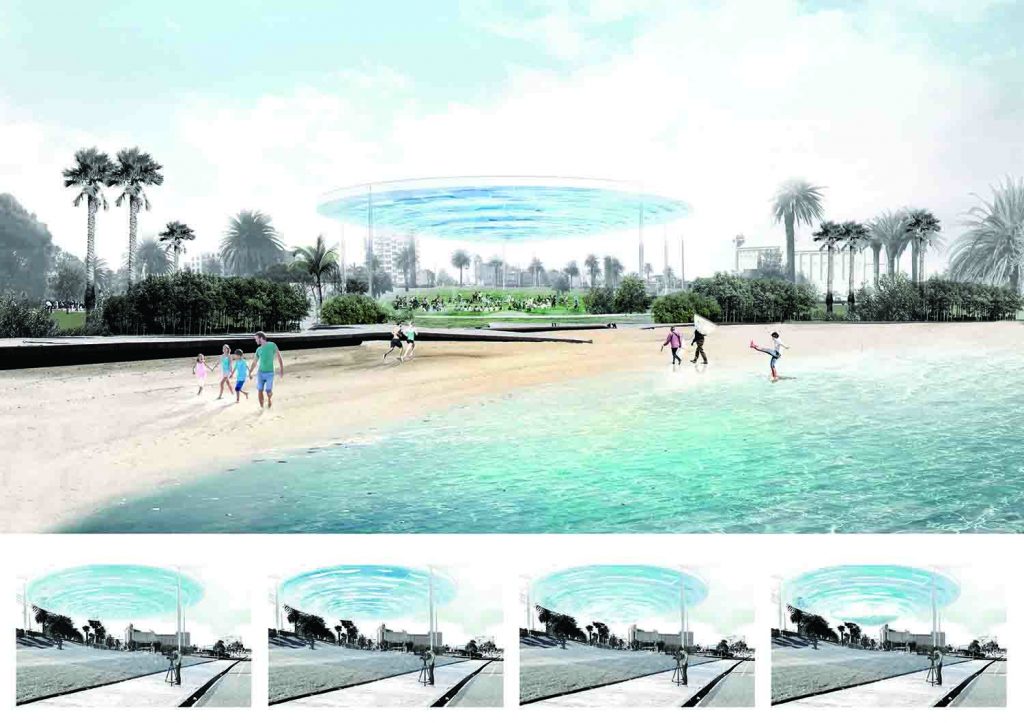 The team underscores how solar energy is foundational to life on Earth. "We should always feel awed and grateful for this transfusion of energy from our sun into each of us," they write in their artistic narrative, adding their intention to inspire this gratitude by making visual what they call an "under-appreciated, constant, yet dynamic transfusion process."
In addition to enhancing the site's reputation as a leisure and recreational hub, the installation is capable of generating enough clean energy each year to power up to 80 Australian homes. Very impressive for a small Shanghai-based studio that has never before designed an energy-generating work of art.
"We wanted to do a project that was more interesting than our limited architectural project," Hao explains. "This is why we participated in LAGI. It's over the boundary of architecture — and we used many forms and methods that we've never used before."
Elizabeth Monoian and Robert Ferry, co-founders and directors of the Land Art Generator Initiative, were enamored by how the team from China broke with convention to create a virtual creature—sure to be beloved around the world.
Imagine sitting in the park at St Kilda Triangle, shaded in the dappled sunlight, looking up to the underside of waves high above you as if you were siting on the sea floor. At irregular time intervals this New Citizen will slowly appear and then disappear, the ripples of the waves continuing to flow around her. Zhang Hao's artwork is simply magical, and the jewel-box intricacy of the mechanical details provides yet another layer of wonder.
As for future LAGI projects? The studio looks forward to stretching their limits once again.
Tafline Laylin is a freelance communicator and journalist who strives for global environmental and social justice. Her work has appeared in The Guardian, The Atlantic, OZY.com, and a variety of other international publications.