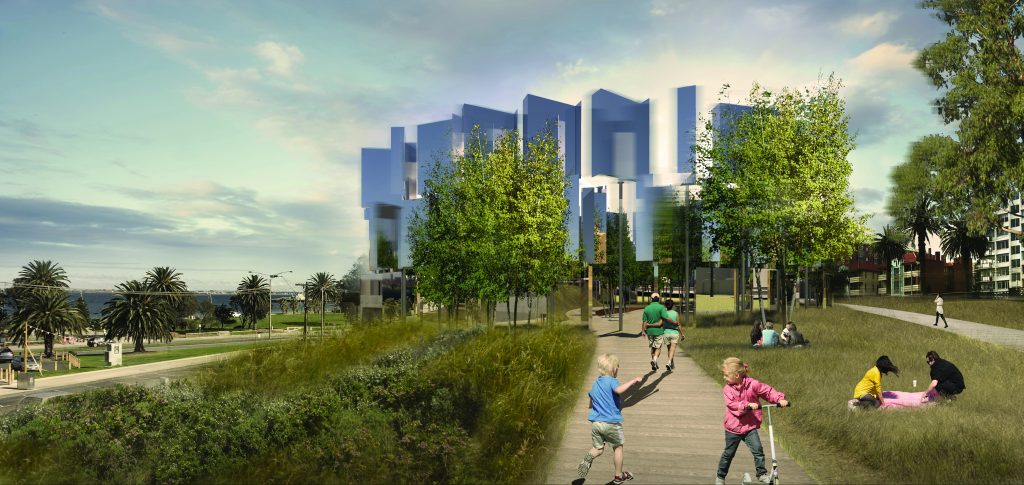 A local design team has created a large reflective artwork that also harvests wind energy for the City of Port Phillip in Australia.
One of 25 designs shortlisted in the 2018 Land Art Generator design competition for Melbourne, Rotor incorporates Savonius vertical axis wind turbines (VAWT) to produce 105 MWh of clean energy annually—enough to power around 21 Australian homes. Despite its energy capability, Louise Gadd explains it is first and foremost a work of art designed to operate at both the human and urban scale.
Taking inspiration from renowned public artists like Olafur Eliasson and Anish Kapoor, Gadd says his team sought to create an immersive experience for visitors to St Kilda Triangle—the site of this year's competition, which called for international design teams to submit a clean energy overlay to an existing masterplan.
"ROTOR has the capacity to communicate the agency and poetry of wind and to engage with the widest possible public in ways that large wind turbines simply can't due to either a combination of their size and or their placement (out at sea, or in a remote location)," the team writes in their artistic narrative.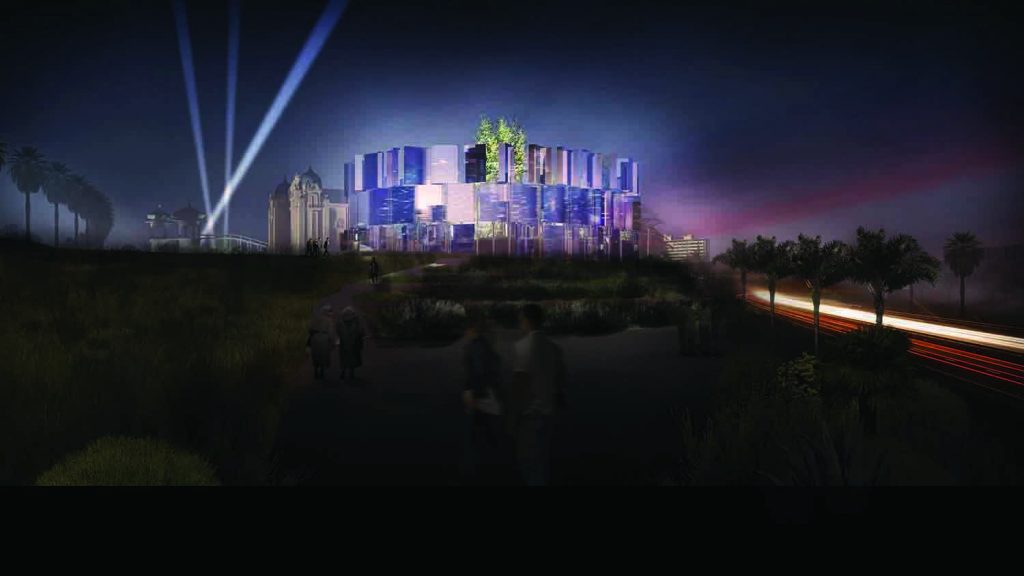 It seeks to harness the innate beauty of this invisible phenomena and to render it visible.
On the practical side, there are several benefits to VAWT technology compared to conventional horizontal turbines. The team lists them as follows:
They are a mass produced proprietary technology that's widely available.

– Their ability to work well in urban contexts.

– Their ability to still work efficiently even when closely packed, unlike horizontal turbines, the performance of which is compromised by turbulent air.

– They are omni directional, and therefore don't need to pivot like horizontal turbines.

– They are quieter and less dangerous to bird life than horizontal turbines. (I will add, however, that cats and other hazards are far more destructive to birds than even conventional wind farms.)
Some critics say they are less efficient than HAWT technology, but Gadd, Aimee Goodwin, and Danny Truong are confident their proposal is not only feasible, but that few barriers exist to adapting existing VAWT technology to their reflective piece.
A circular array of 1.5kw Savonius type vertical axis wind turbines that rotate slower than HAWTs, generate power through drag, and are subject to larger amounts of torque, the wind energy harvester would come with a highly-reflective, custom-made stainless steel rotor. Its post will have a cylindrical 'sheath' of stainless steel, also polished to act as a mirror.

Slated for installation at the foot of a slope facing Jacka Plaza, the 30-meter-diameter ROTOR has three layers containing either 30 panels or turbines. It is 10.5-meters-tall, almost as tall as a standard telephone pole; by contrast, a large conventional turbine (rotor tips included) could reach as high as 160 meters.
The upper and middle layers of the structure are made up of offset VAWTs that allow the post of uppermost turbines to reach the ground, according to the team. Rotors measure 2m wide by 3.5m high, and the posts on which they rest are either 3.5m or 7m—depending on whether they are on the middle or upper layers. For safety reasons, no VAWTs are placed on the lower layer. Instead, fixed stainless steel panels define entry points and conceal the posts from the middle layer of turbines.
Inside the structure, safe from the moving rotors above, the horizon will be obscured, according to the designers. As a result, "the world outside…will only be fleetingly present in the reflections of the panels."
As for the circular plan? The team likes the form because it's clearly understood, both close-up and far away. "It's clear something is going on, Gadd says, "generating x amount of power." Meanwhile, outside the sculpture, visitors will be immersed in the spectacle of swaying native grasses and eucalypts rocking gently with the wind.
LAGI co-founders Elizabeth Monoian and Robert Ferry say they love the simplicity of ROTOR, as it reflects the world around it, abstracted by the wind.
"It is as practical as it is beautiful. Who wouldn't want to sit inside this outdoor room surrounded by a kaleidoscopic sky?"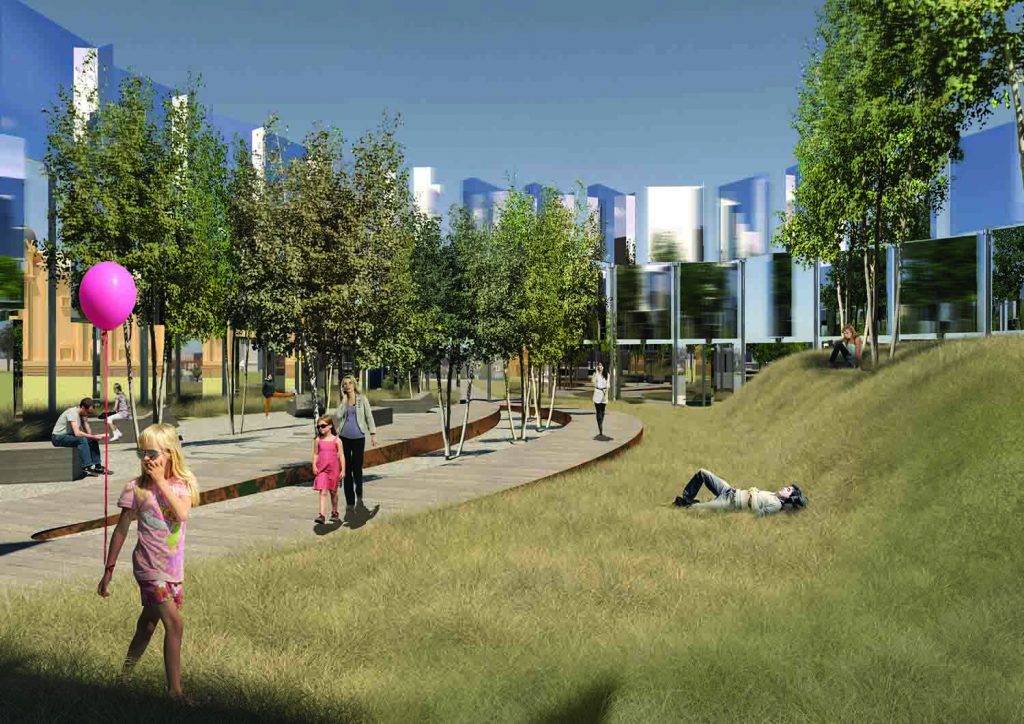 Partners in life and work, Gadd and Goodwin met in London where they were both working as architects in larger practices before they moved to her home town to establish Project 12 Architecture.
"Being based in Melbourne, I thought we would have insight into the specifics around the site," Gadd says when asked why they and Truong decided to enter LAGI 2018. "We thought that was a prerequisite for coming up with an appropriate response."
They also found that unlike some competitions that demonstrate a mismatch between the site and brief, this one matched up really well, pushing them to come up with a design that is unlike the work they do on a daily basis.
"LAGI has a track record of championing these technologies and works which encapsulate both the engineering and artistic worlds," Gadd adds. "It felt like a meaningful way for us to spend our time."
Tafline Laylin is a freelance communicator and journalist who strives for global environmental and social justice. Her work has appeared in The Guardian, The Atlantic, OZY.com, and a variety of other international publications.