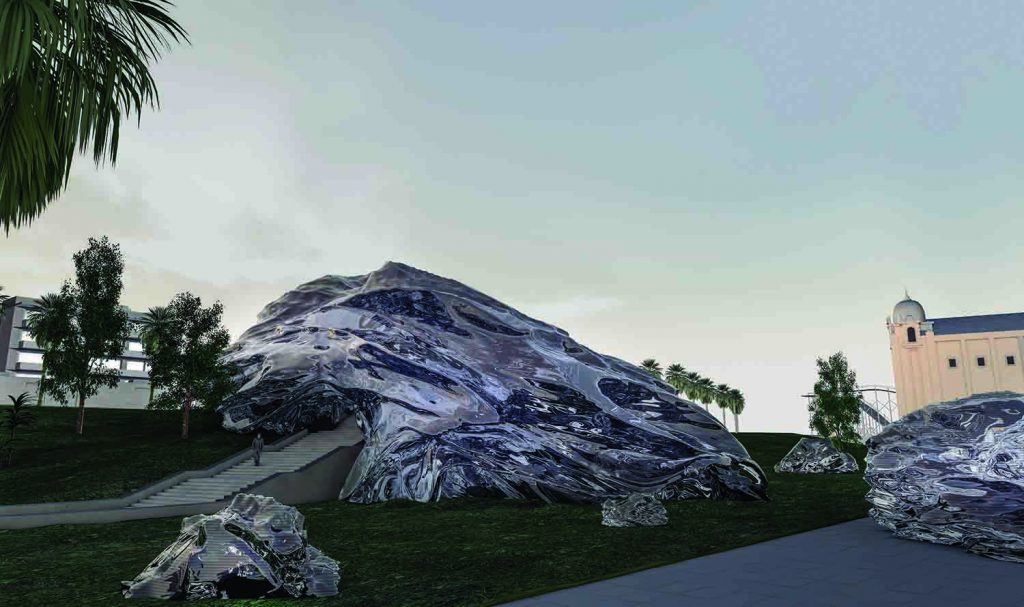 Making peace with the natural landscape was central to the design of Glass Boulders, a series of energy-generating boulders of varying size comprised of layer upon layer of luminescent solar concentrators.
Producing over 690 MWh per year, enough to power around 140 standard Melbourne homes, the shortlisted design was submitted to the 2018 Land Art Generator design competition for Melbourne by MFA students in the Art, Space and Nature program at the University of Edinburgh.
Team leader Luis Guzmán says they sought to create unique green energy infrastructure that would not impose on the natural environment of St Kilda Triangle in the City of Port Phillip, with the goal of shifting how people think about energy production in the public realm.
Referencing their counterparts in nature, each boulder is made up of recycled glass coated with transparent solar panels, like layers of sedimentation that build up over time. But there's more to the form than one might originally intuit. Guzmán explains that the shape was directly informed by pushing the efficiency of their chosen technology to its edge.
Cody Anderson, another team member, says transparent solar panels are less efficient than conventional technology because they only absorb infrared light. "However, because they are transparent, with each layer you add, it increases the efficiency." Anderson goes on to the explain that their parametric design ensures that each boulder is capable of absorbing the maximum amount of infrared light available.

The organic form of the 27 sculpture collection means that there is always plenty of the Glass Boulders surface catching the sun throughout the day. Each hollow boulder doubles as a giant solar panel, absorbing light right down to its translucent core. On sunny days, the light bends as it passes through the glass boulders, fragmenting into various colors as though moving through a prism.
It's a work of art that communicates the strength and beauty of renewable energy sources and "…opposes the presumed greenhouse warming effect of being inside an ordinary glass structure by preventing infrared wavelengths from passing through," the designers note. The interior of each sculpture remains cool, ensuring that visitors to the bayside leisure destination can enjoy a comfortable place to relax even on warm days. On wet days, they can seek shelter under the boulders while water splashes over the sides.
"Under the presence of rainfall, water dances across the transparent surfaces of the boulders—beautiful to witness from underneath—before it is collected for irrigation."
At night the artwork transforms again as LED strips within the glass are illuminated to create a "soft luminous dreamscape". Thoughtfully, the design team notes the lights will be kept to a level that is captivating for visitors but respectful to the surrounding community. "By utilizing a small portion of the energy generated to make the glass structures radiate with light," the designers explain, "the site is made accessible and welcoming at all times of day."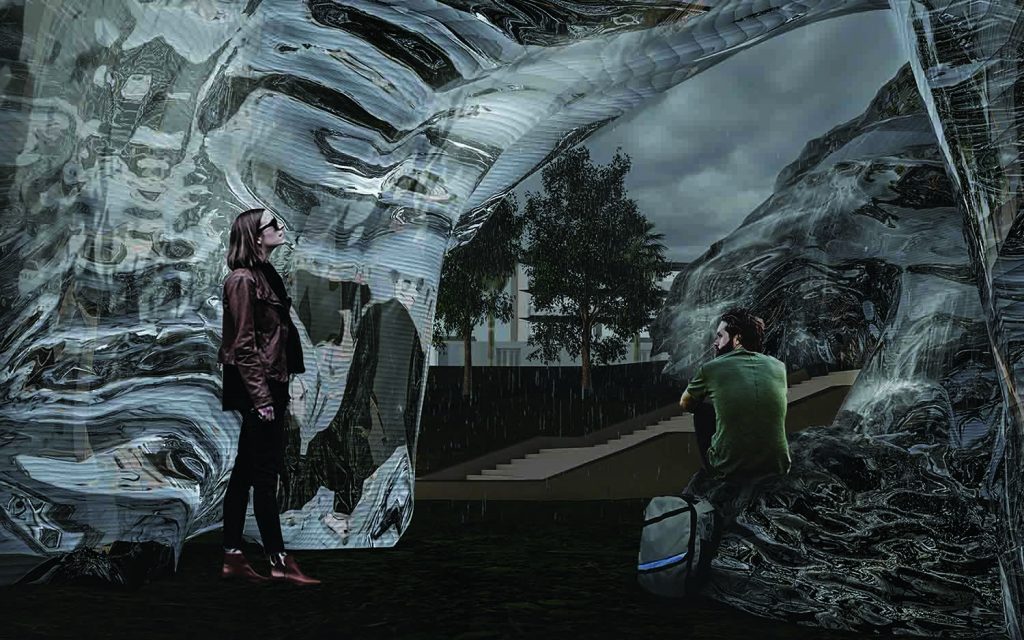 Rounding out their modular design, Anderson and Guzmán, along with Natalia Bezerra, Andrew Ioannou, Jiao Di, Rebecca Sutton, Mungki Dewi, and Audrey Yeo, also gave thought to boosting their project's resilience in the face of a rapidly changing environment.
"With rising sea levels being a growing concern for this coastal site, the boulders placed along the beach can be relocated inland with relative ease," according to the team. Similarly, more boulders can be deployed to meet higher energy demands. Smaller boulders double as benches and batteries that store clean energy generated throughout the day.
Elizabeth Monoian and Robert Ferry, LAGI's co-founders, say that Glass Boulders has the potential to last for many years to come, regardless of impending weather conditions.
The complex geometry with shimmering blue glass-like hues is a captivating match for a waterfront site. The play of light throughout the day will transform the artwork, sometimes appearing like oversize drift glass, other times like flowing water suspended in time. Molding layered LSC in such a plastic way is an incredibly innovative application for this exciting new technology—and one that creates wonderful places for people.

Meanwhile, for the artists, combining science, art, and architecture is not a foreign concept since their masters program provides a multidisciplinary framework to do just that. Guzmán attributes the success of the design, which was shortlisted along with 24 others, to having a diverse team with different strengths and backgrounds.
A mix of artists, architects, and landscape architects, the team hopes to stimulate people's senses, enrich their experiences of space, and challenge their understanding of place.
Tafline Laylin is a freelance communicator and journalist who strives for global environmental and social justice. Her work has appeared in The Guardian, The Atlantic, OZY.com, and a variety of other international publications.