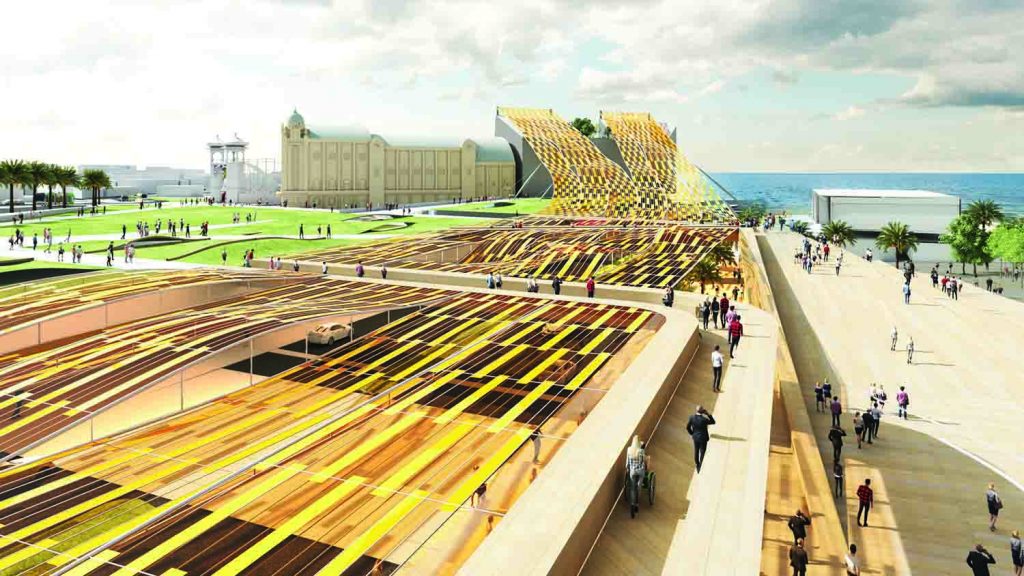 A team led by Melbourne's NH Architecture has designed a swooping canopy for St Kilda Triangle that incorporates 8,600 ultra-efficient flexible photovoltaic panels.
[UPDATE: Light Up went on to win First Place in LAGI 2018 Melbourne.]
Both a power plant and a work of art, Light Up creates a light-filtered surface over Jacka Boulevard while also forging a new connection between the upper Esplanade and the beach down on Port Phillip Bay.
"It was an urban design strategy first," says NH Architecture principal Dean Boothroyd, which took into consideration an ongoing process to develop the site without compromising its legacy as a cultural catalyst and incubator. This process has been underway since 2004, when the City of Port Phillip adopted the St Kilda Foreshore Urban Design Framework; in 2014, a masterplan (called the purple document) was created following an extensive co-design process.
With all of this in mind, project leader Martin Heide says their team—which includes NH Architecture, Ark Resources, John Bahoric Design, and RMIT Architecture students—focused on conceiving a design that could be built with a high return on investment. So they specified tested components that are already on the market.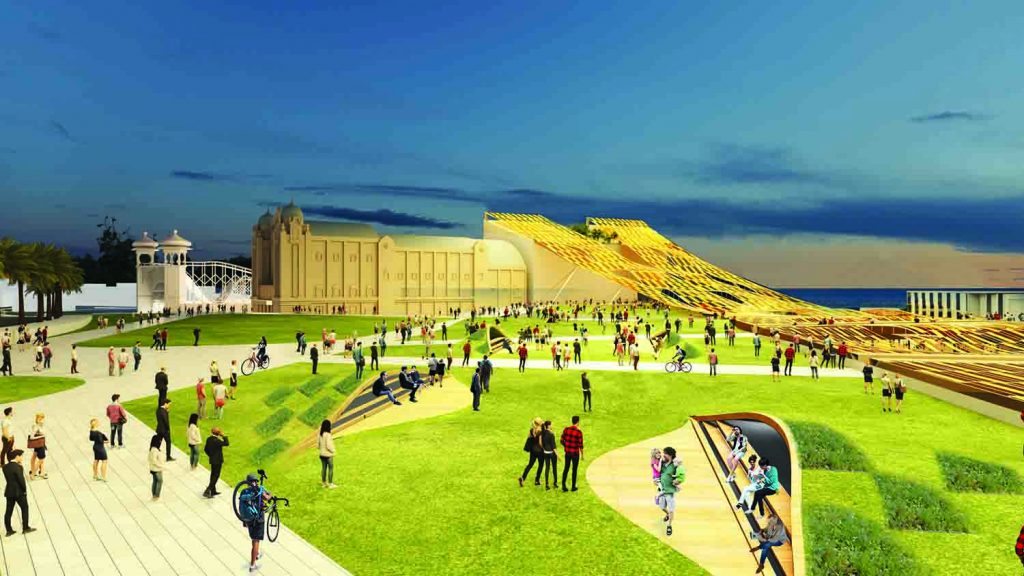 "We all know that solar energy at the moment is the most buildable one and the most feasible [renewable energy technology]."
The mono-crystalline silicon photovoltaic modules are attached to a lightweight tensile structure achieved with a series of Vierendeel trusses connecting to proposed bridges and cross-tension cables. Together, they provide about 70 percent of the overall energy. This is buttressed with a nominal amount of energy harvested when wind blows across the swaying canopy, and from the roots of plants using microbial fuel cells.
All of these technologies have less than a quarter of the embodied environmental impact of their conventional alternative forms, according to ARK Resources. This includes their embodied energy and water, as well as the waste and toxicity associated with their manufacture.
And since energy storage is always an issue when it comes to renewables, the team proposes to use lithium-ion cells sourced from retired electric vehicle batteries. Not only does this mitigate using more natural resources, but also extends the life of batteries that are no longer useful for cars. NH Architecture says they will embed 107,000 used EV battery cells (from 50 fully electric cars) within the handrails of the bridge structures.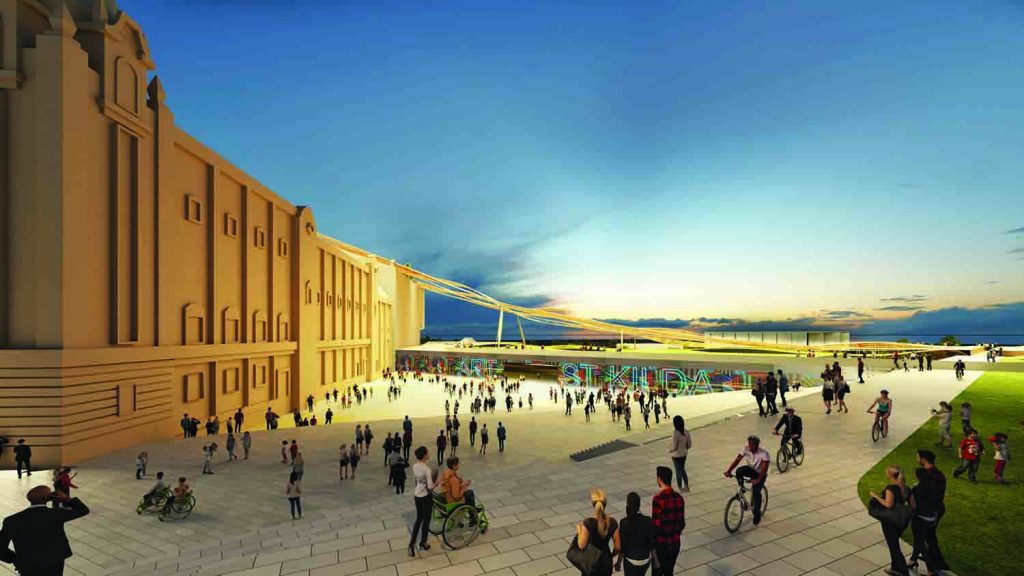 "The design always needs to do more than one thing," says Heide.
The team allows for approximately 300 parked cars (100 more than the Masterplan stipulates), a new cultural center, a new hotel, and an uninterrupted landscape from the Esplanade and Luna Park to the beach front, according to their artistic narrative. They propose to submerge the carpark and the cultural center in the landscape, preserving important views.
The materiality and architectural language, with warm timber and sandy tones, takes cues from the St Kilda beach walk according to the team, and the undulating landscape on top of the carpark would provide for natural light and ventilation.
Heide says it was important for them to create a regenerative artwork that would be relatable. For this reason, they want visitors to realize that the canopy (plus a small amount of energy harvested with microbial fuel cells from the roots of plants) is capable of lighting up 900 low-energy homes, as well as street lights and the Palais Theatre.
He adds that "This helps to visualize what the impact of that infrastructure will be for St Kilda".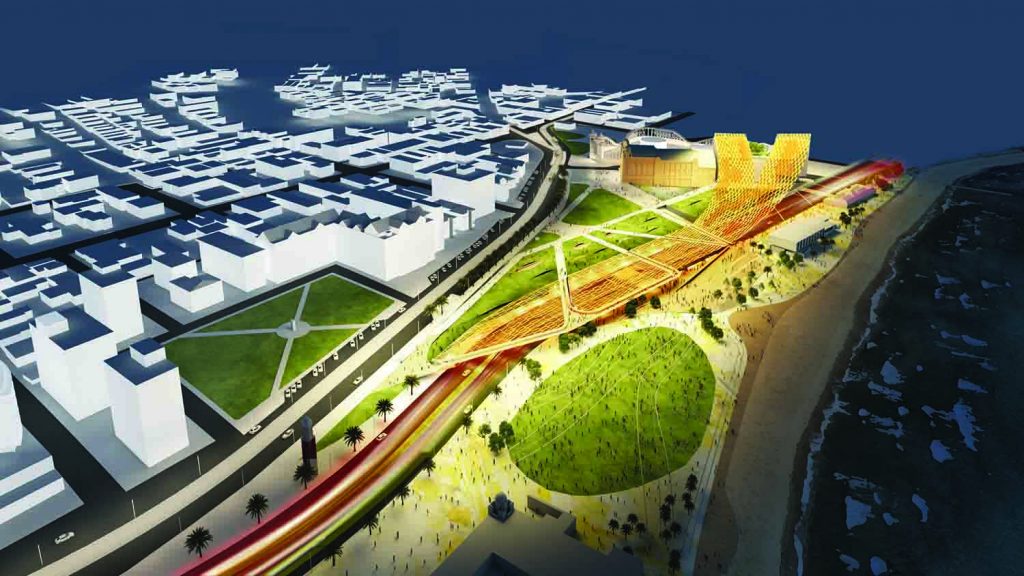 Boothroyd says once they decided to link the canopy to the building, giving it height and movement, the whole design started to take shape. Now it's not only a generator, but also a shaded canopy that can accommodate activities below—making a vibrant addition to a celebrated site that is well known and cherished in Australia.
"It's an artwork that people can interact with just by being in it and underneath it."
LAGI co-founders Elizabeth Monoian and Robert Ferry applaud the team's pragmatic design and they also celebrate its strong visual impact.
"The form of a draping tapestry creates a timeless and instantly recognizable image for St Kilda that compliments existing landmarks without competing with them. With such a large component of the artwork spanning Jacka Boulevard, Light Up manages to create one large functional park space that flows from the Palais forecourt to the beach. The experience of traversing the park will be like walking through a flowing stream of solar energy."
Through a program set up by NH Architecture with RMIT Architecture, design students are embedded in architectural design practices to develop research projects and expose them to the inner workings of the field. Boothroyd says the program was specifically set up so students are not allowed to work on paid projects. Instead, they focus on research through design. As such, students Bryan Chung, Chea Yuen Yeow Chong, Anna Lee, and Amelie Noren made an enormous contribution to Light Up.
Boothroyd adds that the process teaches students that "design has to be underpinned through knowledge."
Light Up is one of 25 designs shortlisted in the 2018 Land Art Generator design competition for Melbourne. The winners will be announced on October 11, 2018.
Tafline Laylin is a freelance communicator and journalist who strives for global environmental and social justice. Her work has appeared in The Guardian, The Atlantic, OZY.com, and a variety of other international publications.