Solar street lighting just got a lot smarter.
Designed by Ross Lovegrove, a giant in the art and design world who calls the intersection of Design, Nature, and Art the "DNA of our times", Solar Tree 2.0 improves upon the original Solar Tree designed about a decade ago for the Museum for Angewandte Kunst (MAK) in Vienna. In keeping with the latest advances not only in solar technology but also smart technologies that allow more efficient energy use, the new, modular design has a suite of impressive features.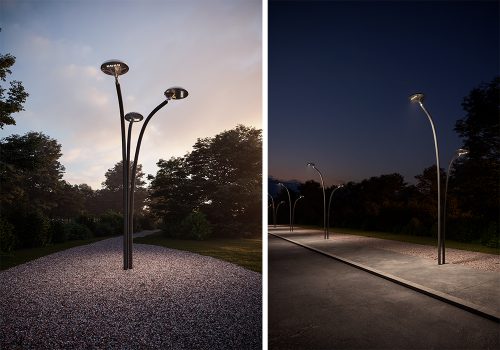 Lovegrove calls Solar Tree 2.0 a "family of modular solutions" with variable post heights and heads. This modularity allows flexibility in urban spaces. As the diagram shows, in cases where overhead transmission lines are particularly low, the post height can be adjusted as necessary. And different settings might require different moods, which is why the family now includes two "optical solutions": The 35W Solar Tree 2.0 Street Light and the 23W Solar Tree 2.0 Urban Social Light. The larger head is capable of incorporating solar cells for harvesting energy from the. And both "can be integrated with high-tech tools to allow measurement of various control parameters and open data exchange with multiple applications," according to the design brief.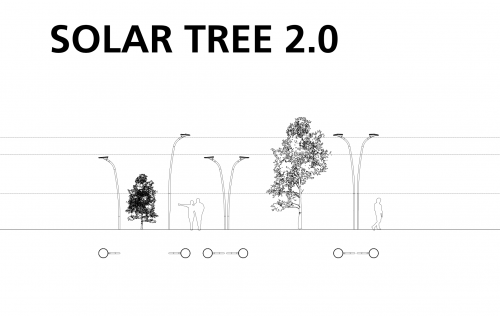 In addition to varying "light emission qualities", Solar Tree 2.0 incorporates new technology that mitigates energy waste — and allows for easy monitoring. Some of these new technologies include a presence sensor, GSM communication, induction wireless recharge, LiFi and connection to a Smart Grid — all of which can be managed remotely. In addition, according to Lovegrove's design brief, Solar Tree 2.0 is designed with "CCTV predisposition". Maybe that's a good thing for security in some areas. But some people may be concerned with potential privacy concerns.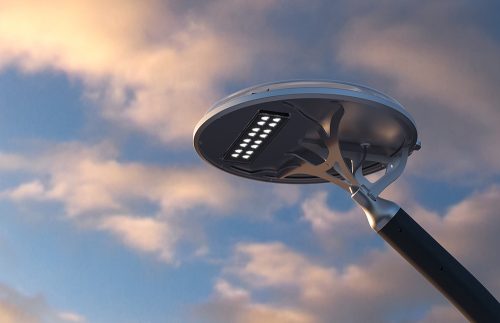 The Head and joints are made with aluminum, the pole is iron and the head cover is made with plastic material. Lovegrove calls these flexible configurations "functional, interactive, and energy-smart…," promoting "a new sustainable and social dimension for the city and for mankind."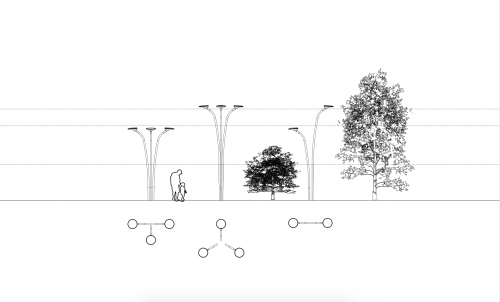 Of the original design, he wrote: "The SOLAR TREES communicate more than light… they communicate the trust of placing beautifully made, complex natural forms outside for the benefit of all of society becoming a museum that if folded inside out, the museum as an incubator of change in society… and with this the promotion of environmental science and the joy of the new aesthetics made possible by the digital process."
It is this kind of thinking, this longstanding attention to sustainable design — flirting with material science, cutting-edge clean energy technologies, and art — that sets Lovegrove apart from many of his peers. Way ahead of his time, the Welsh artist and industrial designer aims to stimulate "a profound change in the physicality of our three dimensional world."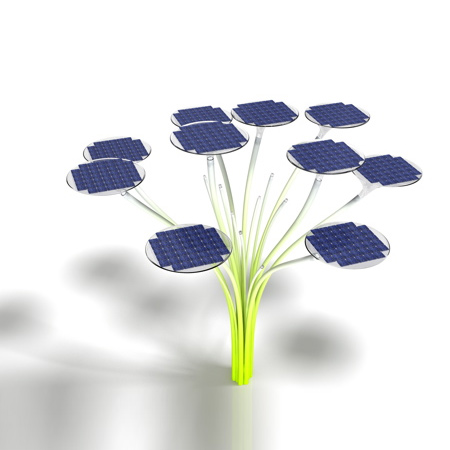 Born in Cardiff in 1958, and a Royal College of Art graduate, Lovegrove has worked with other design world giants such as Jean Nouvel and Phillipe Starck, with a repertoire stacked with commissions for companies like Airbus, Peugeot. Meanwhile, his art has been exhibited in some of the world's most prestigious venues, including the Museum of Modern Art in New York and the Guggenheim Museum.
Stay tuned for a more in-depth retrospective of his visionary career.
All images via Ross Lovegrove
Tafline Laylin is a freelance communicator and journalist who strives for global environmental and social justice. Her work has appeared in The Guardian, The Atlantic, OZY.com, and a variety of other international publications.