A company in France has developed standalone solar-powered desalination technology that doesn't require batteries — a world first, they say.
Named after a city in Algeria, where one of its founders grew up drinking brackish water, Mascara Renewable Water has implemented their technology in several water scarce areas, including Abu Dhabi and Bora Bora, French Polynesia. And new systems are also heading to Mozambique's Gaza Province and to Cape Town, which made world headlines this year for coming dangerously close to completely running out of water.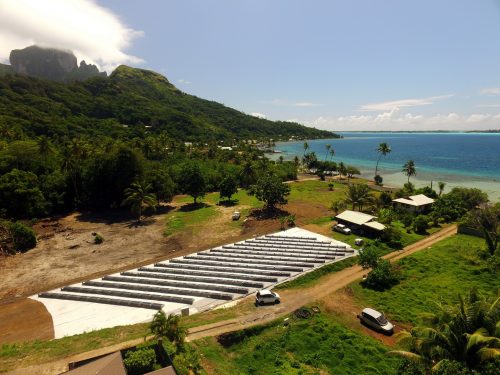 As five billion people are expected to face similar shortages by 2050, according to the UN, OSMOSUN is more welcome than ever.

In addition to reaching far-flung places that lack access to the energy grid, the battery-free solar-powered desalination unit mitigates two main challenges associated with conventional desalination plants: high energy consumption — which in turns drives further greenhouse gas emissions — and harmful discharge of hyper-saline brine. According to PRI, most reverse osmosis plants use up to 10 kilowatt-hours of energy to desalinate one cubic meter of freshwater, compared to traditional drinking water treatment plants, which usually use less than 1 kWh per cubic meter. In Abu Dhabi, according to a report produced by Masdar Clean Energy, the desalination sector contributes an estimated 22 percent of Abu Dhabi's overall carbon dioxide emissions.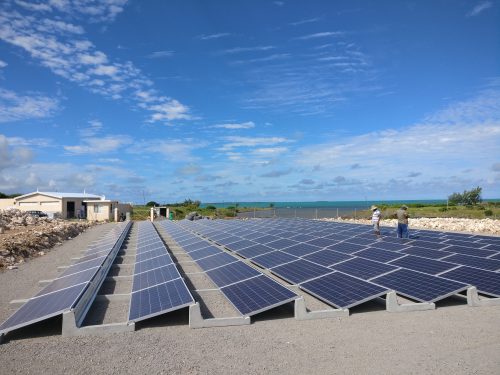 Meanwhile, the brine, a byproduct of desalination that is typically pumped back into the water source, can be detrimental to marine ecosystems. Speaking to ABC in Australia, Professor Nick Ashbolt, Head of School of Civil and Environmental Engineering at the University of New South Wales, says, "The brine generated as a wastewater during desalination is heavier than seawater, so if incorrectly discharged to the ocean would sink to the bottom." In addition, he says, the desalination strips the brine of dissolved oxygen. "If it is released into calm water it can sink to the bottom as a plume of salty water that can kill organisms on the sea bed from a lack of oxygen."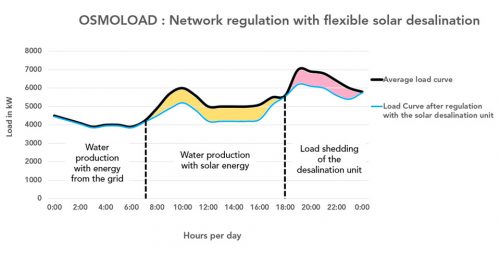 This won't happen with Mascara Renewable Water technology, according to Maxime Therrillion. Responsible for the company's business development, he says they minimize the salinity of the brine in order to reduce its environmental impact. He also says that through Masdar's pilot project in Ghantoot, OSMOSUN demonstrated the capacity to use just 2.5 kWh per cubic meter — with zero harmful carbon emissions. "Masdar was the first to offer Mascara Renewable Water the chance to test and validate its innovative solar desalination technology through its Renewable Energy Desalination Programme in Ghantoot," CEO Mark Vergnet says in the report. "Without Masdar's trust and support, Mascara would have taken many more years to prove and gain credibility for its OSMOSUN® technology. The validation by Masdar of the unique performance of OSMOSUN® enabled Mascara to sign its first orders in 2017."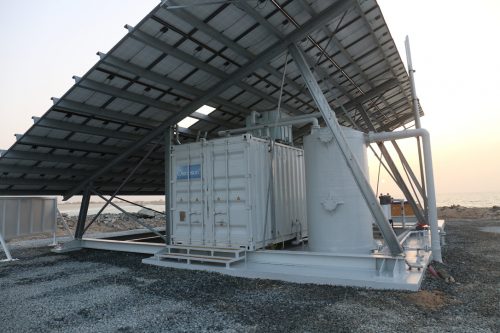 Now, they are gaining steam. Using reverse osmosis technology with a flexible membrane that can cope with fluctuations in energy (necessary since solar isn't always perfectly consistent), OSMOSUN is capable of converting up to 10 000 m3 of sea water into fresh water in a day. Slightly modified, it can also convert up to 500 m3 per day of brackish water into fresh drinking water. Lastly, the company's NANOSUN technology takes on contaminated water, using proven nanotechnology to remove pollutants like arsenic. This modular standalone system has a daily production capacity of up to 500m3 per day per unit. How do you figure out what system you'll need? That's part of the package.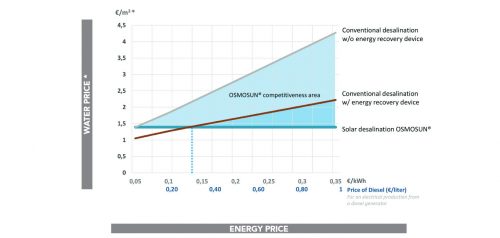 Mascara Renewable Water provides a turnkey service, meaning they evaluate each site to determine how much energy and what filtration systems will be required given specific conditions. They also monitor and maintain the system remotely, and will implement whatever necessary re-mineralization or chlorination (by solar electrolysis) is necessary. Asked how much the system costs, Therillion explained that it's difficult to say because each system is customized. This even extends to the kind of solar generator they provide.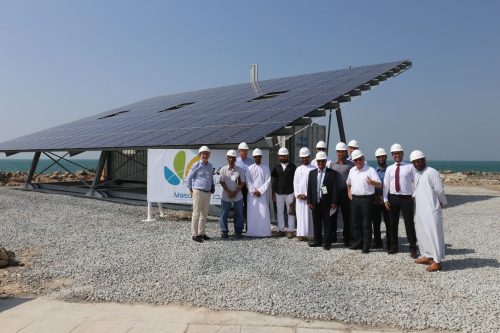 Mascara's technology is not dependent on any specific kind of solar installation. Instead, the company can hook it up with ground-based solar, floating solar or a solar greenhouse. And they can build up the scale, simply adding more solar energy to the mix. Also, in places where a 24-hour supply is absolutely necessary, it is possible to hook up OSMOSUN and NANOSUN to the grid. Doing so will triple its water-producing capacity. But even that is not the extent of what the company has to offer.
Since the transition to a post-carbon future is ultimately inevitable, Mascara has developed a way to convert existing, conventional desalination systems, covering up to 40 percent of the system's daily production with solar energy. The company says, "Mascara's engineers are the first ones in the world offering this process optimization to dramatically reduce the cost of water."
All images via Mascara Renewable Water
Tafline Laylin is a freelance communicator and journalist who strives for global environmental and social justice. Her work has appeared in The Guardian, The Atlantic, OZY.com, and a variety of other international publications.