A giant colorful metal ball shoots plastic-fired farts 6.5 feet into a dark night sky.
This is how Alliance Earth's Dung Beetle made its recent debut during South Africa's annual Burning Man event, AfrikaBurn. It's a fitting venue too. Burning Man was originally conceived to reacquaint people with their creative and civic instincts while reinforcing their connection to nature. And Alliance Earth has a similar mission. Headed by Jeffrey Barbee, a Colorado native partly based in Johannesburg, the non-profit organization works at the intersection of art, education, community engagement and media to encourage environmental and social remediation. But there's one crucial ingredient that Barbee never neglects in his work (I've known him for a few years), and that's fun.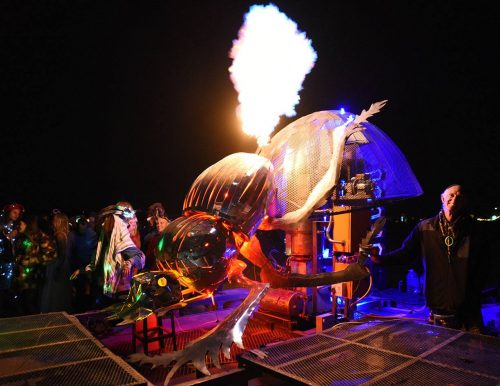 Exciting, practical and beautiful to boot, the Dung Beetle is a public art project that uses pyrolysis technology to convert plastic waste into low emissions diesel and LPG (synthetic) gas. A collaboration between Alliance Earth, artist Nathan Honey and set builder and inventor Pierre "Pops" Pretorius (along with many others), this regenerative piece mimics the dung beetle in both form and function. Think those beetles are rolling around in dung for fun? Maybe, but they also perform a crucial role in keeping ecosystems free of waste; Alliance Earth ambitiously hopes to do the same.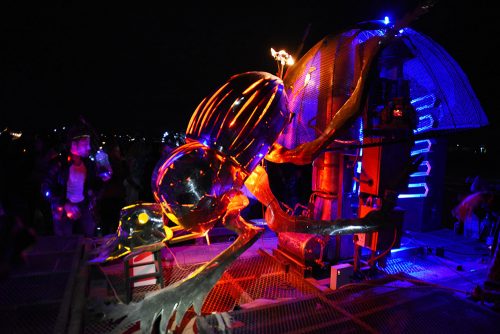 "Plastic is an un-exploited asset littering the planet," writes Alliance Earth in their original proposal. "By valuing this plastic as a fuel of the future, the Dung Beetle technology turns this problem into a solution."
So, how does it work?
Plastic waste is first shredded to reduce the particle size. This is then fed into a reactor, where it is burned in an oxygen-free environment to mitigate harmful emissions, separating long-chain hydrocarbons. Remaining physical particles are recirculated back into the reactor for another round of combustion, and gas rises to the top. This gas is then run through cooling ribs, where it's condensed into a dripping liquid that can be used as biofuel.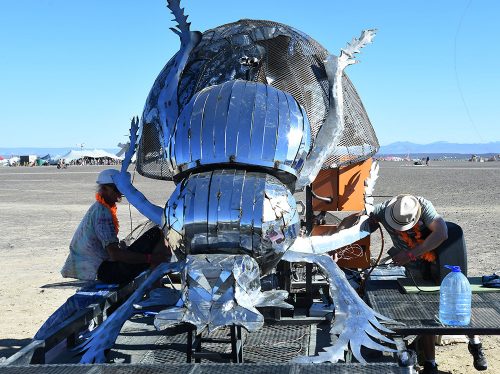 Meanwhile, the clean LPG gas that does not condense is either fed back into the reactor or re-routed to power a syn-gas generator, or even for cooking, according to Alliance Earth. Carbon remnants can be folded into the soil or "made into something more exciting like nano-tubes or graphene sheets".
Barbee says 1 kilogram (2.2 pounds) of plastic turns into about 910 grams (2 pounds) of fuel. But isn't burning plastic harmful to the environment?
Anticipating the question, Alliance Earth says no, because Dung Beetle doesn't burn plastic so much as change it. Instead, according to them, by removing the insidious stuff from our rivers and oceans, addressing energy shortages, and loss of hardwoods typically burned for fuel, the roving beetle could potentially reduce the environmental footprint of plastic "thousands of times."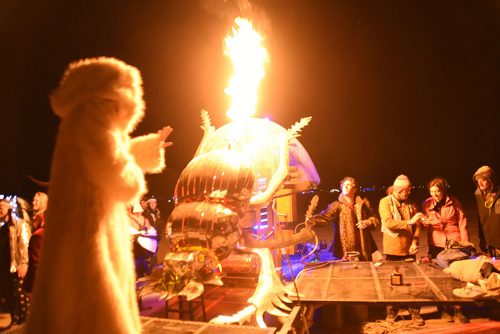 Both types of fuel produce a fraction of the emissions that result from burning conventional fossil fuels because of the heat and induction system used to sustain the reaction, according to Alliance Earth. The gas is said to release one quarter of the emissions released when burning propane, while burning biofuel produces less than one tenth of diesel fuel's greenhouse gas emissions.
And the farts firing from the beetle's bum? They are produced on demand for excitement and artistic flare.
Barbee and crew hauled the 2.2 ton beetle from Johannesburg to the desert and back, about a 2,050 mile round-trip journey partially fueled by its own product and creating quite a stir along the way. "Everywhere we went people looked at our system encircled by a steel earth like some sort of alien marvel," says Barbee. "In the desert town of Calvinia, children followed the trailer, taking pictures on their cellphones and asking questions."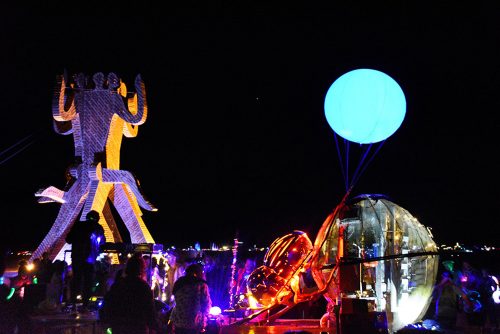 At the festival, a wild winter wind prevented them from being able to fire up the beetle because they were concerned about micro-plastics entering the unique ecosystem, something they hadn't anticipated in the controlled environment of their home workshop (and intend to finesse). Once the winds died down, they put on a compelling, educational show that got people thinking — all while having a blast.
Barbee says he and Pierre (Pops) gave talks during the day and brought in more folks through local Tankwa radio interviews. He adds, "Our amazing resident Beetle DJs, Bells and Che, did full music sets for the ten thousand or so folks over the airwaves as well as live shows at the Beetle stage in the evening, along with some serious chats about the dangers of plastic in our food and water."
Partially funded by both Burning Man in the US and AfrikaBurn, the Dung Beetle isn't done gobbling up plastic or farting into the night. Well over six-feet-tall and his own endless source of renewable energy, Barbee has big dreams for his crew's creation. In addition to touring with Dung Beetle as an educational platform, his goal is to partner with government and non-government organizations throughout southern Africa and "cross-pollinate" with other successful environmental projects.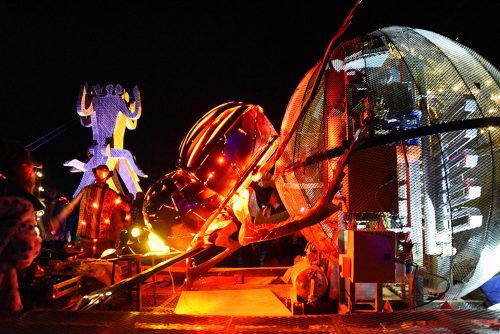 Sharing their open-source plans for the pyrolysis technology, Alliance Earth hopes to empower communities to clean up their environment and produce cleaner fuel. And they'll address other environmental solutions, including permaculture and solar technology.
Barbee says, "The Dung Beetle will roll off over the sandy horizon to bring its burning message of hope, renewal and radical self-reliance to the rest of southern Africa and the world."
Photos via Jeffrey Barbee / Alliance Earth
Tafline Laylin is a freelance communicator and journalist who strives for global environmental and social justice. Her work has appeared in The Guardian, The Atlantic, OZY.com, and a variety of other international publications.