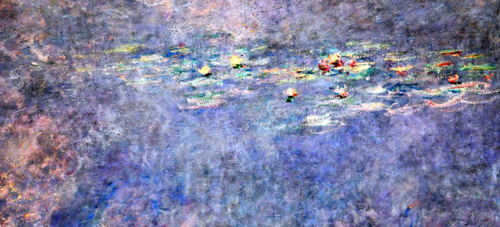 Les Nympheas by Claude Monet from Musee l'Orangerie, Paris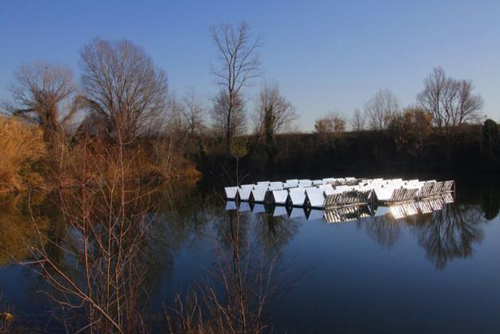 Photovoltaic panels in Lake Colignola, near Pisa. FABIO MUZZI, AFP
Marco Rosa-Clot, physicist and professor at the University of Florence, has demonstrated a floating photovoltaic power plant with wing reflectors in Lake Colignola near Pisa. The panels are mounted on a structure that is actually attached to a central column that extends to the water bed and which provides the rotation required for the panels to track the position of the Sun. The installation is somewhat reminiscent of water lilies.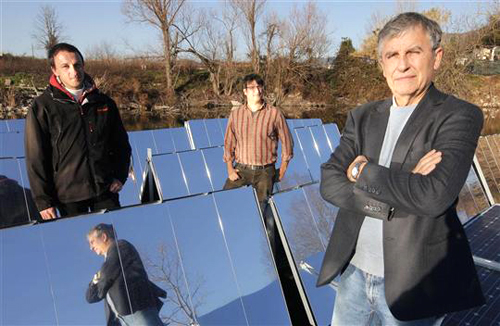 Marco Rosa-Clot and his team at Colignola, near Pisa. FABIO MUZZI, AFP
From the AFP article:
"Between the use of reflectors, panel movement, and water cooling, this new type of plant is able to supply 2,000 kilowatts / hour per year for each kW installed as compared to 1,200 kilowatts / hour per year for conventional systems," says Rosa-Clot, at the head of a small family business, the Scintec, which conducts research in various industrial sectors and the environment.

The other advantage of photovoltaics is the use of floating bodies of water left, as former quarries for example, preserving the landscape because the panels are virtually invisible.

"A typical installation, such as on roofs for example, has a strong impact on the environment and landscape. Our facilities, however, are born to be used on lakes, old quarries shallow," said Raniero Cazzaniga, an associate of Mr. Rosa-Clot.

"His height does not exceed one meter and is generally not seen before arriving at the water's edge. It's not intrusive," he said.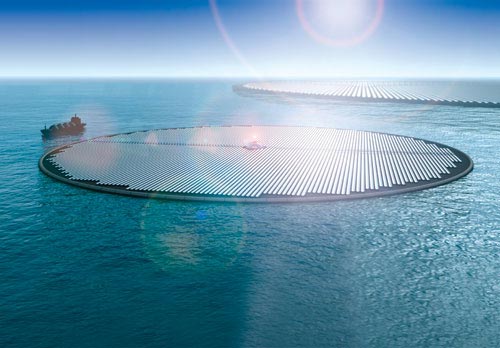 Ras Al Khaimah concept from 2010
We saw something similar here in the UAE a couple years ago with the Ras Al Khaimah solar island concept and prototype developed by a group of Swiss Scientists. We're not sure what the status of that project is. Instead of PV with reflectors, they utilized fresnel CSP. But rather than the mirrors themselves rotating, which requires some complex mechanisms, the low friction of the water allowed the tracking to be done by simply rotating the entire floating system. They had developed the system for sea or land deployment.


Fluor solar power plant in Carrisa Plains, CA.
The mirrors of Marco Rosa-Clot's design also remind us of a solar installation by Fluor. The use of mirror wing reflectors on either side of solar panels almost lends a contemporary sculptural aesthetic (a la Anish Kapoor) to the installation.