Miroslaw Struzik, Tadeusz Zdanowicz, and Kazimierz Kociolekhev
Designed for Site #1 in Dubai, near Ras al Khor Wildlife Sanctuary.


Design Submission for the 2010 Land Art Generator Initiative Design Competition
Artist's descriptive text:
Solarbird is a three dimensional form. It is a structure composed of modules. The main dominating element is a vertical structure. It is accompanied by a horizontal structure, also consisting of the identical modules. Each module is a spatial form with a characteristic soft surface deflection and waving shapes.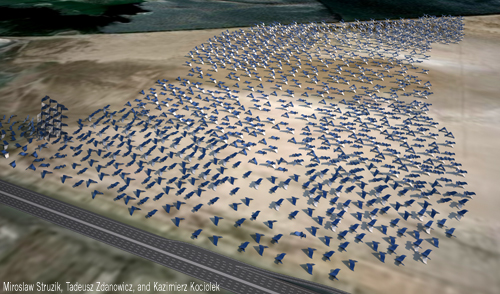 The dominating vertical element 75 meters high is square to the motorway axis and thus can be seen by the drivers, even from a distance. In this way it can become a recognizable sign before entering the city. The installation as a whole is a readable, aesthetically sublimed form, referring to the ornamentation derived from Islamic culture.
The design takes into account a motorway exit to a viewing platform that is raised 10 meters above the ground level. The visitor gets the developing views of new forms lighted up by the sunlight. It is the clear impression of flushing birds. A shade of these forms casted onto a desert sand suggests an outline of a tree.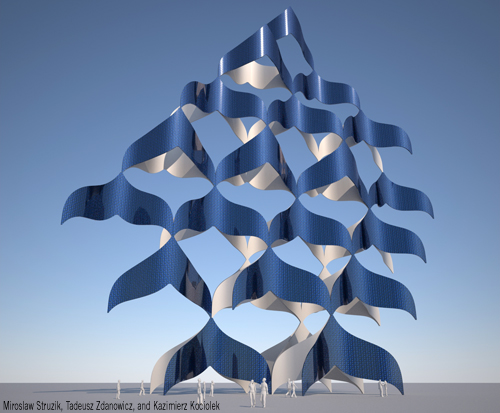 The structures consisting of the precise, multiplied modules, illuminated at night will give the specific show of changing effects, from red through blue to dominating green – casted against the background of the sky.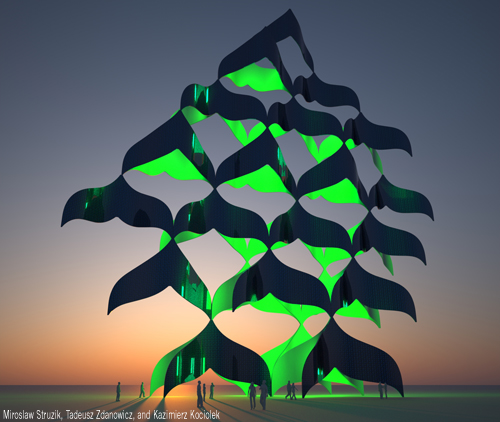 The particular quality of the installation is the usage of the specific shape module. It enables constructing such structures that bring to mind various associations, depending on the viewpoint, e.g.sea waves (horizontal structure),birds, fish and a tree (vertical structure) etc.
Solarbird combines thus the artistic concept with an attention to details. Solarbird captures energy from nature (the sun) and converts it into electricity


scale model of structural form