The sun laid eyes on you in spring,
Washed you with its color to shine bright.
The wind then whispers in your ear,
And prepared you for a magical flight.
That's why you glow and shine,
And are first but never late,
As you swiftly fly in the wind,
Searching for your future and fate.
—Marinela Reka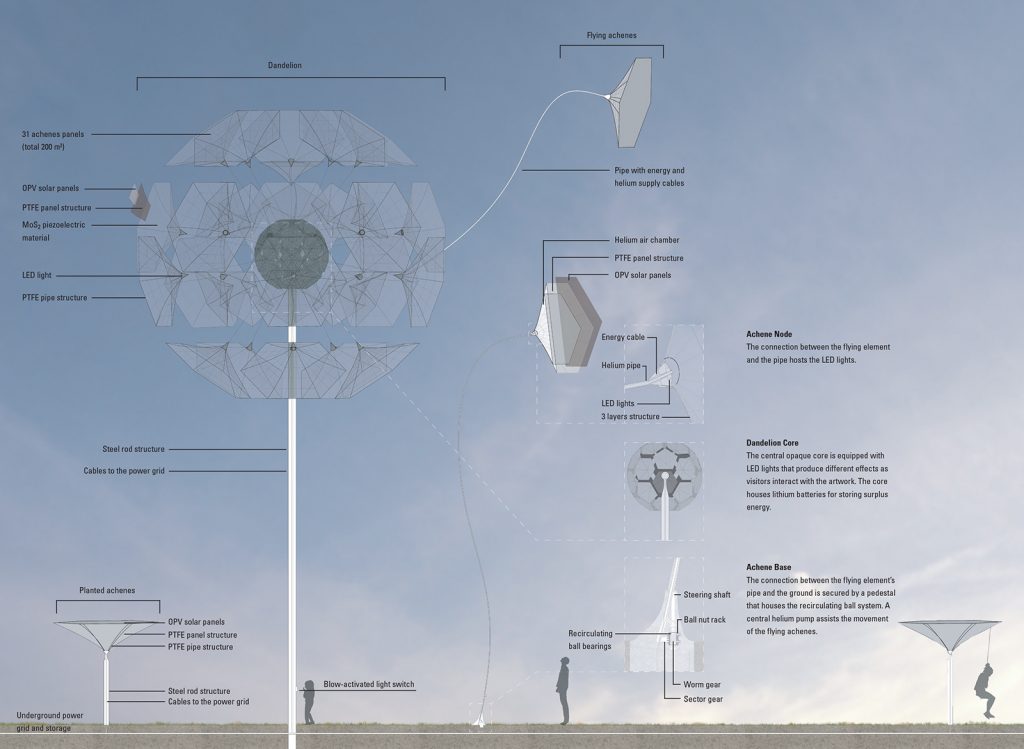 The force of the wind allows a dandelion and its seeds or "achenes" to magically fly in the air, spreading life and seeking a new future. This artwork translates the steps of this journey for visitors to Masdar City who will come to better understand the power of nature and the necessity for change. Masdar in this way becomes a city born from the wind.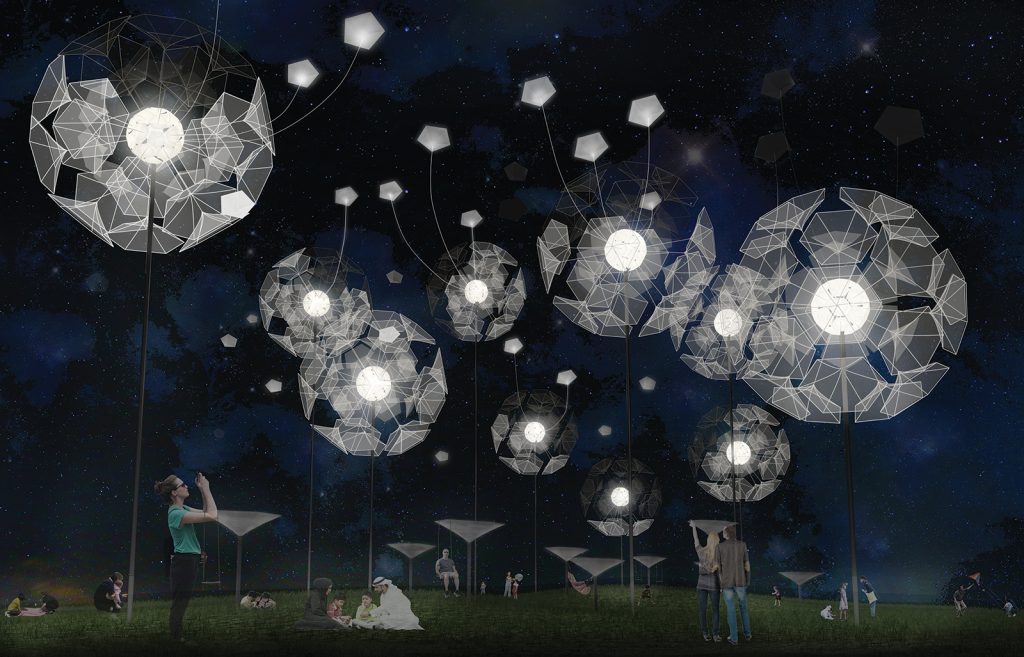 Located as a gateway to the city, the park is covered by an installation of twenty giant Dandelions. As the wind blows, these structures appear to break up into eighty flying components—achenes gliding playfully in the breeze as they search for their future and their fate. The journey ends with forty planted achenes that find their place on the ground to bring new life to Masdar City and to spread awareness about the force of nature throughout the UAE and the world.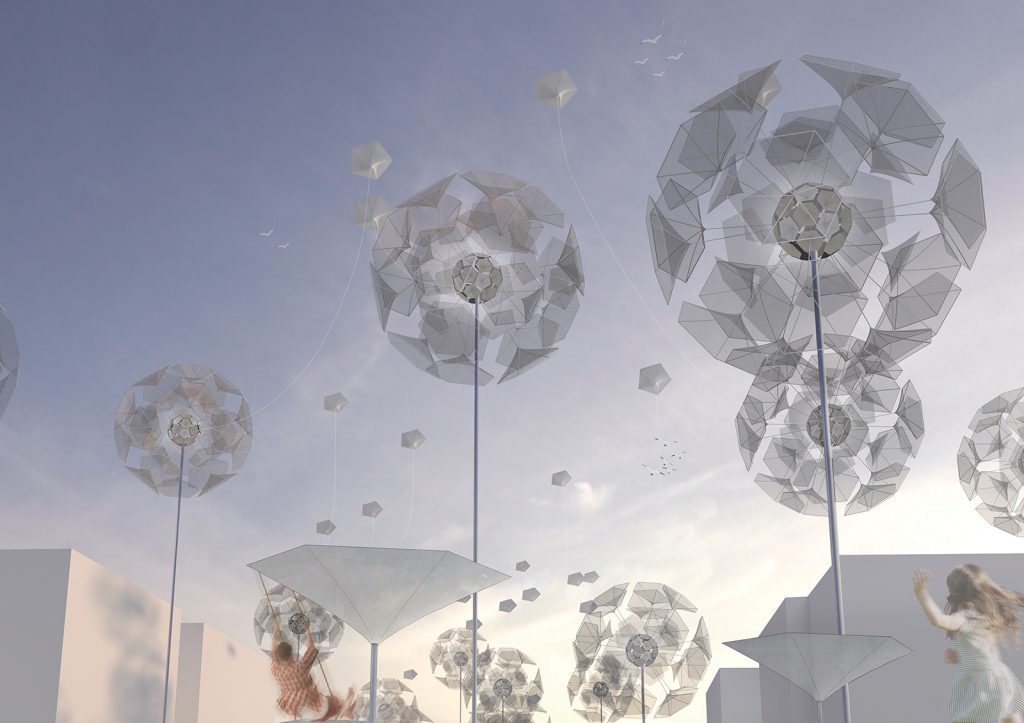 As visitors walk through the park, the installation demonstrates how natural energy can be captured and used in diverse ways. The semi-transparent Dandelions provide shading for the park, while generating electricity with organic photovoltaic (OPV) technology. As the prevailing winds blow through the park, the achenes—designed as a high-altitude wind power (HAWP) kite with helium assist—move to a higher position, providing dynamic shadows and renewable electricity. Additional wind energy is harvested using piezoelectric monolayer MOS2 material that converts bending pressure into electricity.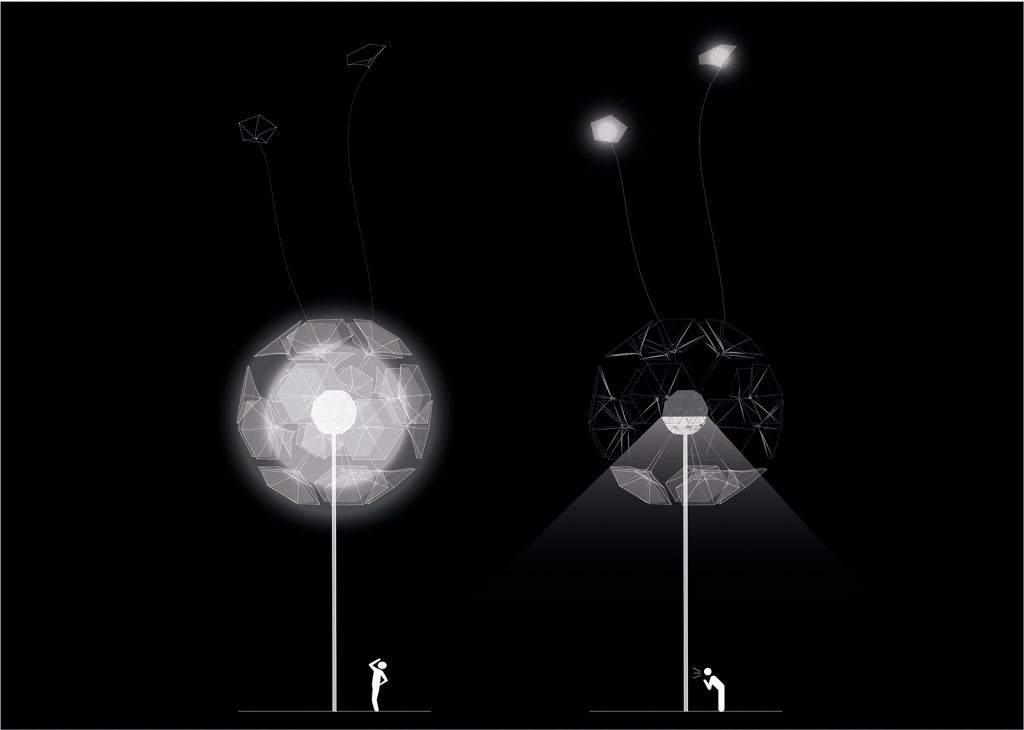 Opaque ground elements further protect visitors from the sun and allow for a variety of activities in the park, such as swinging seats and hammocks, to simulate the experience of flying with the Dandelions.

At night, the appearance of Dandelion Journey is transformed by LED lights with which visitors can interact through an activated input at the base of each flower. As visitors blow onto the sensor—with the same child-like joy that comes from blowing on a dandelion in a field—a part of the Dandelion gently disappears in the darkness, while the flying achenes, once hidden in the dark sky, become bright.
---
LAGI 2019 is sponsored by Masdar and is held in partnership with the 24th World Energy Congress.