An abstract representation of a rainy sky over Masdar City provides shading for the public park below, prompting us to think differently about solar power plants.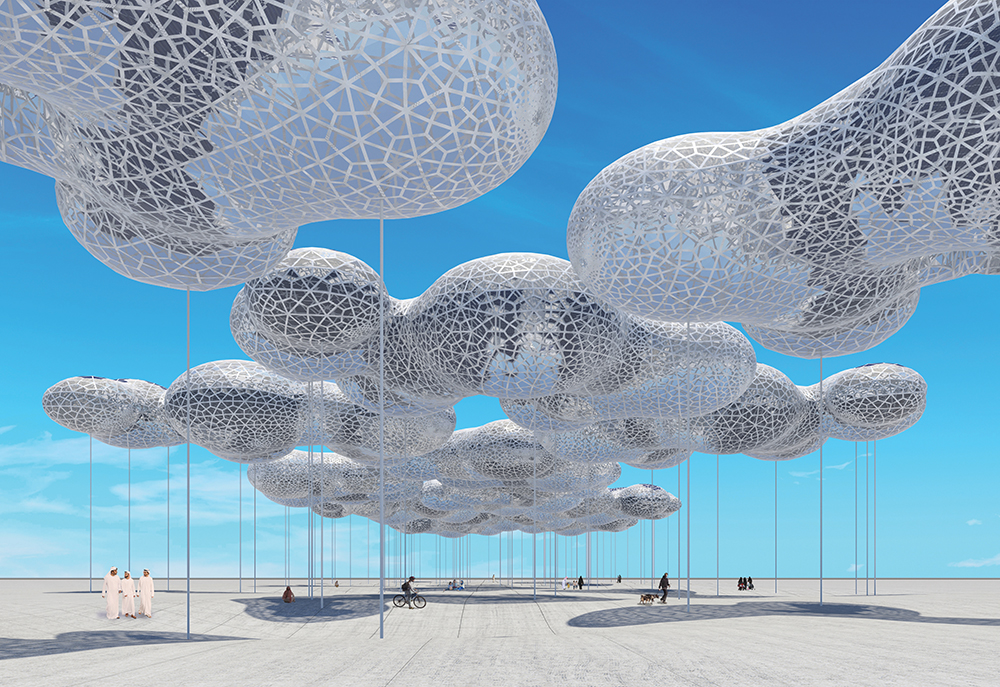 Rather than vast and monotonous environments somewhat hostile to people, what if a solar farm could take the shape of the sky? What if constant clouds could provide shade for visitors while generating renewable energy?
New technologies and advancements in the field of organic photovoltaics (OPV) allow for more freedom in the design process and an exploration of complex geometries. It is now possible to conceive of light-weight tensile and pneumatic structures that are covered with flexible OPV cells ranging from transparent to translucent colors in many hues.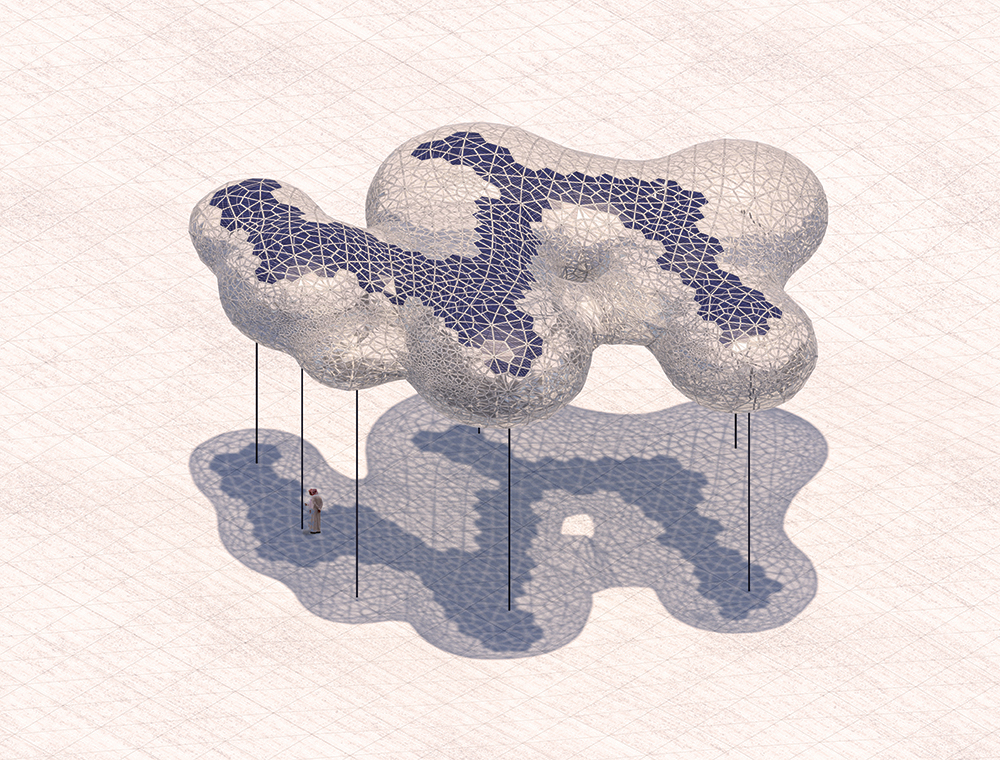 The clouds are manufactured with ETFE sheets and inflated under low-pressure. They are supported by slender steel tubes that channel all the services and wiring from the canopy to the underground service room, where the pumps, inverters, distribution boards, transformers, and substations are located out of reach and sight from the park users to ensure a safe environment and uninterrupted landscape.

The design is based on a repeating module that can be rotated to create the perception of the randomness of a natural sky while simplifying the fabrication process. The geometry of the cloud maximizes the surface area for energy production while maintaining a limited footprint over a ground plane of white stained cork, which creates a soft ground with acoustic absorption properties.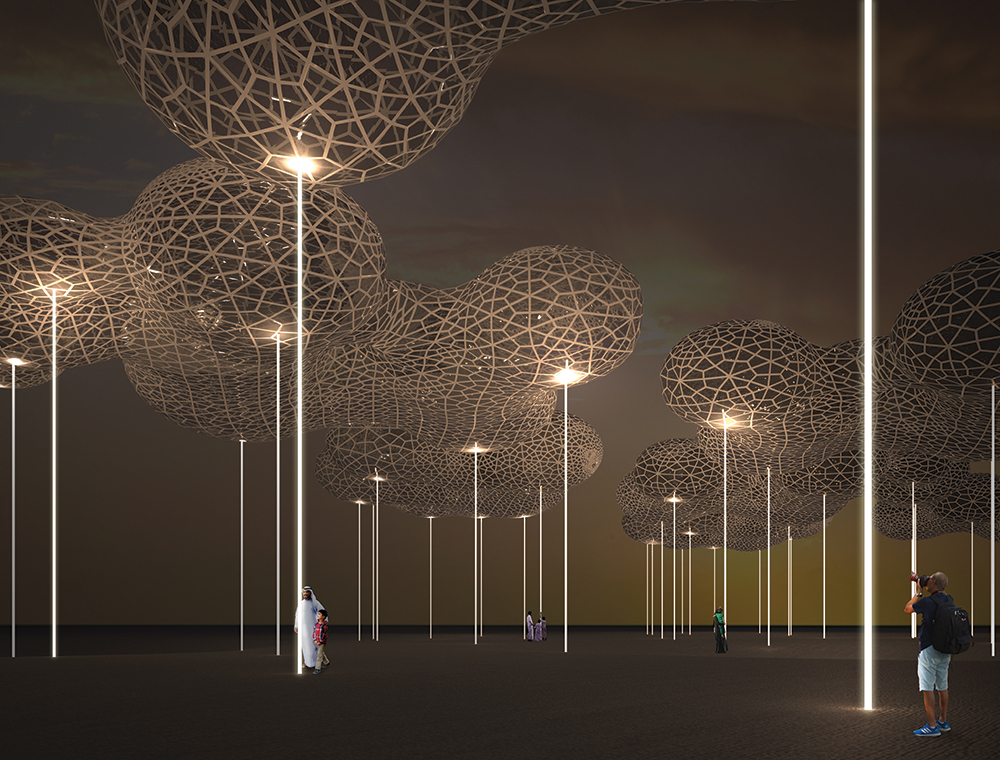 Meandering through the park and set 12 meters above grade, the installation allows for continuous views and the establishment of a natural landscape endemic to the United Arab Emirates. Inspired by the Sheikh Zayed Grand Mosque of Abu Dhabi, an open empty space for reflection and contemplation is juxtaposed against the rich Islamic geometries within the clouds.
During the night, the columns turn into street lamps that gently illuminate the park, resembling water falling from the clouds.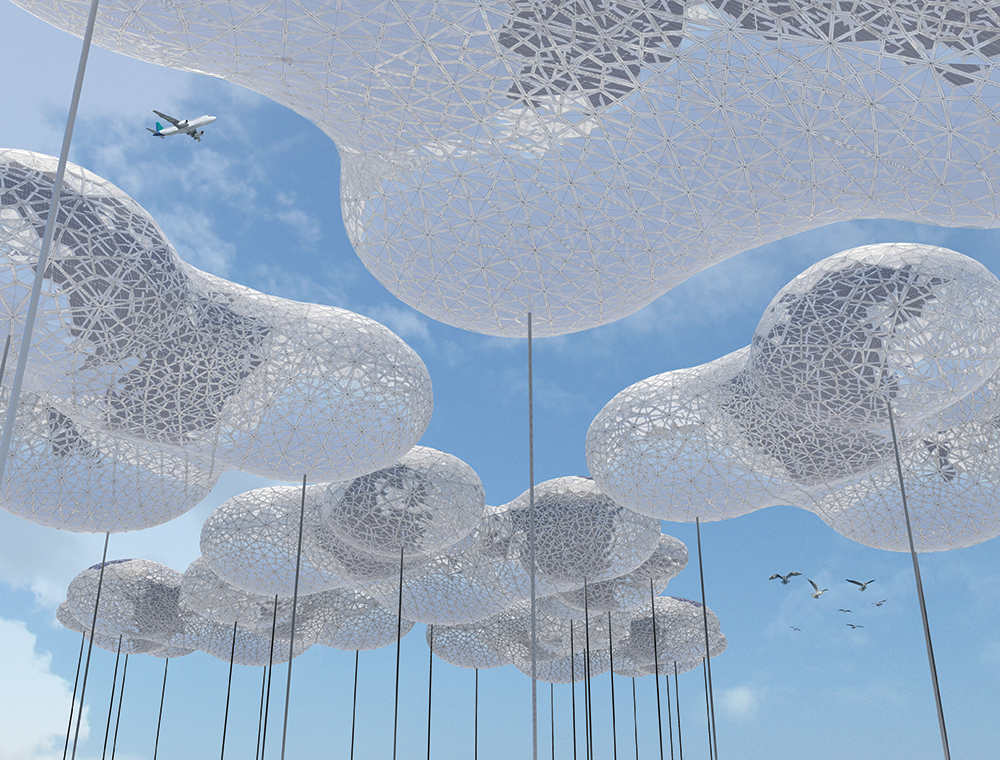 ---
LAGI 2019 is sponsored by Masdar and is held in partnership with the 24th World Energy Congress.