High altitude solar power reaches above the shadow of the buildings.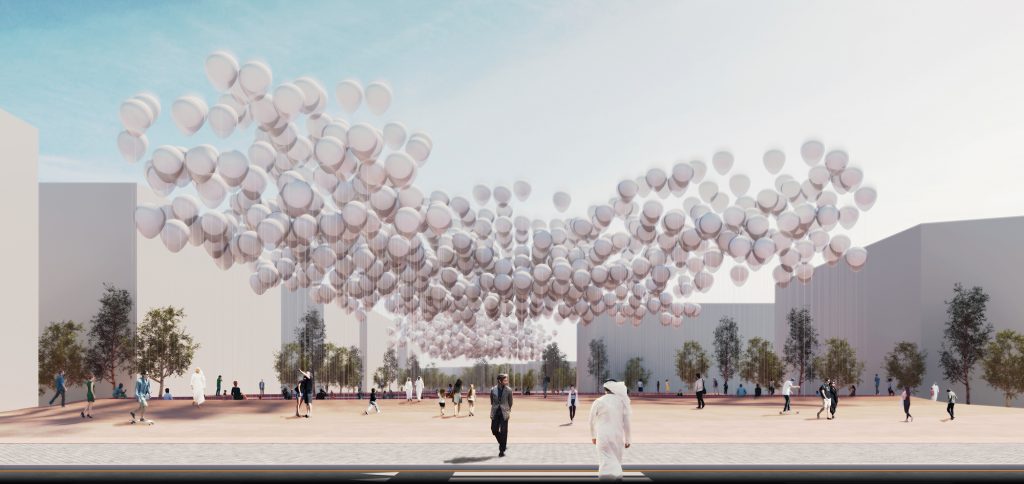 As renewable energy becomes more a part of our daily lives, we have the opportunity to not only power our 21st century economy, but also to touch the hearts of the population, communicating with people and reminding everyone that we are living here together on planet Earth. Solar Cloud accomplishes this with a sense of humor, creating a joyful place for the community to come together—creating energy for electricity and energy for life in tune with nature.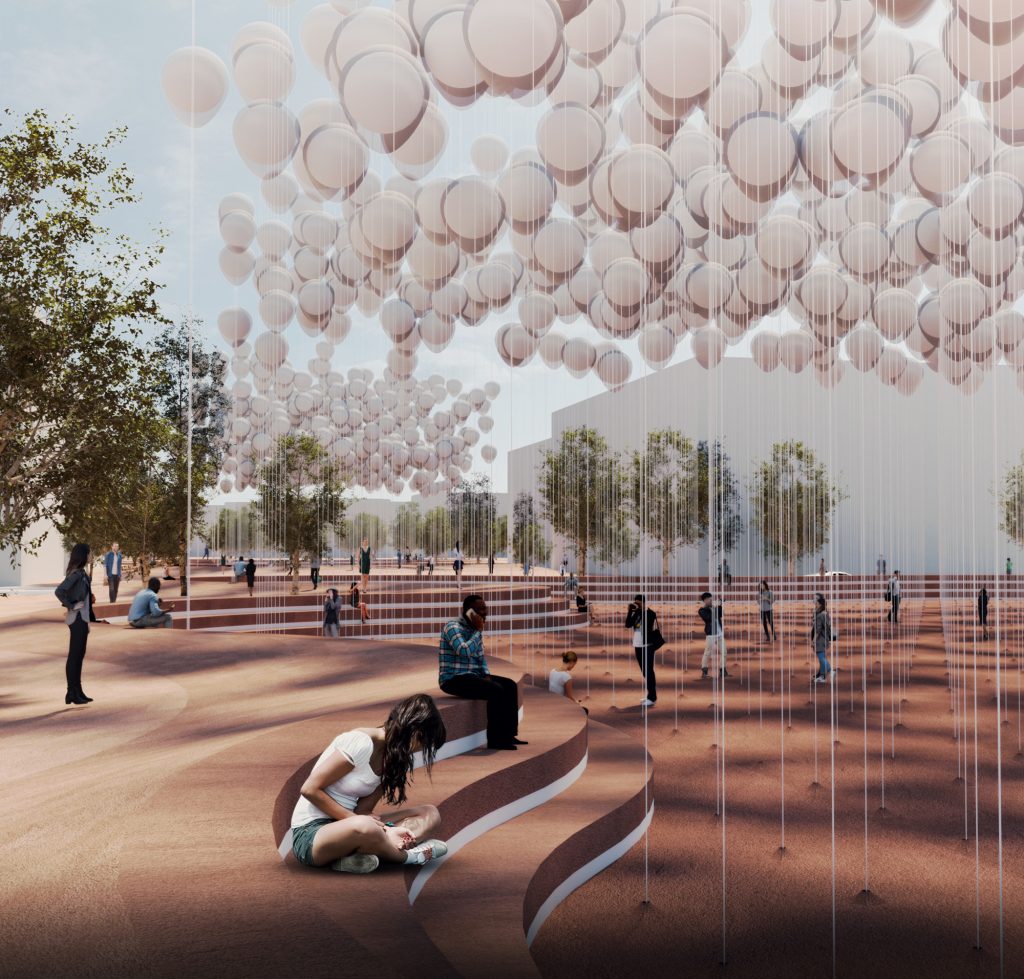 The artwork consists of 1,500 "solar balloons" gathered together as a representation of society coming together for a cause larger than any individual. The sculpture hangs in the air, like a living creature vibrating to the circadian rhythm of life, providing dynamic shade underneath. At night, this quintessential city square is transformed into a programmable digital art platform—a "sol-art-cloud" new media museum with limitless shape and light—hosting the work of many artists and artworks from around the world.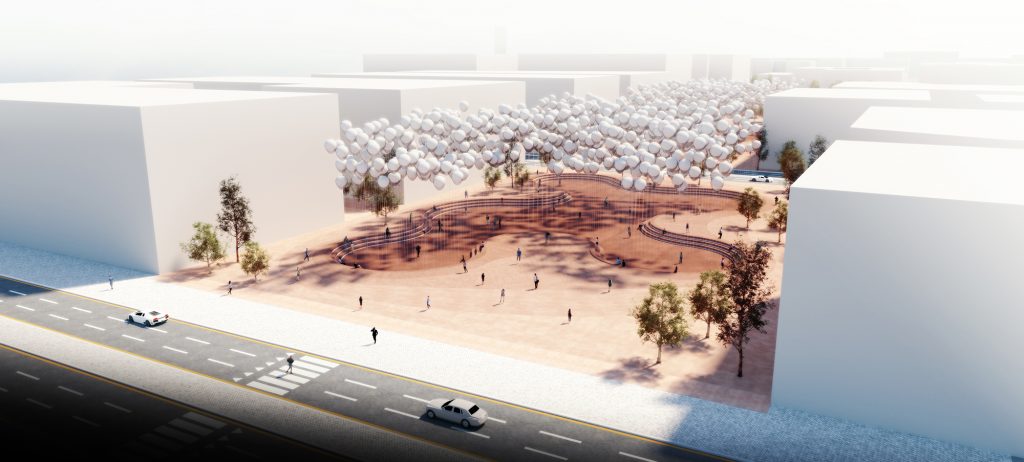 The field of balloons is covered with solar fabric and behaves like a cultivated field, growing daily and catching the sun for energy. Like sunflowers that follow the sun, the solar balloons start to rise from the heat of the sun to catch more daylight and trigger a rolling tether to harness additional energy.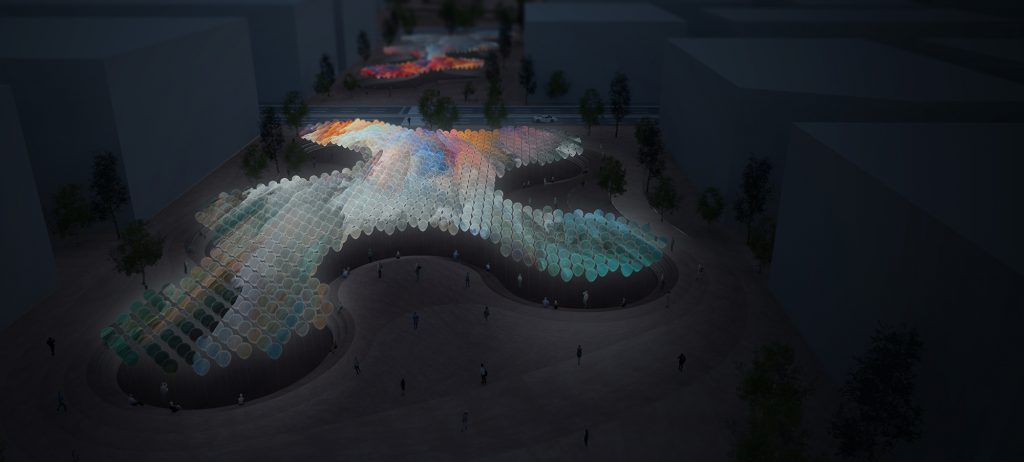 In this era of IoT technologies, a community thrives not only in actual spaces but also in virtual ones. Solar Cloud is an interface for both, simultaneously existing in darkness and light in the realms of cyberspace and at Masdar City, where new technologies are tested and promoted.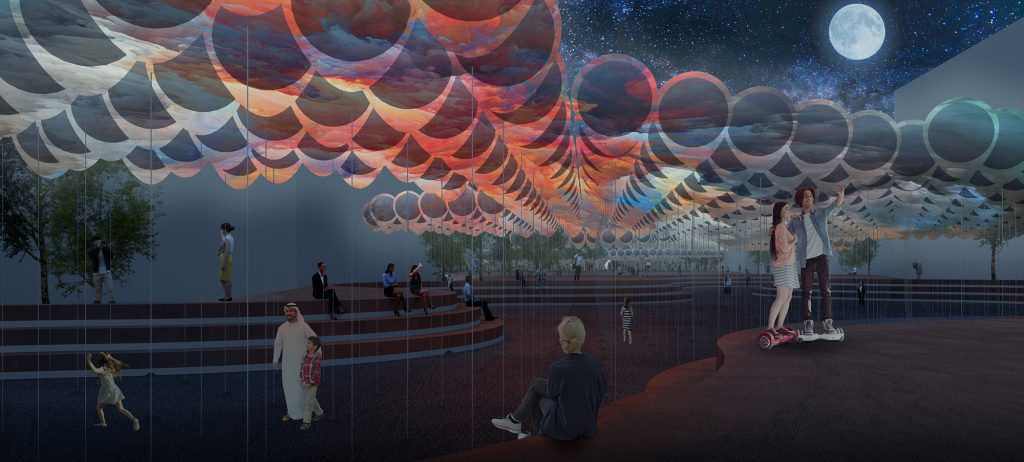 The piece is composed of three parts: PixSol, FabSol, and Finite. Pixsol is a two-meter wide modular solar balloon filled with air and helium and tethered to the ground via automatic weight-triggered pulley wheels. Fabsol is lightweight carbon-fiber reinforced fabrics woven with an array of solar cells that cover the pixsols. Finite is a biodegradable construction made from desert sand, as strong as concrete but with half the carbon footprint.
---
LAGI 2019 is sponsored by Masdar and is held in partnership with the 24th World Energy Congress.