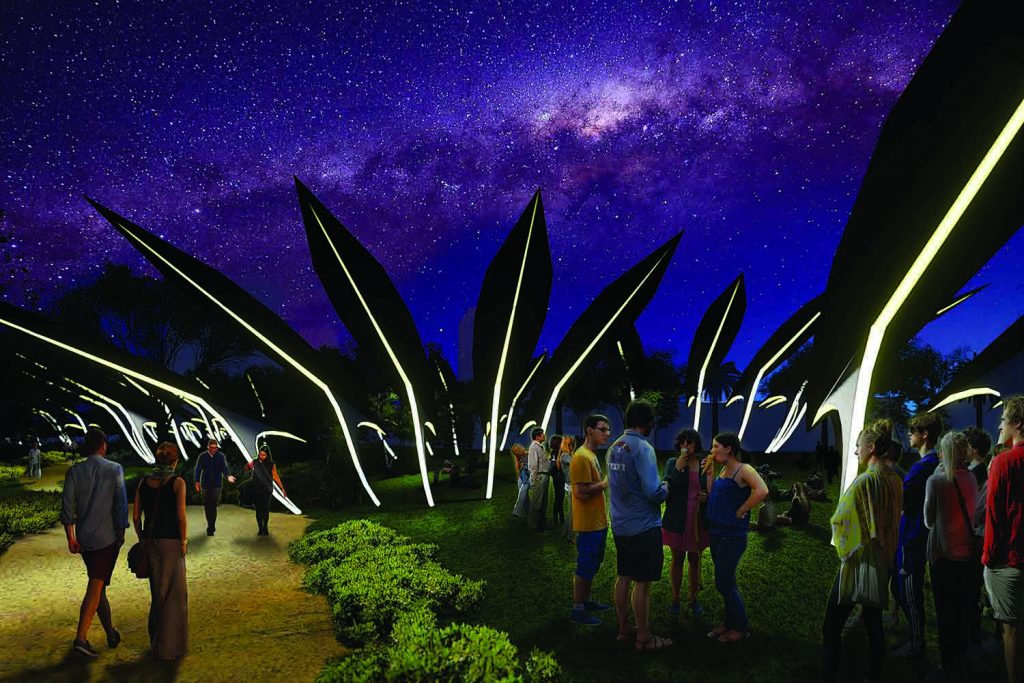 Lendell Ervin and Jiawei Hou designed a series of cantilevering feathers that "steal fire" from the sun to provide electricity for St Kilda in the City of Port Phillip, Australia.
Ervin says they were inspired by a Kulin myth that describes how the ancestral deity Waang, which takes the form of a crow, stole the "jealously guarded secret of fire" to make it available for all to use. He compares this figure to Prometheus in Greek mythology.
"Through designing this space, we have connected the past to the present,' Ervin continues.
"And in making it a living monument for the St Kilda neighborhood, we have capitalized on the opportunity to allow that monument not only to provide community identity, and a sense of place and time, but also energy."
Stealing Fire, a finalist in the 2018 Land Art Generator design competition for Melbourne, incorporates thin-film multijunction solar and piezoelectric energy harvesting technologies to produce 850 MWh of clean energy annually. That's enough to power about 170 Australian homes. The proposal also envisions a series of built hillocks planted with native species to replace vegetation that has been lost over the years to human development.
"The gently undulating ground plane, along with tree canopies and vegetated edges, create both visual and experiential interest by constructing the illusion of a larger space," write Ervin and Hou, who hoped to create a pleasant environment for visitors to explore and enjoy.
108 large carbon fiber feathers would be arranged on top of the hillocks in a position that is reminiscent of a crow's tail feathers, aligned to the north in order to optimize solar exposure. Each sculpture measures 6.5m high, 1.5m wide, and 9.5m long and the central aluminum support structure would be lined with dimmable LEDs that would light up at night, creating a dynamic visual spectacle. The feathers could also be programmed to respond to various special events.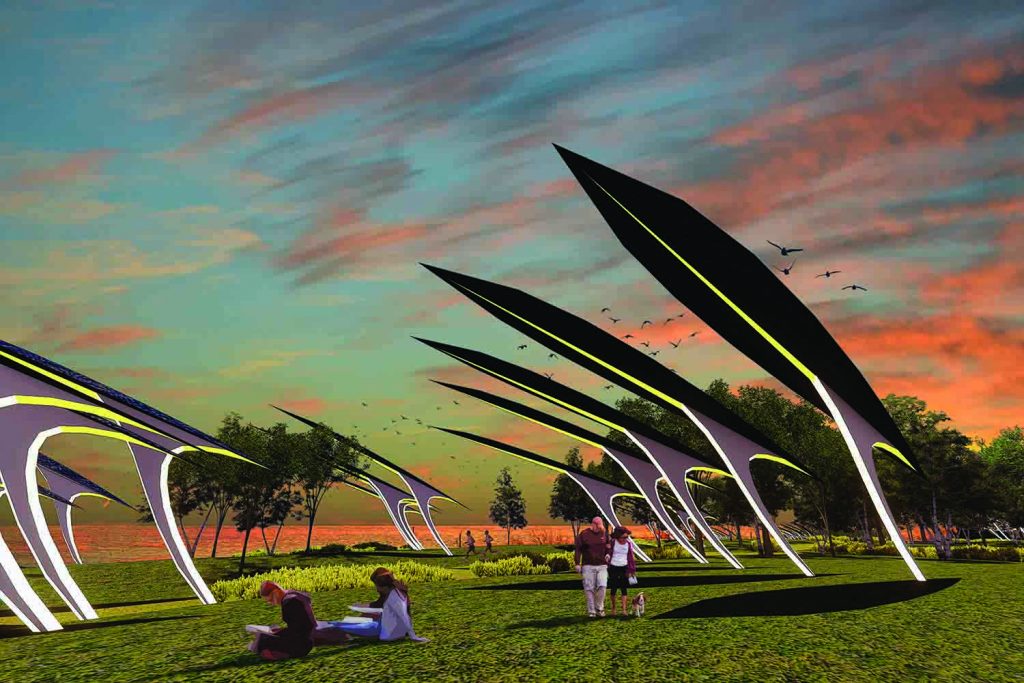 The team chose to specify multi-junction solar cells for the top of the feathers because of their superior performance when compared to conventional photovoltaics. As they write in their artistic narrative, because multi-junction solar cells contain multiple material layers capable of responding to a broad spectrum of light wavelengths, the technology has a 40% conversion efficiency. Wondering why all solar installations don't use multi-junction cells, we looked to research from Delft University of Technology for valuable clarifying information.
They acknowledge in an Advanced Sustainable Systems article that the record efficiency of concentrator photovoltaic cells is 29.3% for the single‐junction, and grows to 34.2%, 44.4%, and 46.0% for the monolithic two‐terminal double‐, triple‐, and quadruple‐junction cells, respectively. The authors Fai Tong Si, Olindo Isabella, and Miro Zeman note that the benefits of this particular solar technology—which is costly to manufacture—are limited in applications like the one proposed by the Stealing Fire team.
They suggest that the gains of multijunction solar cells placed on a stationary surface could be counteracted by losses associated with added subcells, and that efficiency could suffer from daily and seasonal changes in the solar spectrum. Multi-junction cells are best suited for applications with dual-axis solar tracking and concentrator technology (like HCPV installations) that can make up for some of those losses and which reduce the surface area of the cells to save on production costs. In static applications over large surface areas like those on top of the Stealing Fire feathers or on your rooftop, a more standard thin film or crystalline solar cell will be more suitable.
In addition to solar power (whether multi-junction or more standard single-junction), the artists propose to implement piezoelectric harvesting technology that converts wind strain on the feather structures to electricity. As wind passes over the feathers, they note, the resulting vibrations and movement distort the piezoelectric bending sensor to produce voltage.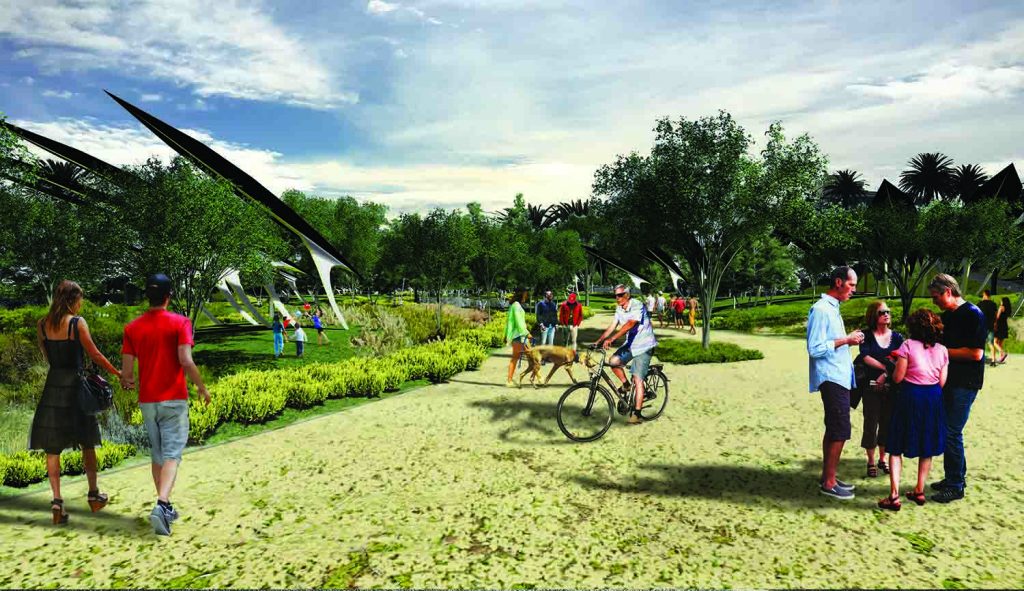 But for the designers, creating a compelling work of art took precedence over energy generation. Both landscape architecture graduate students at Ball State University in Indiana, Ervin and Hou leaned on their respective backgrounds in prop-building and landscape architecture to devise their proposal as part of a studio assignment.
Adding energy generation to the design process was new to both of them, though they note that participating in the competition was an important experience that will inform their future work. Hou says all designers should incorporate more science into their work, a sentiment with which LAGI co-founders Elizabeth Monoian and Robert Ferry wholeheartedly agree.
With time running out on the climate clock, designers of buildings and public spaces—and those who hire them—have an obligation to take every possible opportunity to reduce the lifetime carbon footprint of every project. It's a chance to think creatively and to engage teams with expertise that crosses disciplines from biology and ecology to physics and material science.
With a dual-pronged approach to systems design that provides both energy and ecological services, the Stealing Fire team say that their carefully-considered multipurpose design will improve storm water runoff and lower the carbon footprint of St Kilda Triangle, all while engaging the community through a celebration of past, present, and future.
Tafline Laylin is a freelance communicator and journalist who strives for global environmental and social justice. Her work has appeared in The Guardian, The Atlantic, OZY.com, and a variety of other international publications.