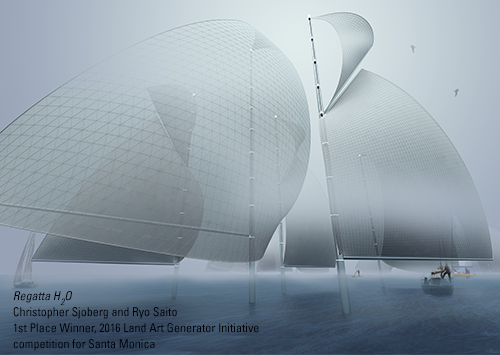 Regatta H2O, First Place winner of the 2016 Land Art Generator Initiative design competition for Santa Monica
Artist Team: Christopher Sjoberg and Ryo Saito
Artist Location: Tokyo, Japan
Energy Technologies: Aerostatic Flutter Wind Harvesting (WindBelt™)
Water Harvesting Technologies: fog harvesting
Annual Capacity: 70 MWh (used on site) and 112 million liters of drinking water
What makes a human-made form beautiful? What makes a natural landscape beautiful?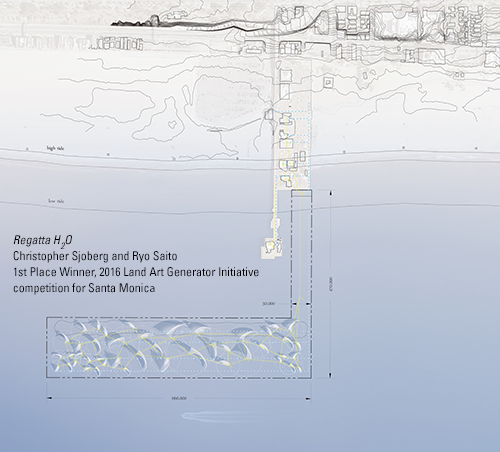 Beauty is of course in the eye of the beholder, but both powerful forms and landscapes elicit strong emotional attachments, and the experience of them can inspire people into action. While each may be evaluated on their own merits and qualities, rarely do they come together without controversy.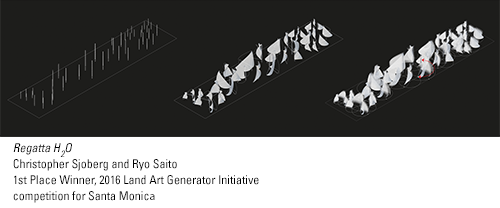 Yet there are some man-made forms so universally associated with their landscapes, and so steadfastly imprinted in the collective imagination—the red dairy barns of pastoral America, the terraced rice paddies of Southern China, the whitewashed villas of hilltop Greece—that they become an inseparable element of the natural landscape's identity. The sea is no different, and since civilizations first began navigating the oceans by harnessing the wind, the billowing forms of sail and mast have occupied an omnipresent place in the mental image of the seaside.

Regatta H2O repurposes this familiar maritime form as infrastructure, which harvests fog to create fresh water and harnesses the wind in order to power its operations.
The sails of Regatta H2O are fog-harvesting meshes. Collection troughs are designed as veins within the sail surface, transporting harvested moisture to the mast where it can be piped to storage vessels at the Santa Monica Pier. When the moisture content of the air falls below a certain threshold, the sails are retracted to reveal the horizon line of the Pacific Ocean.
While water is harvested passively, some electrical power is need to operate the pumping and steering mechanisms, and deployment of the sails. This energy is extracted from the wind via a device known as a WindBelt™, which relies on an oscillating belt suspended between two electro-magnets. Each of the Regatta H2O masts contains eight such generating units along its length.

At night, light rings beneath each wind band pulsate with the intensity of power being generated. This also serves as a navigational safety device, alerting boats of their presence in the dark.
Through an artistic and technological re-imagining of millenniums-old science, Regatta H2O shows that the union of the natural environment with the climatic benefits of sustainable energy and water infrastructure can have powerful and positive impacts on how we perceive cherished landscapes.