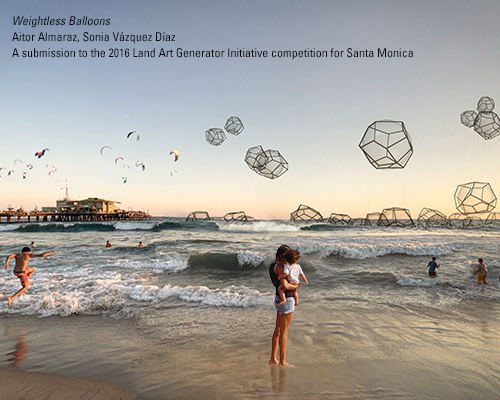 Weightless Balloons, a submission to the 2016 Land Art Generator Initiative design competition for Santa Monica
Artist Team: Aitor Almaraz, Sonia Vázquez Díaz (University of A Coruna)
Artist Location: A Coruna, Spain
Energy Technologies: Wind Harvesting (similar to MARS™, Magenn Air Rotor System), and Point Absorber Buoy Wave Energy Converter
Annual Capacity: 2,000 MWh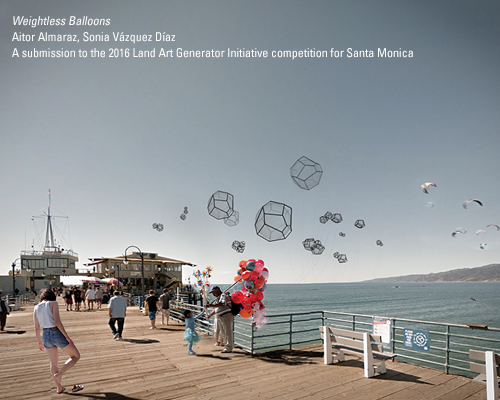 There is a profound power between the sea and sky—two endless parallel planes seeming to merge in the distance and obscured by the curvature of the earth. The pier with its thousand legs is walking inside the ocean, attempting to reach that imaginary and impossible contact point between air and water. The amusement park colonizes the platform and, in the middle of the attractions, the balloon seller offers us the fantasy of weightless deliverance—the dream of floating above our everyday struggle.
Weightless Balloons is a set of ethereal bubbles emerging from the sea, floating on the surface, moving to the rhythm of the waves. These gas spheres are protected by a metallic skeleton, like water molecules aspiring to abandon their liquid state to evaporate and blend with the air. This hope of freedom is fulfilled by the wind, which releases the balloons and makes them fly at its will. The free energy channeled into electricity derives from the fight of the bubbles against the tidal forces and the dance with the wind.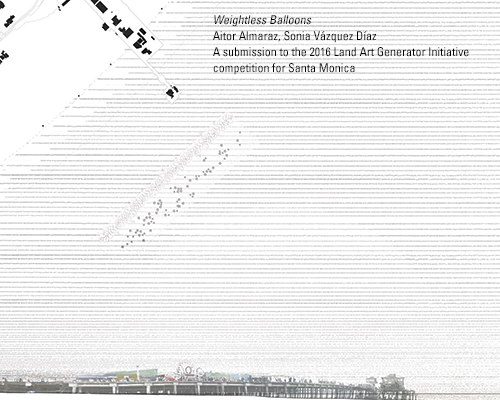 The artwork can function in two different modes for energy production. After analyzing the weather conditions, a computer determines if more power can be generated from the waves or from the wind, switching from one mode to the other as conditions warrant. Low tide sees the bubbles disappear completely behind the breakwater as they operate in "buoy" mode.
The balloons are filled with an inert gas, lighter than air, which keeps the structures floating on or over the water surface. Their skin is fabricated with double ETFE plastic layers, transparent but very durable.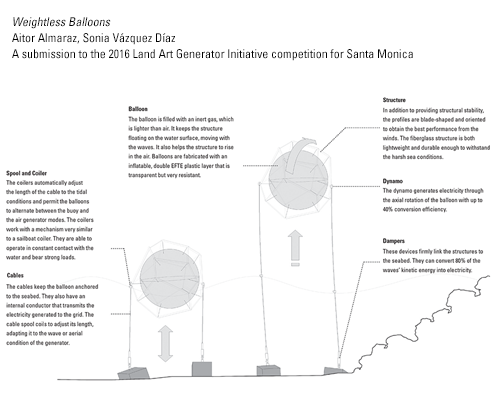 The bubble's structure is attached to a coiling gear, which automatically adjusts the length of the cable to the tidal conditions, and allows the system to alternate between the "buoy" and the "aero" generator modes. The coilers work with a mechanism very similar to sailboat coilers, capable of operating in constant contact with the water, and of bearing heavy loads.
When the computer detects good wind conditions, the coils loosen to allow the structures to rise into the air and spin around their axis to produce electricity.