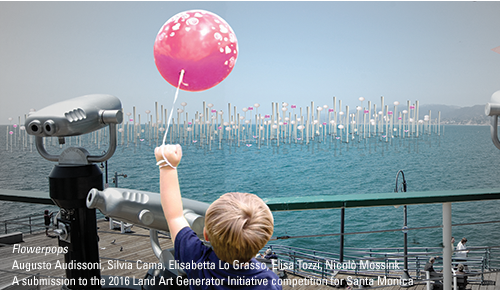 Flowerpops, a submission to the 2016 Land Art Generator Initiative design competition for Santa Monica
Artist Team: Augusto Audissoni, Silvia Cama, Elisabetta Lo Grasso, Elisa Tozzi, Nicolò Mossin
Artist Location: Genoa, Italy
Energy Technologies: Vortex Bladeless™ Wind Turbine, Thin Film Solar (similar to AltaDevices™), Point Absorber Buoy Wave Energy Converter
Annual Capacity: 13,000 MWh
Just off the Santa Monica Pier there is an artificial giant garden, vibrant and full of life, with everything moving and the sound of the wind whistling between the stems. Here and there one part of the system catches the eye for a moment. As Lewis Carroll suggests, perhaps it is necessary to invert the size relationships between humans and nature to uncover the laws that regulate the balance between the parties.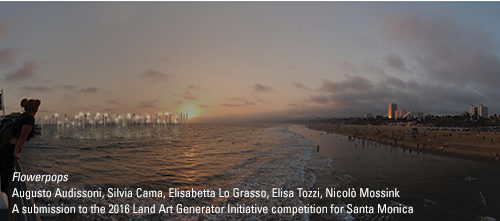 Flowerpops integrates a new technology park with the spectacular character of its ocean setting. The famous funfair skyline on Santa Monica Bay is extended toward the horizon line near the breakwater. Five different technologies for energy production are brought together there. The devices are designed in five natural shapes in order to compose an artificial ecosystem.
"Wind flowers" come in four different sizes and use Vortex Bladeless™ technology. "Flying pollen" are realized in colored PET-G plastic, they weigh no more than 750 grams and they are driven by a mechanical system, set in motion by the energy produced by some "wind flowers." "Floating water lilies" exploit wave power and are configured as a carpet of undulating buoys that dot the sea horizon. The "tulip binders" are pools of rainwater harvesters that raise and lower depending on the difference of pressure generated by the water collection. "Sun flowers" use photovoltaic film to convert sunlight into electricity.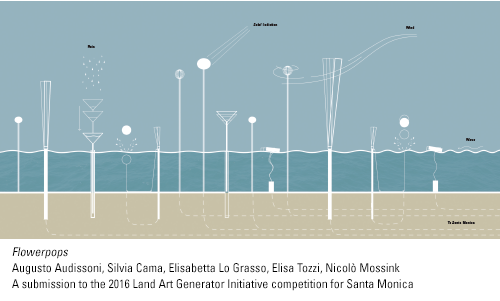 During the passing of the day the surrounding playground changes according to weather and time. In the night the stored energy powers over 2,000 LED lights, reflecting the effect of the starry sky onto the ocean.