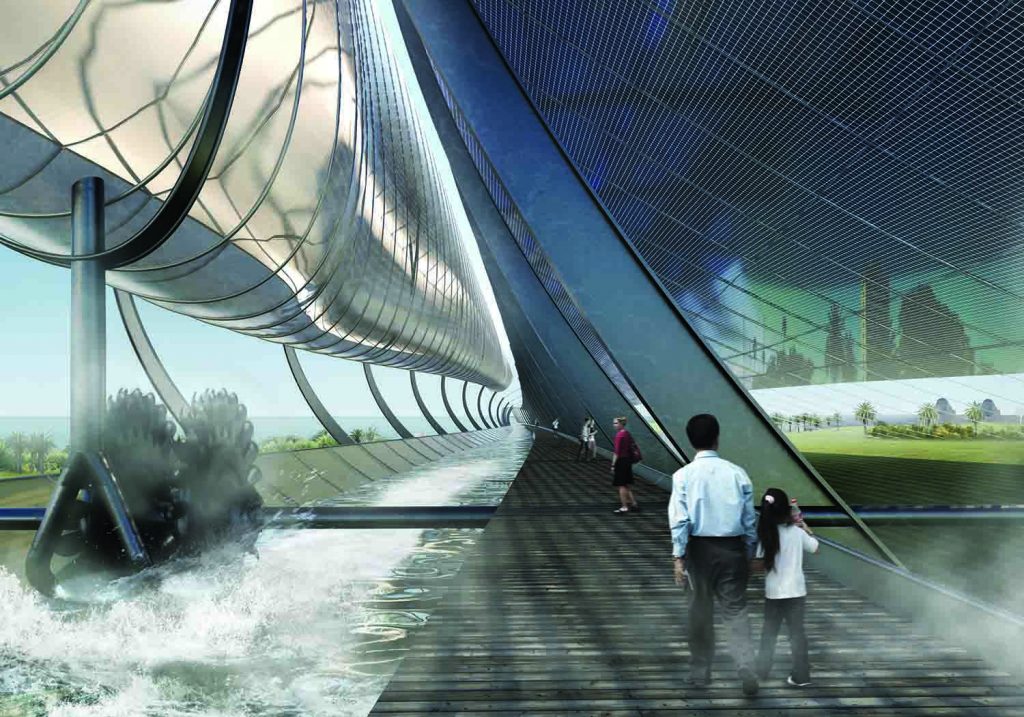 Night & Day by Olson Kundig combines solar energy with a hydro battery to produce 1,000 MWh of clean energy for St Kilda Triangle in Melbourne. It could power up to 200 homes, 24 hours a day.
Addressing head-on the global challenge of sourcing clean energy and water amid rapidly changing ecosystems, the design provides a restorative model for post-carbon societies seeking to amend their environmental footprint while meeting their daily needs.
St Kilda's seaside location on Port Phillip Bay has always been a special place. The indigenous Boonwurrung people saw the bay as both resource and source, fishing its waters and respecting its life-giving potential. When the railway line reached St Kilda in 1857, thousands of visitors arrived annually to sunbathe on the beach, soak in the sea baths and later, ride roller coasters at Luna Park. Today, arts and cultural resources like the Palais Theatre and annual St Kilda Festival continue to be a major draw for both residents and visitors from around the world.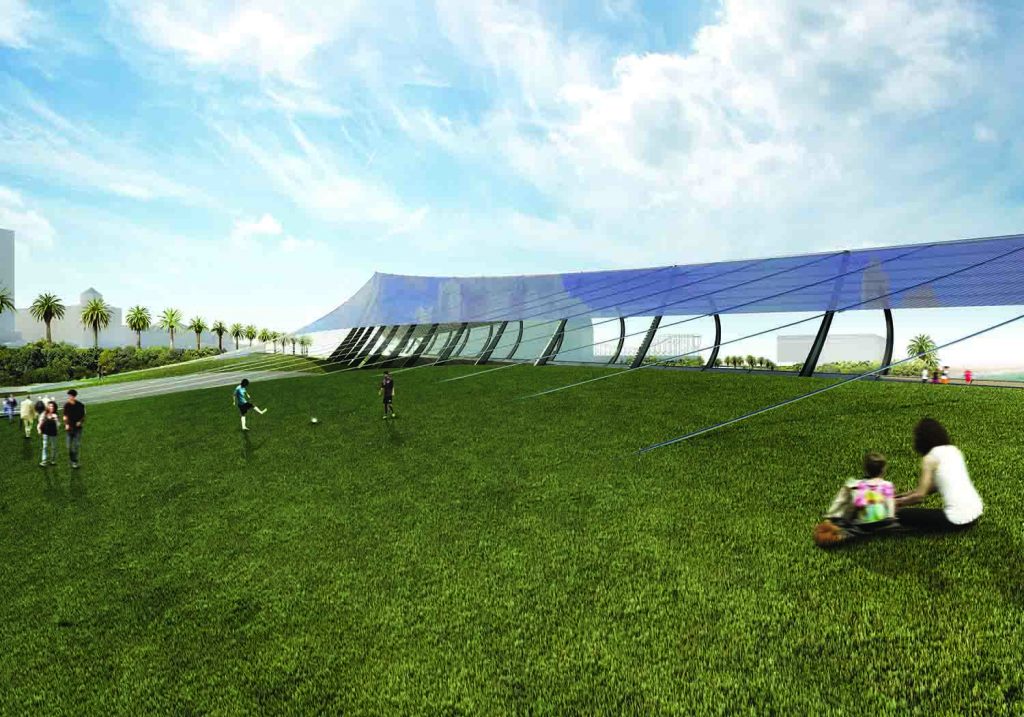 The hydro-solar generator is the latest icon to spring from the world famous, yet down-to-earth design practice, which was founded in 1967 by architect Jim Olson. Their office in Seattle feels like a never-ending wonderland of gadgets, gizmos, and material samples. Stone, wood, and marble, all neatly organized. Tools. And delicate, intricate models. Anything you would expect to find in an architecture firm, Olson Kundig has it all. Plus some.
A few team members who participated in the 2018 Land Art Generator design competition for Melbourne gave me a tour of the office, which included a much-anticipated demonstration of a mechanical skylight powered by water pressure. I was particularly perplexed by a long, thin granite bench that pushes the limits of physics, daring you to snap it in half.
Olson Kundig's repertoire includes everything from commercial, interior, and residential design to museums and exhibits, academic buildings, and places of worship. They recently completed the $100 million renovation of The Space Needle in their home city.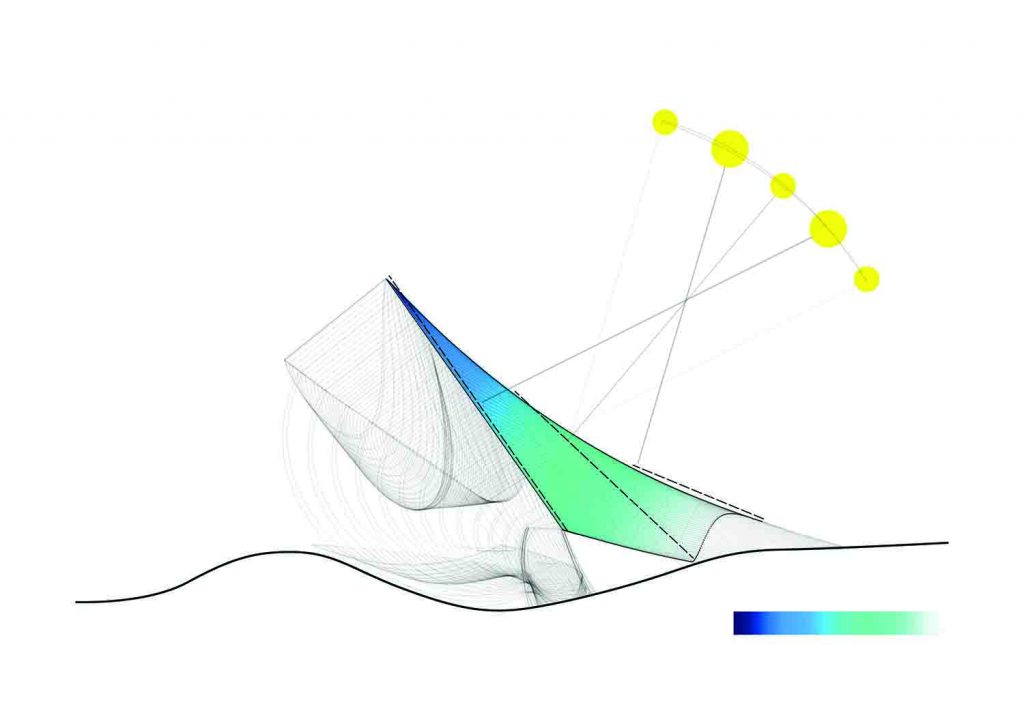 Their LAGI 2018 submission is somewhat new territory for them, says principal and owner Kevin Kudo-King.
"This was different because it wasn't just about creating architecture, something for the pleasure of its inhabitants," he says. "It also needed to function as a machine, and it needed to generate power."
A proposed power plant, pedestrian bridge, and new public showstopper rolled into one, Night & Day is designed to improve the connection between The Esplanade and Port Phillip Bay, in addition to providing a sophisticated educational amenity that is bound to draw scores of visitors.
During daylight hours, energy produced by a 5,400 m2 photovoltaic (PV) solar sail is used to directly power homes while also safely pumping bay water into a suspended hydro battery vessel. After sunset, water is released through two Pelton turbines, transforming the kinetic movement of water into electricity through a generator—a proven technology that is already used at the utility scale, according to Kudo-King.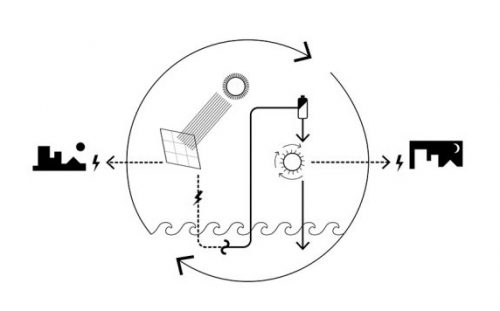 The design team is convinced that their generator could help meet a decent portion of St Kilda's peak and off-peak power requirements, thanks to the combination of energy produced by the solar sail and the hydro battery's evening discharge. At the same time, visitors to the City of Port Phillip could experience energy generation up close, an impossible prospect with contemporary energy plants powered by fossil fuels.
It provides a sensible, practical solution to the storage problem typically associated with intermittent renewables, according to Vikram Sami, the firm's director of building performance.
"In places like California, they're actually turning off solar panels because they're over-generating—kind of a waste," he says. "We wanted to solve this problem, but in a way that would capture people's imagination."
Night & Day is a power plant you want in the heart of the city, not one that is relegated to its seedy corners. Sensitive to the surrounding ecology, it is designed to have minimal environmental impact. Its accessibility and powerful aesthetic demonstrates that it is not only feasible to generate emissions-free community-scale energy in a dense urban setting, but also advisable.
While the piece was designed with the St Kilda site in mind, because it is modular and scalable it could also be deployed at sites in other cities with a similar typology.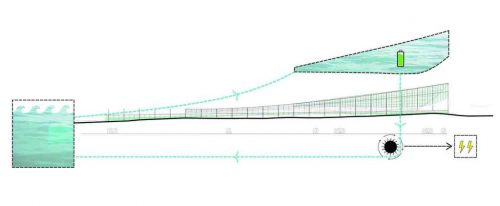 Elizabeth Monoian and Robert Ferry, co-founders of the Land Art Generator Initiative, say the design is a great example of the kind of project that the Land Art Generator Initiative (LAGI) design brief aims to bring forward.
"We've long admired Olson Kundig's work and the range of projects they engage in. Their LAGI 2018 design is profoundly beautiful and perfectly functional, incorporating solar with energy storage—such a critical component of a successful energy transition—in a way that is playful, viscerally engaging, and educational."
The fifth biennial design competition for Melbourne was hosted and sponsored by the State of Victoria. Winners will be announced at an awards ceremony starting at 6 p.m. on Oct. 11, 2018 at Fed Square, Melbourne.
Tafline Laylin is a freelance communicator and journalist who strives for global environmental and social justice. Her work has appeared in The Guardian, The Atlantic, OZY.com, and a variety of other international publications.