What role can art play in communicating climate change?
It's a discussion that has gathered steam of late, with concerned creatives around the world devoted to the cause — including Michael Pinsky. A prolific artist who graduated from the Royal College of Art, Pinsky told the Land Art Generator Initiative (LAGI) he was invited by climate psychologists at the Norwegian University of Science and Technology to create a new piece of work that draws attention to climate change. The scientists had already analyzed about 30 artworks to determine whether they can change people's perceptions about climate change, and their actions. Here's what they discovered, says Pinsky: "People don't do anything unless it affects their everyday life."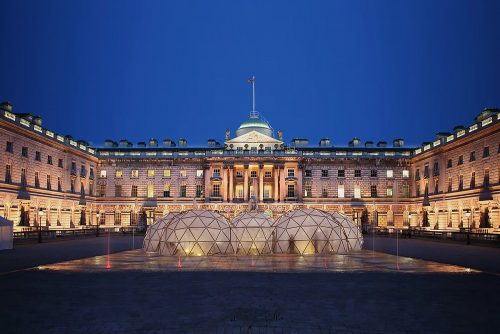 "That's when I started thinking about pollution," he says. "I live in London, and pollution affects my everyday life and my children's everyday life. It's something that is omnipresent." He realized an installation that sheds light on the global pollution problem would be a "really good way to motivate people to change their habits." The result? Pollution Pods, a collection of interconnected geodesic domes that allow people to pass through the air of five different places around the world.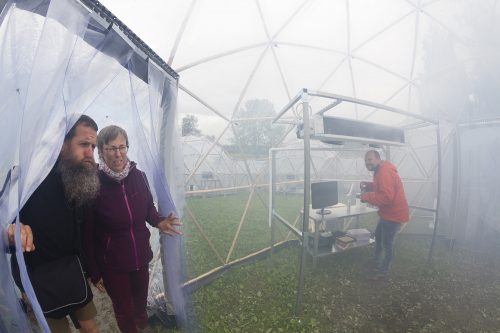 The first dome recreates the atmosphere on Norway's Tautra peninsula, surrounded by a pine forest and the sea. "The air in there is incredibly pure," he says. Afterwards, visitors walk into the London dome, where Pinsky says the air is "very much polluted by transportation — particularly diesel engines." Although the visibility in the London dome is quite good, the pollution, which includes nitrous oxide, is quite bad. But not as bad as the next dome, which resembles New Delhi's environment. "It's very hot and humid, visibility is quite poor because there's lot of large particulates in the air," he says. "It's quite unbearable in that dome."
Beijing in the middle of winter is next, and I should say here that anyone who enters the installation must go through all of the domes as they are linked through a series of passages. Beijing's air pollution hazards are well documented, but Pinsky's art makes it visceral for those who have never experienced the smell of factories mixed with burning wood and coal used to heat homes. The final dome recreates São Paulo's pollution. Pinsky says this one "feels better" than the previous two, but it has high levels of ozone, and the city uses ethanol as their basic fuel for transportation. So the smell in that dome is quite acidic and vinegary, he says.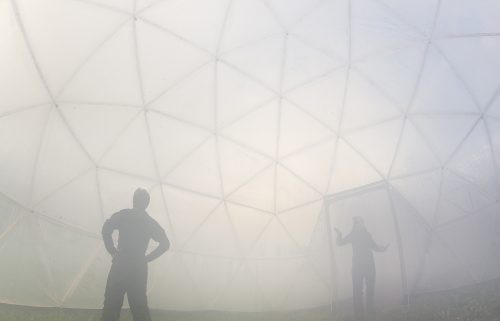 After going through the last four domes, Pinsky says it's a relief to then return to the clearer Norwegian dome. But not to worry: you won't die of carbon monoxide poisoning if you visit Pollution Pods. "It's really a question of perception," says the artist. "I looked at the causes of pollution in any given city, and then recreated the bodily experience of those causes rather than having real diesel emissions, and the carbon monoxide and nitrous oxide associated with that." He then worked with a company to create "a kind of perfume of combusted diesel."
He says the company has a dome in which they release combusted diesel and then analyze the ensuing chemical mix. From that they extrapolate an impression of what one smells, and recreate it with chemicals that Pinsky says are safe. "It's quite a complex technology," he adds, "but that's basically what we're using."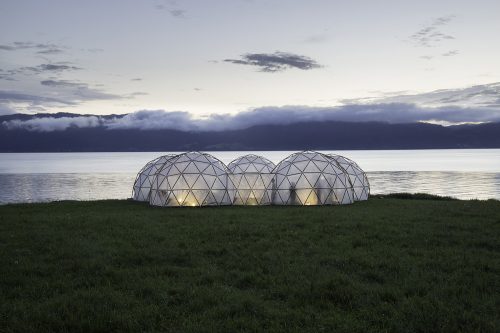 Pinsky, whose work has been displayed at TATE Britain, the Museum of Contemporary Art in Chengdu, Saatchi Gallery and the Victoria and Albert Museum, among other prestigious venues, recognizes that pollution doesn't cause climate change. Rather, he says, the causes of climate change also cause pollution. "So, if we can deal with those causes, we can get the double win of dealing with climate change and pollution… That's the kind of discussion I'm trying to push forward with my work."
First unveiled in Trondheim, Norway in 2017, Pollution Pods is now a traveling exhibit. If you're interested to experience the installation for yourself, it will be open to the public for free at Somerset House, on the Strand in London, from April 18 to 25, 2018. Afterwards, Pinsky hopes to tour with Pollution Pods at other venues, both in Britain and abroad, so stay tuned.
All images courtesy Michael Pinsky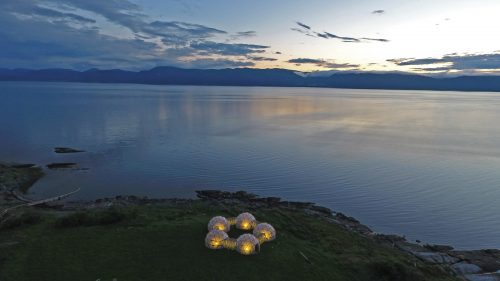 Tafline Laylin is a freelance communicator and journalist who strives for global environmental and social justice. Her work has appeared in The Guardian, The Atlantic, OZY.com, and a variety of other international publications.