Algae is awesome. There's no other way to put it.
Ranging from single-celled to complex multicellular organisms, algae has existed for at least three billion years, according to the Smithsonian. Today, its potential to disrupt modern life is increasingly coming into focus. On the one hand, algal blooms are suffocating many waterways contaminated by excess nutrients — frequently as a result of agricultural runoff. On the other hand, as climate change accelerates the imperative to walk away from fossil fuels, say, in the aviation industry, algae shows great promise. It can be used for food, for fertilizer, to control pests, and as an emissions-free alternative to jet fuel. So, it should come as no surprise that several past LAGI participants have incorporated algae into their designs. With the deadline to enter LAGI 2018 coming up, we thought it might be inspiring to share a few.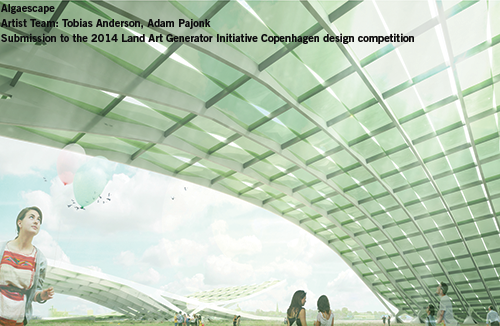 Tobias Anderson and Adam Pajonk from Germany submitted Algaescape to LAGI 2014, held in Copenhagen. They envisioned a giant mesh of woven plastic sleeves that use carbon dioxide and nutrient-rich wastewater to produce algae biomass and oxygen — through photosynthesis. The resulting algaescape would then act as an air and water filter for the city. At night, it would be illuminated with energy-efficient LED lights, providing an exciting new public space for urbanites to spend their evenings. (If you've ever been to Copenhagen, you will know how much the locals love to while away summer nights outdoors.) As with all LAGI designs, this one is safe and educational. Not only is it possible to walk on and under the infrastructure, but its luminescence varies with the increase or decrease of biomass, providing an intimate look at algal multiplication (minus the slime).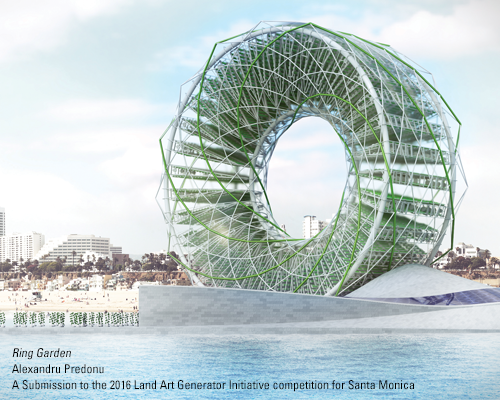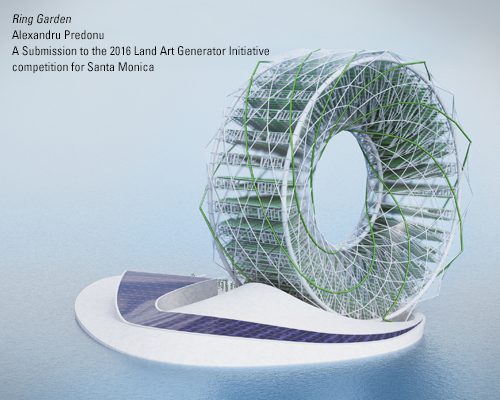 With Ring Garden, Alexandru Predonu from Romania enlisted algae to solve multiple challenges at once. Designed for the 2016 competition in Santa Monica, where the threat of drought constantly looms, the rotating wheel is a desalination plant, an aeroponics farm and an algae bioreactor. Powered by solar panels and tilted 8.5 degrees to ensure the sun shines right through its belly on Earth Day, Ring Garden is theoretically capable of producing 60 million liters of drinking water every year, as well as 18,000 kilograms of aeroponic crops, and 500 kilograms of spirulina to be used as livestock feed. The solar panels drive the pump necessary to make seawater potable, and of course the infrastructure itself would require materials to build, but algae is beautiful in part because of its remarkable simplicity. It doesn't need much more than water, sunlight and CO2 to grow.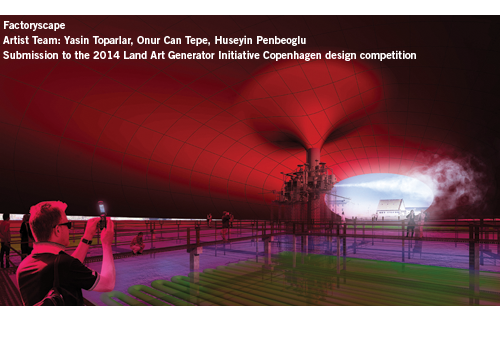 Yasin Toparlar, Onur Can Tepe, and Huseyin Penbeoglu from Eindhoven took an entirely new approach to LAGI design with their Copenhagen entry, Factoryscape. Tucked away in a giant red grotto of sorts, algae harvested from a field of bioreactors is used to power a steam turbine and produce energy that way. Charting the history of key energy-producing technology with a boiler, condenser, heat exchanger and other innovations associated with the fading fossil fuel era, the trio envision an entirely new functionality for algae that is equal parts surprising and shocking. Theirs is a multi-sensory design that enlists all of our senses: "Within this grotto, the sounds from the machine are echoed, its connectivity is accentuated, and its aesthetics are exploited."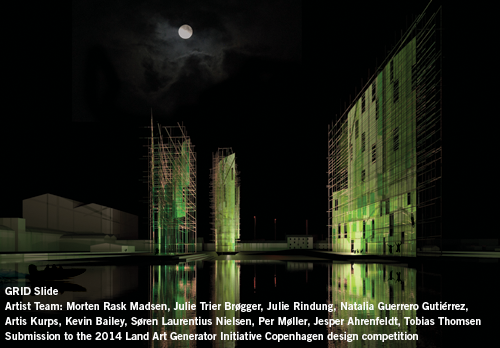 Another Copenhagen design, submitted by a team of ten. Comprised of three thin towers, GRID Slide turns waste from a nearby treatment plant (combined with CO2 harvested from an existing power plant) into clean fuel and fertilizer. But it also interacts with the changing tides, forever acknowledging nature's vicissitudes, and transforming the urban landscape. Variable sea levels serve the additional, functional purpose of activating pumps that squirt algae-filled water into the towers' bioreactors, where gravity takes care of distribution. Gas produced as a byproduct of the water filtration process powers a 2.5MW generator.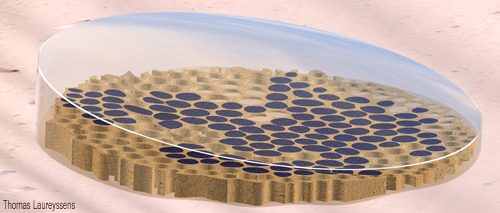 This design doesn't actually incorporate algae. Instead, it celebrates the unicellular diatom, which artist Thomas Laureyssens says many scientists consider to be the species of microalgae which gave us today's crude oil. Often a geometrically-shaped organism encased in a wall of silicon, diatoms also play a productive role in the food chain. This project was designed for LAGI's very first competition held in the UAE for the site between Saadiyat and Yas Islands in Abu Dhabi, a rather barren expanse that would especially benefit from an inspiring work of energy-generating public art. The design mimics a fossilized diatom in shape and texture, incorporating sculpted solar panels that generate energy. The stone base would be carved out of local materials using a CNC machine.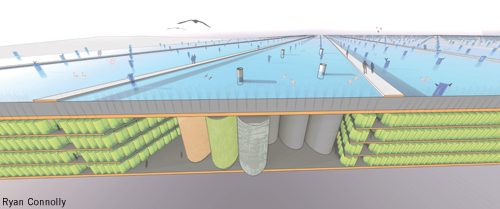 FERTILE CRESCENT: SYMBIOTIC ECOLOGIES
This design by Ryan Connolly, who, at the time that he designed it for LAGI2010, was a student at The Ohio State University, demonstrates that a renewable energy plant can live side-by-side with wildlife. Typically power plants, those that depend on fossil fuels, emit environmental pollutants that are destructive to both fauna and flora (not to mention humans). With Fertile Crescent: Symbiotic Ecologies, visitors enter the site via a field of fiber optic cables that funnel light to the algae plant below. Combined with wastewater from Dubai, and CO2 from their air, the light propagates sufficient algae that it can be harvested to produce biofuel within 10 days, according to Connolly. While the fats, or lipids, would be used to produce electricity for Dubai's residents, any leftover sugars would be used to feed migrating birds that visit the nearby Ras Al Khor Wildlife Sanctuary.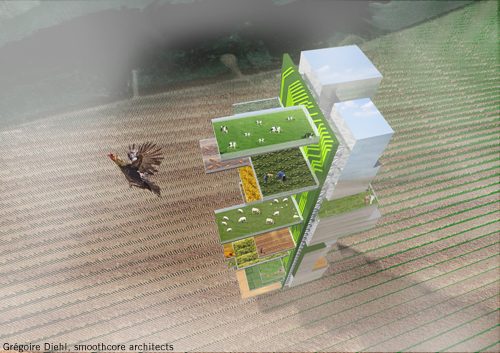 The final design in the series, also submitted to the site between Yas and Saadiyat Islands in Abu Dhabi for LAGI 2010, comes from Grégoire Diehl of smoothcore architects.  Photoreactor Farm Tower takes a whole systems approach to their energy-generating plant, incorporating research, recycling and vertical farming functions into the overall facility. Illuminated green glass tubes take advantage of vertical height to maximize solar exposure for greater algae production. The design brief estimates their closed system could produce as much as 100,000 gallons of algae biofuel per acre in a year — or 2,500MWh of electricity. Placed near an energy plant that processes fossil fuels, according to Diehl, the tower could help sequester the carbon necessary for photosynthesis.
The sheer diversity of these designs illustrates algae's utter awesomeness, don't you think? Of course, none have been realized yet, but LAGI 2018 Melbourne is particularly exciting because, while it is also an ideas competition, a LAGI 2018 team may be invited to be part of the larger consultant team that moves the St Kilda Triangle development forward. It's time to put your creative juices to work!
Tafline Laylin is a freelance communicator and journalist who strives for global environmental and social justice. Her work has appeared in The Guardian, The Atlantic, OZY.com, and a variety of other international publications.