There's no escaping it: humans need energy to survive.
We need it to bake our bread, to refrigerate our medicine, and to light up the night after sundown. But dominant sources of fuel used to power global contemporary life are killing us — and not just metaphorically. Fortunately, it doesn't have to be this way.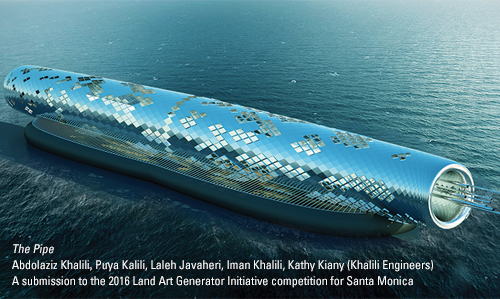 Taking a big picture view of energy production, the Healthy Energy Initiative details numerous ways our existing paradigm destroys environmental and human health. In their report The Health Impacts of Energy Choices (PDF link), the group writes, "From mining to transport, and combustion to waste disposal, the lifecycle of fossil fuel production pollutes the environment and exacts a toll on population health and the political and economic stability of entire nations. Because pollutants can be transported through the air, water, and soil, fossil fuels [sic] pollutants may be distributed well beyond their point of origin."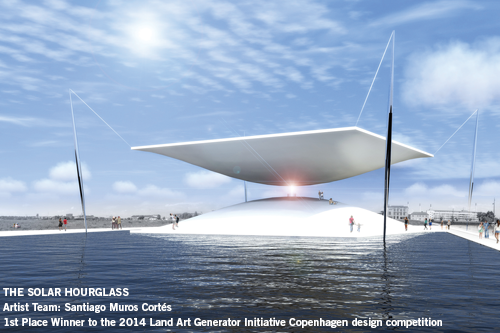 Air pollution is perhaps the best understood byproduct of fossil fuel combustion. A study published in the journal Nature found that global air pollution in 2007 alone contributed to the early deaths of 3.45 million people. That's 3.45 million brothers and sisters, aunts and uncles. And of course we can't forget that resulting greenhouse gas emissions are blowing up the giant heat-trapping blanket in our atmosphere that drives planetary warming. Depressing, right? Well, it needn't be, because we have the power to design a far more appealing reality.
Through its biennial design competition, which invites artists, architects, designers, landscape architects and others to imagine site-specific works of public art that also generate clean energy, the Land Art Generator Initiative has collected at least 800 examples of energy generators that could contribute to a healthier future. Going beyond the kilowatt hour, LAGI strives for an energy renaissance that evokes imagination and creativity. With these regenerative designs, we can give global ecosystems a well-deserved rest from our extractive mania, improve our physical health and boost our collective psychological well-being.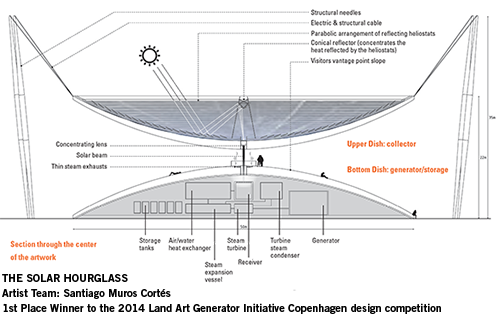 Colin Ellard is a neuroscientist who observes the impact of urban design on human psychology. In an essay for Aeon called Streets with no game, Ellard demonstrates how "boring cityscapes increase sadness, addiction and disease-related stress." In Psychology Today, he writes about a simple urban intervention in Toronto — the temporary artistic beautification of a run-down construction site — which slowed the pace of urban walkers by roughly half.  He writes, "This simple experiment and its convincing result shows the great power of public art to influence how we move, think and feel in city environments. If such a clear result can be obtained for a fence surrounding a field of poison gravel, then what are the greater possibilities for enhancing city life through thoughtful treatment of the facades, building skins, and walkways that we use as we move about the city?"
Likewise, what if we replace sooty smoke stacks with Solar Hourglasses? Designed by Santiago Muros Cortés, this more creative approach to energy generation, equipped with concentrated solar panels, has an annual capacity of 7,500MWh. Or, since water scarcity is a real and prevalent problem that gives us no choice but to expend energy to convert salty water into something we can consume, we could substitute dull concrete desalination plants with gleaming Pipes. Khalili Engineers from Vancouver envisions using photovoltaic panels and electromagnetic desalination to generate 4.5 billion liters of drinking water each year, while adorning the cityscape with a gorgeous work of art. These are just two designs that envisage a healthier, more aesthetically-pleasing future.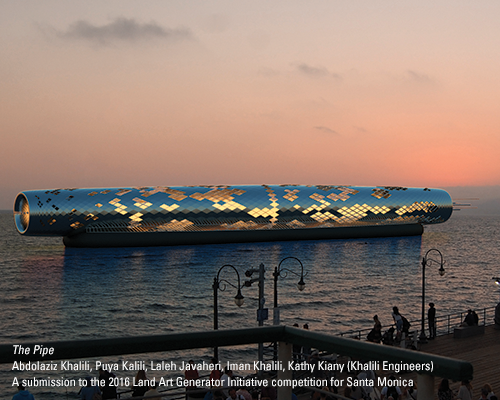 Here's the thing: we know that even renewables have an environmental impact. If nothing else, they require materials to produce. But, as my stepmother is fond of saying, there's no such thing in (human) life as perfection. There are only degrees of imperfection. Our greatest hope as a species is to edge as close to perfection as we possibly can, and we're already seeing signs of an encouraging shift. In 2002, William McDonough & Michael Braungart stunned the world with a concept so at odds with our consumer culture it seemed almost inconceivable: the idea that human growth need not be so darn destructive. Their book, Cradle to Cradle: Remaking the Way We Make Things, describes the possibility of "economies that purify air, land, and water, that rely on current solar income and generate no toxic waste, that use safe, healthful materials that replenish the earth or can be perpetually recycled, and that yield benefits that enhance all life."
Now, in 2018, such a reality is increasingly within reach as dozens of products and materials have been C2C-certified. The non-profit Cradle to Cradle Products Innovation Institute calls it the next industrial revolution. Surely, as time goes on, we can apply such innovations to global energy infrastructure, catalyzing a new aesthetically-bold era that revives both body and mind.
Featured projects:
The Pipe, Submission to the 2016 Land Art Generator Initiative design competition for Santa Monica.
Team: Abdolaziz Khalili, Puya Kalili, Laleh Javaheri, Iman Khalili, Kathy Kiany (Khalili Engineers)
The Solar Hourglass, First Place winner of the 2014 Land Art Generator Initiative Copenhagen design competition.
Artist: Santiago Muros Cortés
Tafline Laylin is a freelance communicator and journalist who strives for global environmental and social justice. Her work has appeared in The Guardian, The Atlantic, OZY.com, and a variety of other international publications.