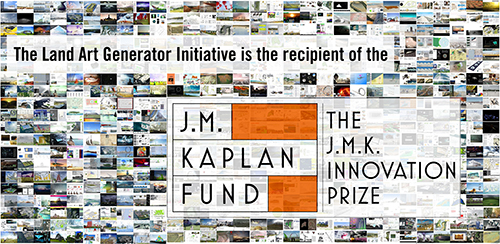 The Land Art Generator Initiative has been awarded the
J.M.K. Innovation Prize, a program of the J.M. Kaplan Fund

"Launched in early 2015, The J.M.K. Innovation Prize was designed to seek out boldly promising ideas in the field of social-sector innovation—however untested or wherever they arise."
We are very fortunate to be one of the ten awardees. We'd like to extend our thanks to, and share this recognition with, the thousands of participants in LAGI design competitions, whose amazing innovations make LAGI possible. The above image is composed of thumbnails of the work that can be seen in the online LAGI portfolio.
The J.M.K. Innovation Prize will allow LAGI to expand consulting and project management work in cities around the world that are seeking creative ways of integrating sustainable infrastructures into regenerative planning and projects.
Over the next few years, LAGI will be working closely with our design partners (past LAGI design competition participants) on the detailed design and construction of many regenerative public art installations at various scales and site contexts.
The Prize will also help to support the 2016 LAGI Design Competition for Southern California. LAGI 2016 is re-imagining the coast of Santa Monica by inviting individuals and interdisciplinary teams to design a large-scale, site-specific work of public art that also serves as clean energy and/or drinking water infrastructure for the City of Santa Monica.
The Importance of LAGI

We're helping to educate the next generation of artists, architects, engineers, city planners, landscape architects, designers, and scientists, who will find greater innovation through interdisciplinary collaboration and creativity. The LAGI design challenge provides project-based learning in STEM subjects through engagement with art and creativity.

As we work together to design and implement a post-carbon world, the impact of sustainable infrastructures on the constructed environment is becoming an important focus of city planning and architecture. At the same time, a culture war over land use has slowed the implementation of many proposed wind and solar installations.

By engaging communities with an inspiring vision of our sustainable future and providing context-specific solutions for sensitive sites, we would like to help turn the tide of public discourse and bring about universal support for immediate investment in 100% renewable infrastructure.
The J.M.K. Innovation Prize process of selection was its own innovation in philanthropic award management (as a project that designs and runs competitions, it's a subject that LAGI is interested in!). 373 volunteer reviewers were recruited from the Fund's network to review 1,138 applications from 45 states as well as Washington, D.C., Puerto Rico, and the Virgin Islands. Each application was scored by at least 6 reviewers, after which 202 entries were advanced to the second round. More complete applications were read by subject matter and social innovation experts in disciplines including justice, education, human rights, food systems, public health, energy, natural resources, and the arts.
We congratulate the J.M. Kaplan Fund on their development of the J.M.K. Innovation Prize and thank them for their generous support.