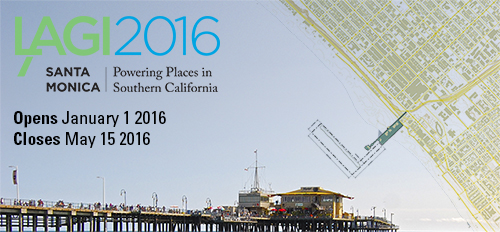 Calling all artists, designers, architects, landscape architects, engineers, scientists, city planners, inventors, activists, creatives, policy makers, students, professionals, and everyone who cares about climate justice and harmony between people and our beautiful planet.
The free and open Land Art Generator Initiative 2016 international design competition is now live with a design site adjacent to the historic Santa Monica Pier and with an all-star cast of project partners, supporters, and jurors.
There is a cash prize of $15,000 for the 1st Place winner and $4,000 for the 2nd Place winner.
LAGI 2016 invites you to design a large-scale and site-specific work of public art that serves to provide zero-carbon electricity and/or drinking water at scale to the City of Santa Monica, while capturing the imagination of the world and inspiring us all about the beauty of our sustainable future.


the LAGI 2016 design site
Spend some time with the complete LAGI 2016 Design Guidelines document. With a coastal site comes many new opportunities to incorporate solar, wind, wave, tidal, and other technologies as the medium for your artwork.
The 2016 Land Art Generator Initiative is free and open to anyone. In order to make that possible we rely on the generosity of people like you.
If you appreciate the work that LAGI is doing to promote sustainable development and the arts—both in education and in the built environment—please consider a tax-deductible gift to help make LAGI 2016 and our educational content possible.


the LAGI 2016 design site
We are living at a critical moment when the power of human imagination is needed like never before—both to provide new solutions and to communicate a message of positive change. The Paris Climate Accord has united the world around a goal of 1.5–2° C, which will require a massive investment in clean energy infrastructure.
LAGI 2016 is meant to provide a positive and proactive vision of how these new infrastructures can be enhancements to our most cherished places. Whether providing clean and renewable electricity to power our homes and automobiles, or providing the clean water so vital to our survival, public services are at their brightest when they can be a celebrated component of urban planning and development.
LAGI 2016 is an opportunity to present your vision of what our energy landscapes can aspire to be in their built form.
Please take some time to look around this blog for past articles about the intersection between art and energy, and emerging clean energy technologies that may be interesting to incorporate as media for public art.
Thank you!
Elizabeth Monoian and Robert Ferry
LAGI Founding Directors