Powering Places
Land Art Generator Initiative
Santa Monica
Editors: Elizabeth Monoian and Robert Ferry
Designer: Paul Schifino, Schifino Design
Hardcover: 240 pages
Publisher: Prestel 2016
Language: English
ISBN-10: 3791355503
ISBN-13: 978-3791355504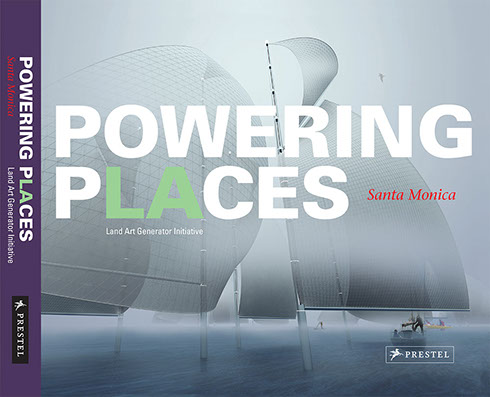 Visit the historic Santa Monica Pier at low tide and near the horizon you'll see the eroded remnants of a nearly century-old breakwater seawall peeking up through the waves. Once a protective barrier for a long-lost marina, it's now the site of the fourth Land Art Generator Initiative design competition.
The Land Art Generator Initiative implements the design and construction of new landmarks of civic art for the twenty-first century that give back to communities by providing clean and renewable infrastructure solutions, while educating and inspiring people about the beauty of our postcarbon future. LAGI Santa Monica invited creatives around the world to imagine regenerative artworks that harvest millions of liters of drinking water and enough electricity to power thousands of homes in Southern California.
Following insightful essays on ecological art, spatial justice, and the history of power and water in Southern California, sixty-six of the LAGI Santa Monica competition entries are profiled in this book through detailed spreads that include renderings, illustrations, and diagrams. The result is an astounding sampling of innovative and artistic solutions that employ the latest wave, tidal, wind, solar, and water-harvesting technologies, and that have resonance for coastal cities around the world.
Essays by:
Patricia Watts
Glen Lowry
Barry Lehrman
James Harris
Robert Ferry and Elizabeth Monoian
Foreword by:
Craig Watson
Introduction by:
Shannon Daut