Each patch of the Al Sadu carpet-inspired artwork is a color-laminated solar module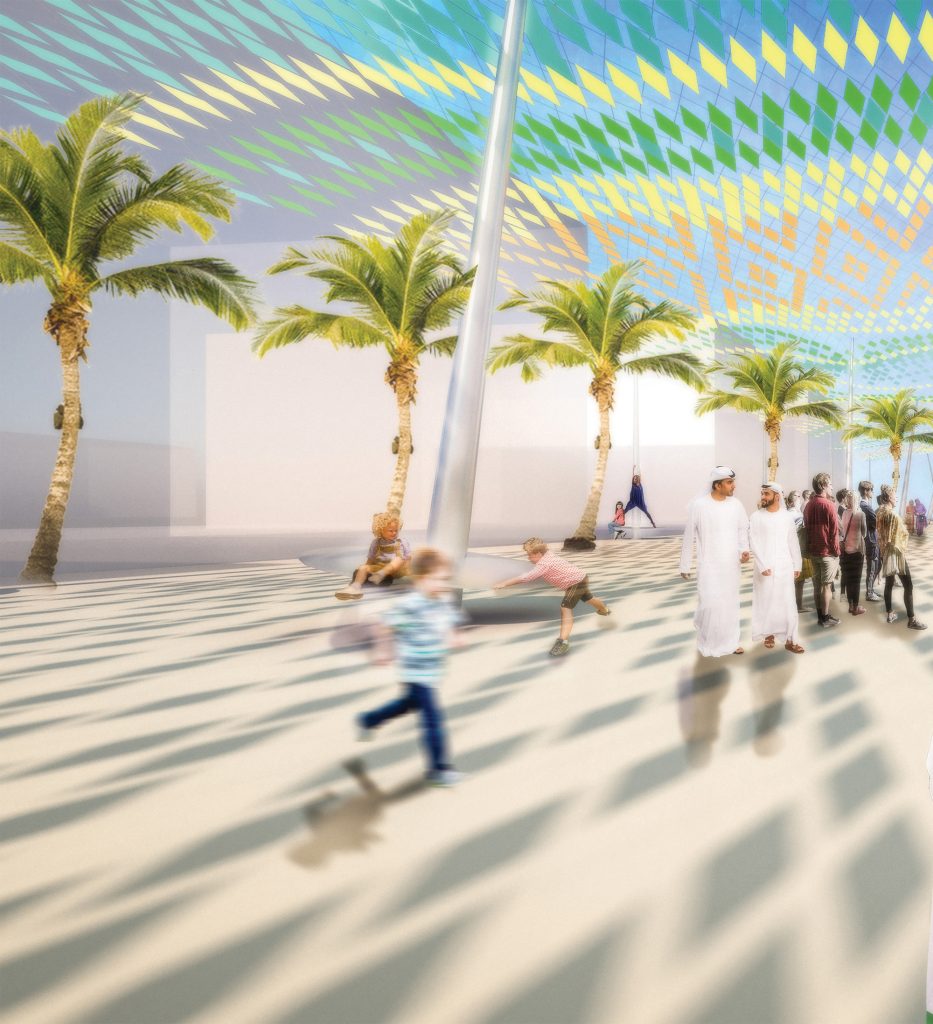 Al Sadu is an ancient tribal weaving craft that artistically portrays the rich cultural heritage of the Arab world. Woven geometric and figurative patterns and symbols reflect a traditional tribal lifestyle, the desert environment, and the creative self-expression of each weaver.
Interwoven is a vibrant art structure that mimics a colorful Al Sadu carpet, merging a traditional art form with clean energy technologies to generate power from the sun, wind, and human activity. The design consists two levels of weaving. The upper level weaves color, light, and shadow. The ground level weaves the interactions between people. Together they create a lively and dynamic community hub that attracts people to visit and live in a true sustainable city.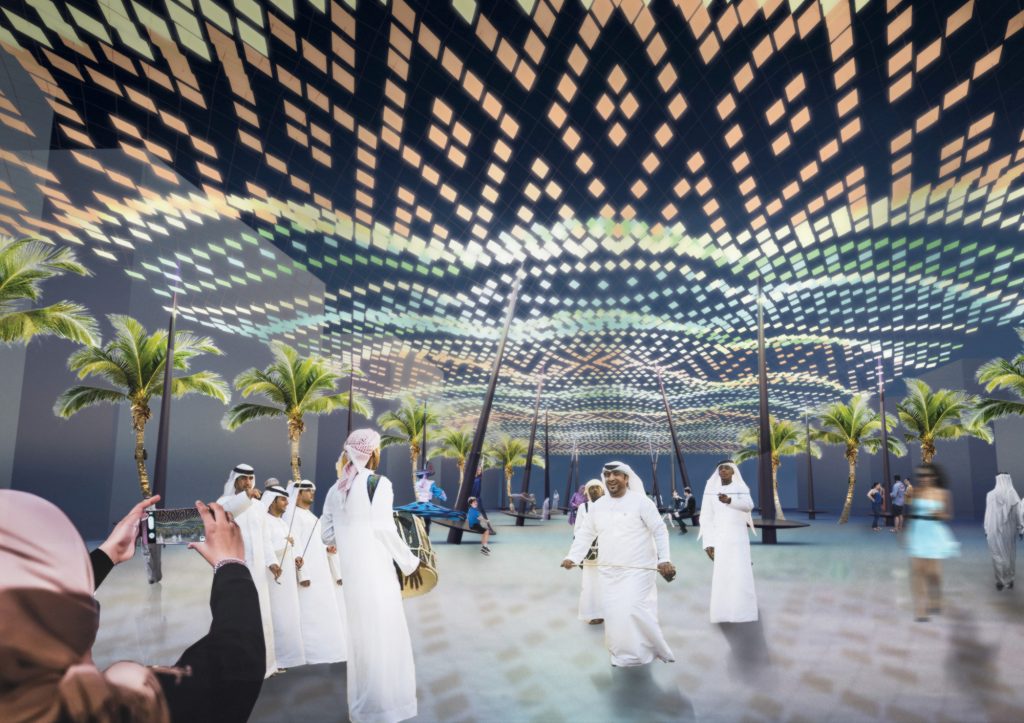 A colorful thin-film photovoltaic canopy spreading over the site provides comfortable shade and elegant dappled light through its form. The four colors are inspired by the gulf islands, oases, deserts, and mountains. The cables that support the thin-film modules are attached to the frame with piezoelectric generators that capture additional electricity from the movement of the structure in the wind.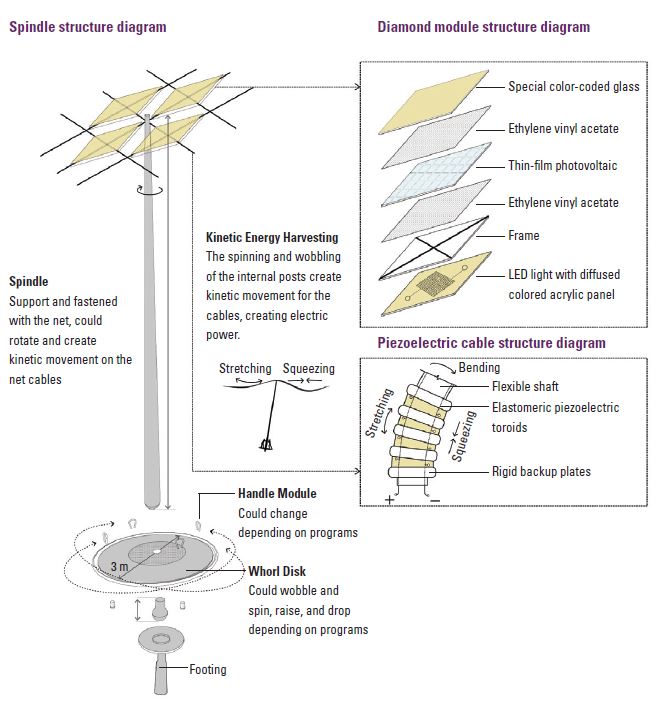 The posts of the shading structure are inspired by one of the major weaving tools used in Al Sadu—the spindle whorl. These decorative disks maintain the speed of the spindle, much like the wide part of a spinning top toy. The spindle whorls of Interwoven provide seating, tabletops, and hammocks. The peripheral spindles can be rotated by visitors, which resembles the process of spinning yarn and causes the carpet to wave, harnessing power from the vibration of the piezoelectric cable network. The whorls toward the center function like merry-go-rounds where the playful activities of younger park visitors add additional clean energy to the city grid. These interactive opportunities create an engaging experience, enticing people to linger and explore.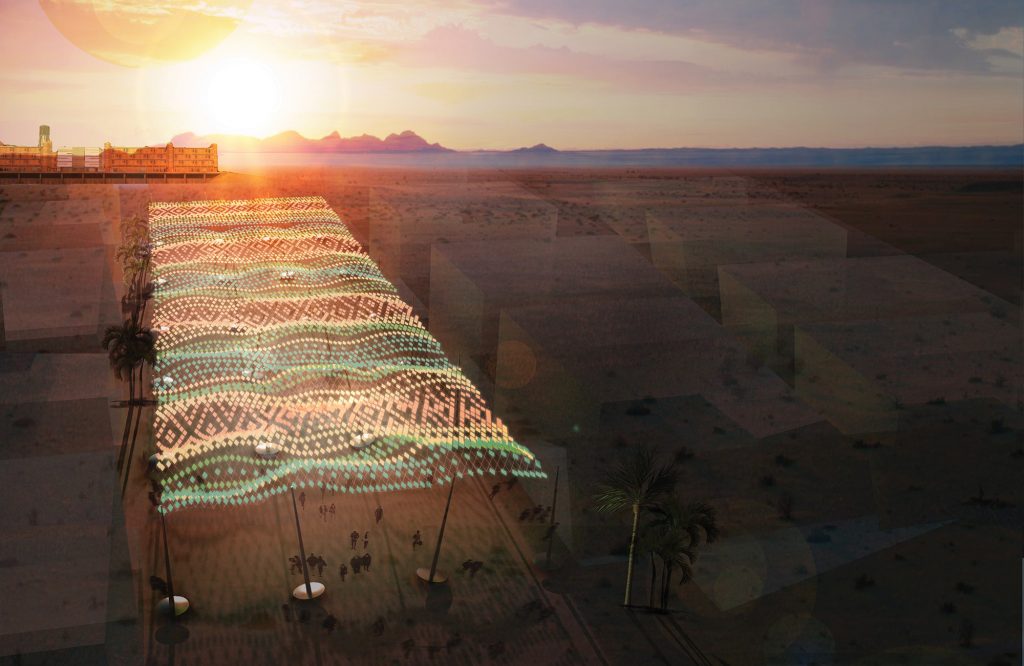 ---
LAGI 2019 is sponsored by Masdar and is held in partnership with the 24th World Energy Congress.