Unexpected Scenarios occurs when nature and technologies collaborate to create new stories.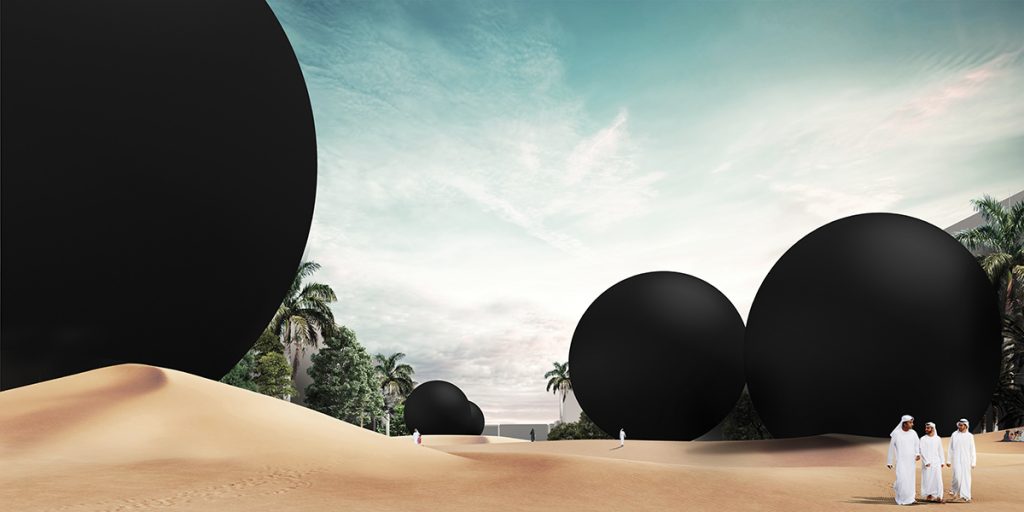 The desert is a hostile and inhospitable place, where nature alone reigns. For millennia, humans have built an identity out of these places by creating and nurturing oases, using what limited resources nature has provided. The oasis in the middle of a desert represents a miracle, an unexpected event. Travelers through the desert know well the unpredictability of nature, but the idea of the oasis presents a compelling future in which visitors press on and sustain hope. Like the rose of Jericho, which survives by following the rhythms of nature, Unexpected Scenarios follows the sun's radiation and decides when to bloom with experiences.
The project includes two plazas, one of desert sand in which large black spheres collect solar energy, and the other surrounded by green space within which a large, white inflatable ETFE sphere hosts public events.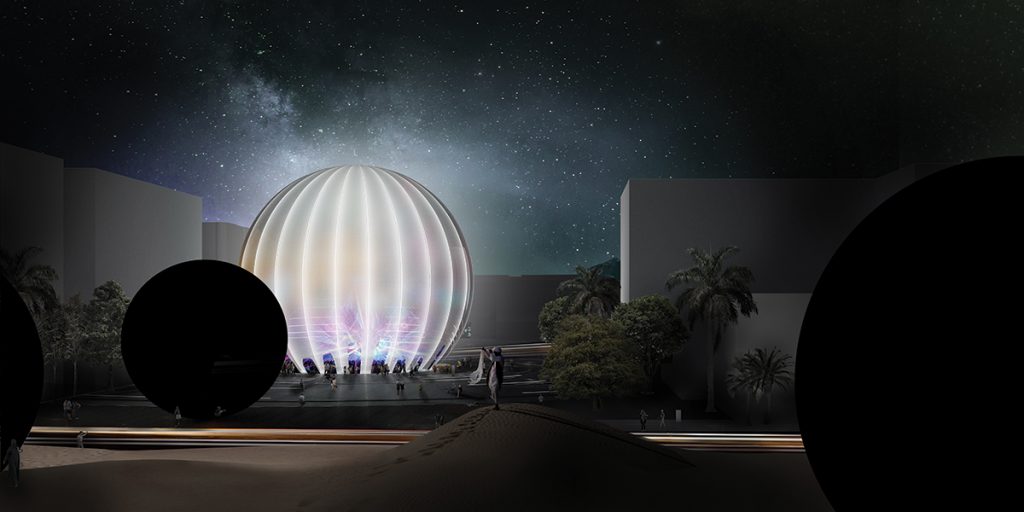 The curious Vantablack® spheres set within the sandscape absorb 99.96% of the sun's energy. The heat collected within the spheres is transmitted to a chemical thermal storage system. The heat is used to separate calcium hydride into its constituent elements and is later recovered by allowing calcium to recombine with hydrogen in an exothermic reaction used to power a high-efficiency Dual Shell Stirling Engine™ to generate electricity. The entire self-regulating system is provisioned by ADI Solar.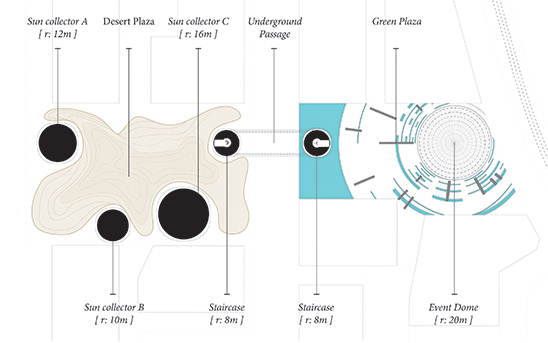 Each evening, as the heat energy is converted into electricity, the sun's energy from the day will give life to a 40-meter diameter sculptural sphere that will rise out of its retracted storage space and become a new landmark for the citizens of Abu Dhabi where residents and visitors will come together to meet and socialize.

---
LAGI 2019 is sponsored by Masdar and is held in partnership with the 24th World Energy Congress.