A new installation in the high plains of the Chihuahua desert delivers a modern interpretation of an iconic Bronze Age heritage site.
The culmination of five years of planning, Haroon Mirza's latest artwork comprises eight large black marble boulders assembled in a circle, along with a separate "Mother Stone" placed nearby — just like Nine Ladies in Derbyshire, England. Only this Stone Circle is equipped with solar power, energy-efficient LED lights, and speakers.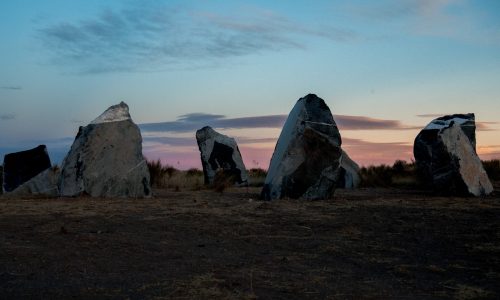 It's neo-Neolithic," Mirza told Wired earlier this year. "The idea of it is at least 50,000 years old. But the technology here is very contemporary, and almost, for this area, futuristic. In Marfa, since this project started people have only just become interested in solar energy."
When Ballroom Marfa, the nonprofit organization which commissioned the piece, first contacted Mirza, they asked the London-based artist to propose the wildest idea possible. And all involved decided to roll with it. Laura Copelin, executive director and curator, said if she had known then what she now knows, she might not have been so eager. Not only did they struggle to find land, eventually leasing space from a local landowner, but, according to the Guardian, the boulders brought in from northern Mexico were held up at the border for nine months.
All stakeholders persevered, however, and the project finally made its debut at the end of April this year. It is open to the public throughout the day and at night every full moon for a 40-minute light and sound show after sunset — for the next five years.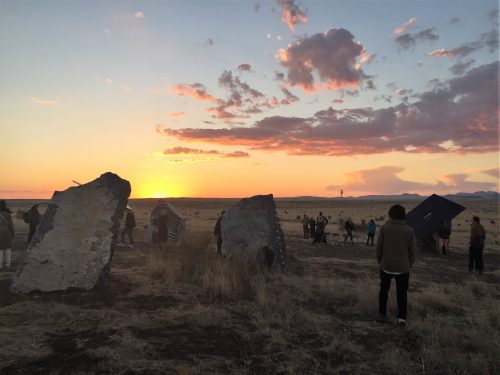 Austin's Freedom Solar donated fifty percent of the funds necessary for the Mother Stone's solar array — which uses energy absorbed throughout the day to power LED lights and speakers carved into the eight stones — and then created a plan to pay back more money every time a new company referred by Ballroom Marfa purchases solar from the company.
"By trying to fundraise, we ended up embarking on this campaign for solar energy," Copelin told Wired. "That was an unintended consequence—a surge in solar energy in West Texas."
Sherren Harter, Freedom Solar's marketing director, tells LAGI the company enjoys the challenge of designing and installing unique solar projects in unforgiving environments, adding that they believe in the power of art to create meaningful change in the world.
"The stone circle project exemplifies the way that art can crossover into life, as it has sparked a solar revolution in Marfa," she says. "The community has really embraced renewable energy, leading to a threefold increase in installed solar capacity on Marfa homes and businesses. We are inspired and proud to have been part of this process and look forward to bringing even more solar to West Texas."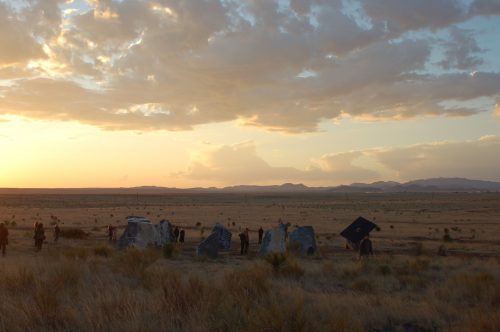 In an interview with Texas Energy Lab, Copelin provides another example of how art can catalyze change.
She describes how Buck Johnston, a local, installed solar panels at home and her business, The Wrong Store. Soon after on May 4, 2018, Johnston was elected to one of three Marfa City Council seats "on a platform to power Marfa with renewable energy." Copelin adds, "So many people have supported the project through these referrals and so many businesses in town have committed to go solar, and we're really inspired by that."
The original circle of stones in the UK is said to represent nine women who were frozen as penalty for dancing on the sabbath, according to English Heritage. But in West Texas, dancing is encouraged.
Ballroom Marfa is working with Mirza "to develop a calendar of dance, music, and performance events where artists will engage with and interpret the sculpture." The program is expected to include "full moon compositions that will change the sculpture's sonic presence over time." The first such event will take place on the full moon at the end of June, though one shouldn't expect too much from the music. As Wired notes, only three distinct notes can be heard from any given stone.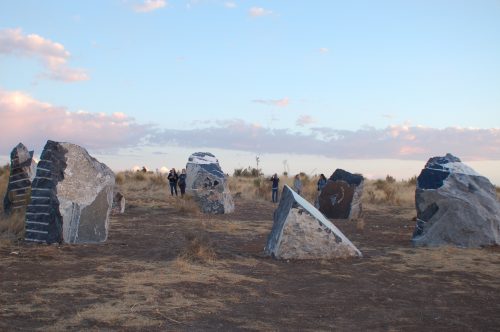 Despite the technological limitations, which are understandable given the remote location, Stone Circle's impact resounds. Ballroom Marfa has developed a series of multidisciplinary, collaborative, and educational programs "to spark conversation and contemplation."
This is the second movement in Mirza's Solar Symphonies series.
Images courtesy Freedom Solar and Ballroom Marfa
Tafline Laylin is a freelance communicator and journalist who strives for global environmental and social justice. Her work has appeared in The Guardian, The Atlantic, OZY.com, and a variety of other international publications.