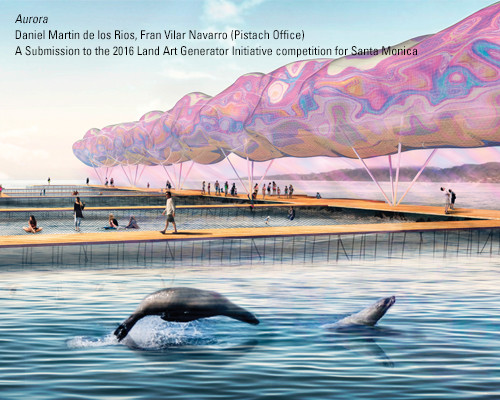 Aurora a submission to the 2016 Land Art Generator Initiative design competition for Santa Monica
Artist Team: Daniel Martin de los Rios and Fran Vilar Navarro (Pistach Office)
Artist Location: Rotterdam, The Netherlands
Energy Technologies: tidal turbine (similar to Open-Centre Turbine by OpenHydro™), SALt™ (Sustainable Alternative Lighting)
Water Harvesting Technologies: solar distillation (brine waste powers site lighting)
Annual Capacity: 30,000 MWh and 100 million liters of drinking water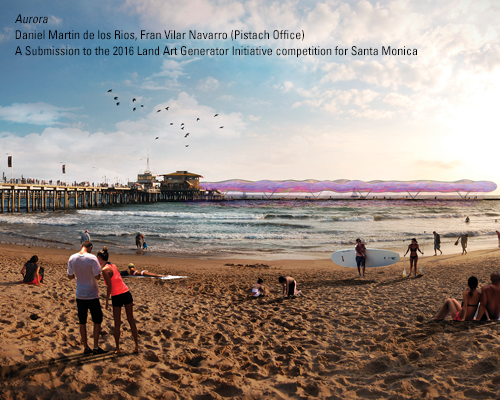 Aurora gifts visitors a dreamlike and immersive experience of walking surrounded in a cloud with just the noise of the waves and the wind. The artworks makes palpable the ineffable, reachable the limitless, and measurable the invisible. It is a rich public space where multiple social and cultural activities can take place.
The wooden floor—an extension of the existing pier—represents stability. The cloud—coated with thermochromic paint—represents lightness and transparency. It is set up in elevation so as not to obscure the view from the beach to the horizon. Above the horizon line is a cloud that changes its shape, size, and appearance with the direction of the wind and temperature, causing boundaries to completely blur. The synesthetic impact of the artwork cannot be adequately captured with photography or film. It can only be experienced directly on location. It is formless, massless, dimensionless, and weightless. It speaks to the color of the sky, the reflection of the ocean, and the emotions of the visitors.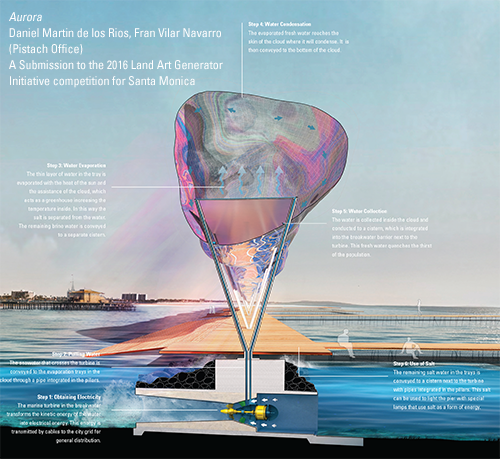 Aurora provides clean electricity with a tidal turbine, and drinkable water with solar distillation within the cloud. It is a hybrid system prefabricated in boxes that are set into the existing breakwater. Every element works together in a closed loop. The free flow underwater turbine system harnesses the ocean as a predictable and sustainable power source. The system transfers kinetic energy to electricity while minimizing visual impact. At the point of highest pressure is included an intake pipe to draw water up to the solar distillation process.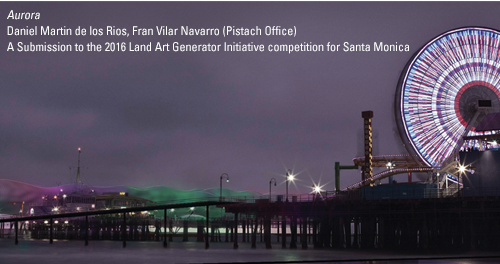 Following the distillation, drinking water is channeled for collection, while the brine goes to power lamps that use salt to generate electricity. The prefabricated boxes include the pillars that support the cloud along with the distillation tray and other integrated systems. The cloud works as a container of heat and water. The greenhouse effect creates a microclimate in which water evaporates and then condenses on the inside surface of the cloud skin. The Venturi effect drives the process by which water is conveyed to and from the distillation chamber.
The circle is complete, from the ocean to the sky, from the heaviness of the rock to the lightness of the air. The system is integrated as a modular, simple, and self-sufficient structure in which aesthetics, concept, energy production, and social aspects come together.