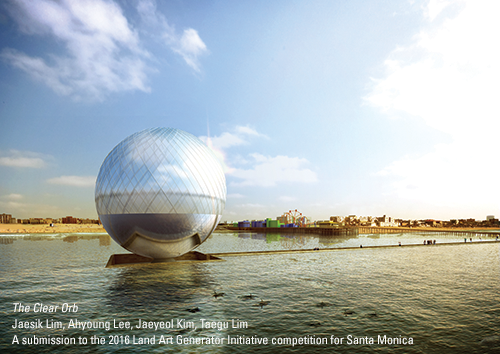 The Clear Orb, a submission to the 2016 Land Art Generator Initiative design competition for Santa Monica
Artist Team: Jaesik Lim, Ahyoung Lee, Jaeyeol Kim, Taegu Lim (Heerim Architects & Planners)
Artist Location: Seoul, South Korea
Energy Technologies: transparent luminescent solar concentrators, oscillating water column (OWC) wave energy converter
Water Harvesting Technologies: solar distillation
Annual Capacity: 3,820 MWh and 2.2 million liters of drinking water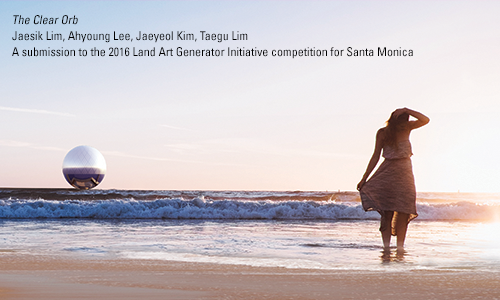 Walking on the Santa Monica beach, The Clear Orb appears to float upon the surface of the ocean water. The colors of the sky are refracted through the translucent glass upper section, while the lower hemisphere's reflective, mirror-like surface glitters with the sunlight playing on the ocean waves.
The installation is accessible from the Santa Monica Pier by the beach boardwalk. Walking towards it, visitors gradually recognize that the pathway slopes gently below the surface of the water. The walk is an escape from our ordinary routine and the crowed city. The outside walls of this "contemplation walk" are themselves a wave power generator installed along the existing breakwater. The inside walls along the pathway are filled with the list of extinct animals, offering an opportunity to contemplate how humans might better co-exist with nature.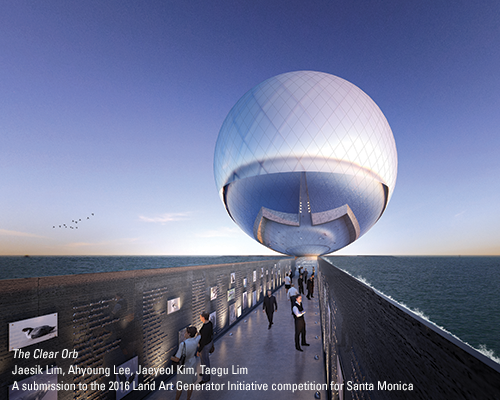 At the end of the pathway, visitors reach an open square just in front of the Orb. The square located below the ocean surface creates the feeling of visual pleasure and sharp contrast of light.
The Clear Orb is a glass sphere approximately 40 meters in diameter. The surface is made up of transparent luminescent solar concentrators. These solar cells supply the power to circulate water into the Orb.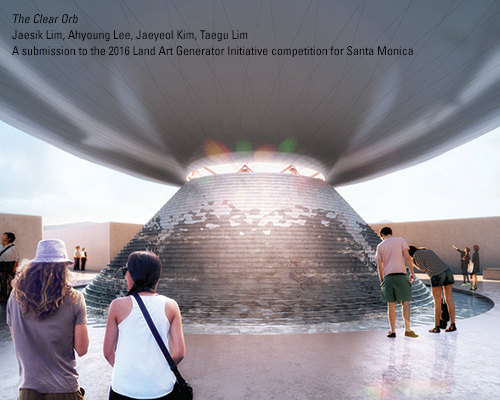 The inner space of the Orb is a solar still that produces fresh water from seawater through evaporation and condensation. Desalinated water produced within the Orb pours down through the step fountain supporting it from beneath—an artful interpretation of the power of light and water to give life.
The oscillating water column wave power plant runs along the 300-meter sea-facing edge of the "contemplation walk," and provides additional energy to the solar distillation pumps and the electrical grid of the city.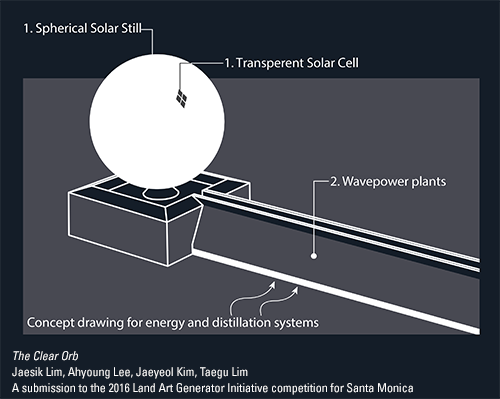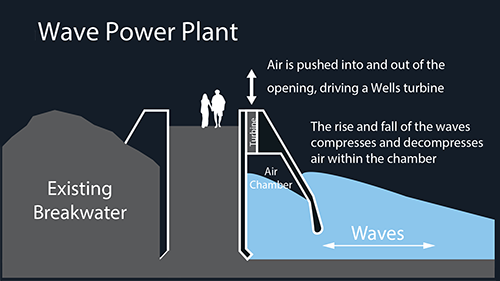 Diagram of the Oscillating Water Column. For more information, see this page.